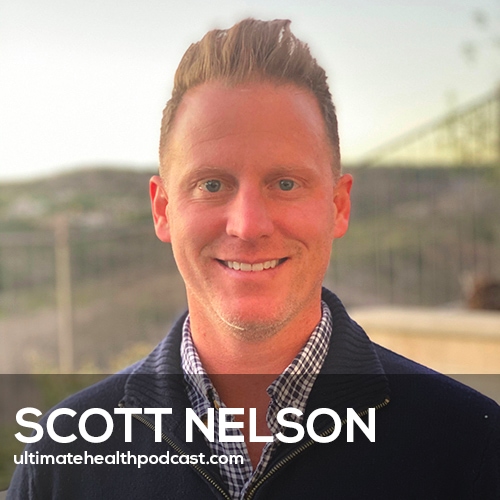 Scott Nelson is a co-founder for Joovv (IG: @joovvsocial), the first company to develop a modular, full-body light therapy device. Prior to starting Joovv, he spent his entire professional career in leadership positions with some of the largest medical device companies in the world. In his spare time, Scott is also the host of Medsider Radio, a top-ranked medical device podcast.
(Subscribe in Apple Podcasts)
(Subscribe in Google Podcasts)
In this episode, we discuss:
The Joovv origin story
Keep evolving you're approach to natural health
Raising awareness about light therapy
The challenges of running a family business
The transition from Minneapolis to California
Joovv uses red light and near infrared light
The benefits of light therapy
How light therapy differs from sun exposure
A high quality light therapy device can be looked at like a supplement
The difference between saunas and light therapy
Use light therapy 3-5x a week for proactive health and wellness
A simple 8-10 minute light therapy routine
Stacking vibration therapy
Red light is better absorbed in the skin
Near infrared light penetrates into deeper tissues
Bare skin is best for light therapy
Can light therapy increase your testosterone & progesterone production?
The damaging impact of blue light at night
Light therapy can stimulate melatonin production
Biohacking tip: wear blue light blocking glasses
Change bright white LED lights to warmer incandescent bulbs
Red and near infrared light are beneficial for seasonal affective disorder (SAD)
Joovv strives to reduce EMF exposure as much as possible
Red and near infrared light & thyroid health
Ultimate health = physical and emotional wellness
Show sponsors:
Beekeeper's Naturals <== 15% off all Beekeeper's Naturals products (free shipping on orders $60 or more)
Sproos <== 20% off your first Sproos order (free shipping on orders over $40)
Organifi <== 20% off all Organifi products
Sunwarrior <== 20% off all Sunwarrior products & free shipping over $50 (US only)
Related links:
Joovv <== Receive a free gift by purchasing through our link
Follow Joovv on Facebook, Instagram, and YouTube
Listen to Dave Asprey previously on TUHP (episode #305, #159, and #061)
Listen to Ben Greenfield previously on TUHP (episode #043)
Binaural Beats (app)
Oura Ring
Iris (save 10% by using our link)
Bedtime Bulb
Casper – Glow Light
Listen to Dr. Michael Breus previously on TUHP (episode #116)
Listen to Dr. Sarah Ballantyne previously on TUHP (episode #254 and #220)
Listen to Katie Wells aka Wellness Mama previously on TUHP (episode #283)
Related episodes:
333: Dr. Daniel Amen – Optimize Your Brain, Automatic Negative Thoughts, Eliminating Caffeine
291: Dr. Joseph Mercola – KetoFast • Near-Infrared Saunas • Stop Eating Before Bed
264: Daniel DeBaun – Understanding EMFs & How To Protect Yourself
176: Luke Storey – Find Your Style • Biohacking In A Big City • Kundalini Yoga 101
148: Dr. Joseph Mercola – DHA, The Most Important Fat • Sensible Sun Exposure • Blue Light Blockers Are A Must
Note: Some of the links above are affiliate links. Making a purchase through these links won't cost you anything but we will receive a small commission. This is an easy, free way of supporting the podcast. Thank you!
How can you support our podcast?
1. Apple users, please subscribe and review our show on Apple Podcasts, we make sure to read them all. Android users, be sure to subscribe to our show on Google Podcasts. Subscribers never miss any of the action 😉
2. Tell a friend about The Ultimate Health Podcast. They will surely thank you later. You can use the envelope button below to email a friend or tell them about TUHP in person.
3. Join TUHP Facebook community (FREE). This is where we all stay in touch and ask questions in between episodes. Join our community.
4. Follow our adventures on our favourite social media platform, Instagram.
5. Download The Ultimate Health Podcast app (FREE). This way you'll have our whole library of episodes right at your fingertips. Download our iOS/Apple app or our Android app.
6. Share using the buttons below.
Thank you!