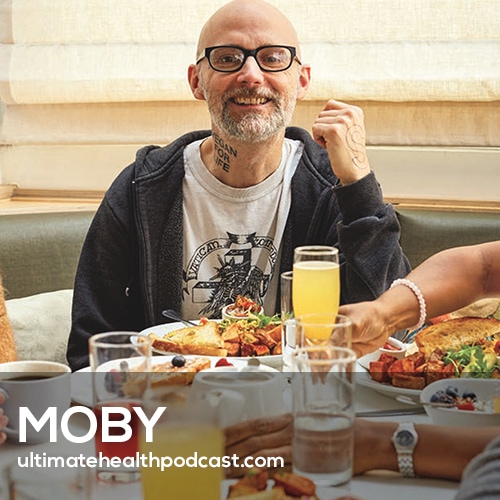 Moby (IG: @moby) is a musician, entrepreneur, activist, and philanthropist who is informally known as "the godfather of veganism."
His album Play sold more than 12 million copies worldwide. He's released fourteen solo albums in total.
A serial side hustler, Moby opened the vegan restaurant Teany in New York City in 2002 and has since opened Little Pine, a unique, contemporary vegan restaurant in the Silver Lake neighborhood of Los Angeles.
Watch the full video version of this conversation below.
In this episode, we discuss:
Being an animal rights activist
Living in a culture that prioritizes selfishness
Hitting rock bottom and getting sober
Making music is a spiritual practice
Growing up poor and being hungry for fame
Forming a love for animals
Transitioning from a vegetarian to vegan lifestyle in 1987
Missing a sense of community and friendships
Moby's relationship with religion over the years
From squatting in an abandoned factory to buying a five-level sky castle
Fame and wealth don't create happiness
When was the happiest time in your life?
The '90s were the last period of general optimism
The rise of the internet
A self-care practice supported by evidence
Eating 95% vegan organic whole foods
Nature is healing
Connecting with our awkward self
Practicing metta meditation
How to be an animal activist
Moby's daily routine
Supporting local musicians and artists
Show sponsors:
LMNT <== Get your LMNT Sample Pack for the cost of shipping (5 dollars in the US)
Paleovalley <== 15% off all Paleovalley products by using the code ultimatehealth at checkout
Organifi <== 20% off all Organifi products
ChiliSleep <== Claim your ChiliSleep Sleep System special offer
Related links:
Moby – The Little Pine Cookbook
Moby's website
Follow Moby on Facebook, Instagram, and Twitter
Moby – Then It Fell Apart (book)
Moby – Porcelain: A Memoir (book)
Moby – Play (album)
John Robbins – Diet For A New America (book)
Game Changers (documentary)
Forks Over Knives (documentary)
Cowspiracy (documentary)
What The Health (documentary)
Vegucated (documentary)
Related episodes:
Alicia Silverstone On Living A Responsible And Ethical Life, Waldorf Education, And Being Famous (#384)
368: Jordan Younger Albrecht – Healing From Lyme Disease, Eating Vegan (Again), Psychedelic Transformations
366: Dr. Andrew Weil – Spontaneous Happiness
319: Eric Zimmer – Overcoming Addiction, Maintaining Community, Broadening Your Perspective
293: Mark Manson – We All Need Hope • Meditation Makes You Stronger • Happiness Is Overrated
How can you support our podcast?
1. Apple users, please subscribe and review our show on Apple Podcasts, we make sure to read them all. Android users, be sure to subscribe to our show on Google Podcasts. Subscribers never miss any of the action 😉
2. If you'd prefer to watch vs listen to the interviews, head over to our YouTube channel and enjoy the full video conversations. Be sure and subscribe while you're there.
3. Tell a friend about The Ultimate Health Podcast. They will surely thank you later. You can use the envelope button below to email a friend or tell them about TUHP in person.
4. Join TUHP Facebook community (FREE). This is where we all stay in touch and ask questions in between episodes. Join our community.
5. Follow our adventures on our favourite social media platform, Instagram.
6. Download The Ultimate Health Podcast app (FREE). This way you'll have our whole library of episodes right at your fingertips. Download our iOS/Apple app or our Android app.
7. Share using the buttons below.
Thank you!