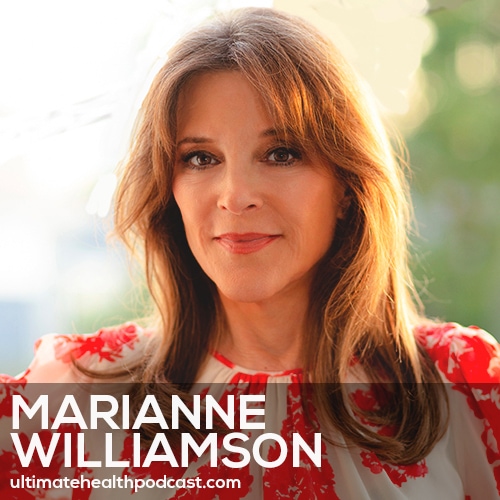 Marianne Williamson (IG: @mariannewilliamson) is an internationally acclaimed lecturer, activist and author of four #1 New York Times bestselling books. She has been one of America's most well known public voices for more than three decades. Marianne has been a popular guest on television programs such as Oprah and Good Morning America.
In this episode, we discuss:
The abstract concept that inspired Marianne
Growing up in the '60s & '70s
The radical shift in her thought system
Embracing the teachings in A Course in Miracles
The principle of extending love
Perception is a choice
The spiritual technique for personal transformation
The essential self is the spirit
Love other people before you love yourself
Generosity to others is an act of self-interest
Self-care vs. selfishness
The mind has to rest
Meditation is essential to wellbeing
Stress is the root of most illnesses
Yoga of consciousness
Listen to the guidance of your higher mind
Are you at peace?
Psychic pain is a symptom
Growth within ourselves
Feed your mind
Become aware and conscious
How humans have evolved over time
The problems the world faces today
Learning to be a species governed by love
Marianne's big announcement on January 28th
Addressing the dysfunction across America
Too many people are being disengaged from politics
Time for an awakening
Marianne shares thoughts about her Love America Tour
The Williamson Institute launches soon
A loving thought is a healthy thought
Show sponsors:
CoreChair <== 15% off your CoreChair purchase by using the code tuhpcc at checkout (free shipping in North America)
Raw Elements <== 10% off all Raw Elements products by using the code TUHP at checkout (free shipping over $100)
Organifi <== 20% off all Organifi products
Four Sigmatic <== 15% off all Four Sigmatic products – Your discount will automatically be applied at checkout
Related links:
Marianne Williamson's books
Marianne Williamson's website
Marianne Williamson for America
Follow Marianne Williamson on Facebook, Instagram, and Twitter
A Course in Miracles (book)
Alan Watts (books)
Ram Dass (books)
Saint Augustine (books)
Yuval Noah Harari – Sapiens: A Breif History of Humankind (book)
Related episodes:
212: James Colquhoun – Food Matters • Building A Thriving Online Community • Transformation Starts In The Mind
208: Gabby Bernstein – Judgment Detox • Forgiveness As A Practice • Why We Avoid Vulnerability
142: Dr. Bruce Lipton – The Biology Of Belief • How To Reprogram Your Subconscious Mind • The Importance Of Loving Yourself
105: Sharon Salzberg – Real Happiness: The Power Of Meditation
104: Carrie-Anne Moss – Life Outside The Matrix • Embracing Imperfection • The Yoga Of Awareness
Marianne Williamson photo by Elisabeth Granli
Note: Some of the links above are affiliate links. Making a purchase through these links won't cost you anything but we will receive a small commission. This is an easy, free way of supporting the podcast. Thank you!
How can you support our podcast?
1. Apple users, please subscribe and review our show on Apple Podcasts, we make sure to read them all. Android users, be sure to subscribe to our show on Google Podcasts. Subscribers never miss any of the action 😉
2. Tell a friend about The Ultimate Health Podcast. They will surely thank you later. You can use the envelope button below to email a friend or tell them about TUHP in person.
3. Join TUHP Facebook community (FREE). This is where we all stay in touch and ask questions in between episodes. Join our community.
4. Follow our adventures on our favourite social media platform, Instagram.
5. Download The Ultimate Health Podcast app (FREE). This way you'll have our whole library of episodes right at your fingertips. Download our iOS/Apple app or our Android app.
6. Share using the buttons below.
Thank you!