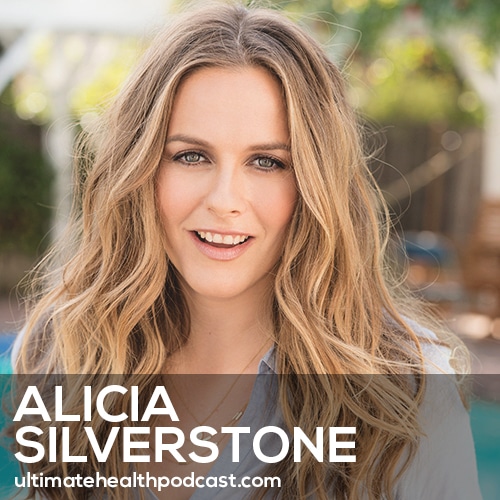 Alicia Silverstone (IG: @aliciasilverstone) is the co-founder of mykind Organics, the first ever food-based, certified organic, Non-GMO Verified, vegan vitamin line.
A dynamic and well-connected fixture in the acting, political, and scientific communities, she is also a dedicated activist and works to enlighten others about the benefits of clean living, veganism and a sustainable lifestyle. When it comes to acting, Alicia is best known for her role in 90s hit film, Clueless.
In 2009, Alicia released her first book, The Kind Diet, followed by her second book in 2014, The Kind Mama.
Watch the full video version of this conversation below.
In this episode, we discuss:
Alicia's vegetarian journey began at 8 years old… on an airplane
Flirting with veganism
Becoming an animal activist
Getting your partner on board with your dietary lifestyle
At one time, being vegan was lonely & isolating
Bonding over vegan food and the vegan lifestyle with Woody Harrelson & his wife, Laura
Focusing on living a responsible and ethical life
Use your voice, stand up to corporate greed
The benefits of pre-chewing food for babies
Boobs were made to breastfeed
We are responsible for our health
The health benefits Alicia experienced going vegan
Coming out of a cleanse energized and reborn
Is the raw food diet sustainable?
Why Alicia transitioned from raw food to a macrobiotic diet
Eating for fertility
Creating mykind Organics
The story behind Alicia's son's name… Bear
Raising a plant-based child
Unraveling the controversy about Bear's haircut
Alicia's "I'd Rather Go Naked Than Wear Wool" PETA campaign
What makes Waldorf education different?
Continuing to connect as a family during quarantine
Balancing work/life during the pandemic
What's growing in Alicia's garden?
The chaos that comes with being famous
Show sponsors:
BLUblox <== 15% off the world's most advanced blue light glasses
Paleovalley <== 15% off all Paleovalley products by using the code ultimatehealth at checkout
Pique Tea <== 5% off all Pique Tea products & free shipping on orders over $60
Organifi <== 20% off all Organifi products
Related links:
The Kind Diet (book)
The Kind Mama (book)
Alicia Silverstone's website (the kind life)
Follow Alicia Silverstone on Facebook, Instagram, and Twitter
PETA
The Witness (documentary)
The Game Changers (documentary)
Cowspiracy: The Sustainability Secret (documentary)
Fork Over Knives (documentary)
Woody Harrelson
Hu Kitchen
Andrea Beaman
Garden Of Life
mykind Organics
Waldorf Education
Sister of the Groom
The Gentle Barn
Mercy For Animals
Related episodes:
372: Ryland Engelhart – Kiss The Ground, The Story Of Cafe Gratitude, Regenerative Agriculture
368: Jordan Younger Albrecht – Healing From Lyme Disease, Eating Vegan (Again), Psychedelic Transformations
334: Molly Sims – Supermodel To Super Healthy, Dealing With Autoimmune Issues, Starting A Family Later In Life
085: Gabrielle Brick – Raising Kids, The Healthy Way | Finding The Middle Ground | Taking Time For Self Care
033: Rich Roll – Anti-Hack Your Life | Mood Follows Action | Hard Work > Talent
Note: Some of the links above are affiliate links. Making a purchase through these links won't cost you anything but we will receive a small commission. This is an easy, free way of supporting the podcast. Thank you!
How can you support our podcast?
1. Apple users, please subscribe and review our show on Apple Podcasts, we make sure to read them all. Android users, be sure to subscribe to our show on Google Podcasts. Subscribers never miss any of the action 😉
2. Tell a friend about The Ultimate Health Podcast. They will surely thank you later. You can use the envelope button below to email a friend or tell them about TUHP in person.
3. Join TUHP Facebook community (FREE). This is where we all stay in touch and ask questions in between episodes. Join our community.
4. Follow our adventures on our favourite social media platform, Instagram.
5. Download The Ultimate Health Podcast app (FREE). This way you'll have our whole library of episodes right at your fingertips. Download our iOS/Apple app or our Android app.
6. Share using the buttons below.
Thank you!