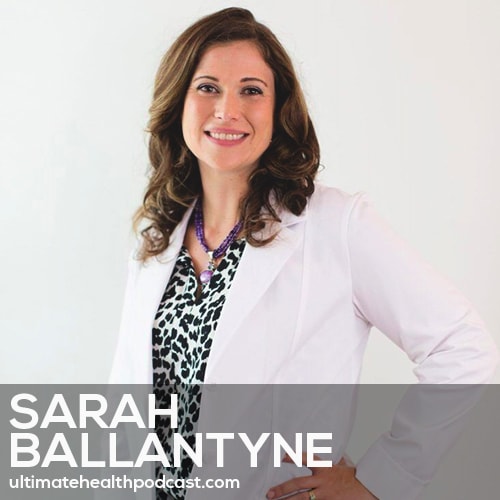 Sarah Ballantyne, Ph.D. (IG: @thepaleomom) is the creator of the award-winning blog The Paleo Mom, cohost of the top-rated and syndicated The Paleo View podcast, and New York Times bestselling author of four books: the most comprehensive paleo guidebook to date, Paleo Principles; the definitive Autoimmune Protocol guidebook, The Paleo Approach; and two AIP cookbooks, The Paleo Approach Cookbook and The Healing Kitchen.
In this episode, we discuss:
What is a thyroid gland?
The difference between hyper and hypothyroid diseases
Hashimoto's is the most common of all autoimmune diseases
Pregnancy complications are higher in women with hypothyroidism
Understanding the link between immune function, diet, and lifestyle
Why taking a more comprehensive & holistic approach is essential
What is the autoimmune protocol (AIP)?
Lab ranges vs. functional ranges for thyroid hormone levels
Importance of advocating for a full thyroid panel
The role of a functional medicine specialist
Sarah's 3 1/2 year journey to being symptom-free
Small changes make the biggest difference
What is an autoimmune flare up?
Why ketogenic diets should be avoided
Overview of AIP
80% of our immune system is in the gut
The significance of iodine, selenium, zinc, & iron on AIP
About 73% of people are deficient in zinc
Reintroductions are an important aspect of the AIP protocol
How elimination and challenge diets are constructed
Empowering people with knowledge
Sarah's AIP journey
How AIP began
The role nutrients play in immune health
The problem with food sensitivity testing
Elimination diets are the gold standard in testing
Fish & shellfish are high in zinc, selenium, & iron
The cruciferous vegetable myth
Show sponsors:
Thrive Market <== Get your membership for as low as $5 a month & receive $20 in shopping credit with a 1 year membership (US only)
Perfect Keto <== 20% off all Perfect Keto products and they ship worldwide (free shipping in the US)
Sunwarrior <== 20% off all Sunwarrior products & free shipping over $50 (US only)
Related links:
Sarah Ballantyne – Paleo Principles (book)
The Paleo Mom (Sarah's website)
The Paleo View (Sarah's podcast)
Follow Sarah Ballantyne on Facebook, Instagram, and Twitter
Sarah Ballantyne – The Paleo Approach (book)
Sarah Ballantyne – The Paleo Approach Cookbook
Alaena Haber & Sarah Ballantyne – The Healing Kitchen (cookbook)
Listen to Sarah Ballantyne previously on TUHP (episode #220)
AIP Lecture Series Online Program
Robb Wolf – The Paleo Solution (book)
Listen to Robb Wolf previously on TUHP (episode #145)
Dr. Loren Cordain – The Paleo Diet
Dr. Terry Wahls – Minding Your Mitrochrondria TedxIowaCity (video)
Listen to Dr. Terry Wahls previously on TUHP (episode #120)
Healing & Dealing With Hashi's (Marni's 4 week Hashimoto's course)
Related episodes:
317: Dr. Will Cole – The Inflammation Spectrum, Managing Anxiety, Homeschooling
285: Dr. Izabella Wentz – Hashimoto's Food Pharmacology • Thyroid Testing • Stress, Trauma & Autoimmune Conditions
258: Samantha Gladish – Healing Hashimoto's • Coming Off The Pill • Tracking Your Cycle
256: Dr. Datis Kharrazian – Why Do I Still Have Thyroid Symptoms? • Understanding Iodine • Vitamin D & Autoimmunity
228: Focus Friday – Healing And Dealing With Hashimoto's
Note: Some of the links above are affiliate links. Making a purchase through these links won't cost you anything but we will receive a small commission. This is an easy, free way of supporting the podcast. Thank you!
How can you support our podcast?
1. Apple users, please subscribe and review our show on Apple Podcasts, we make sure to read them all. Android users, be sure to subscribe to our show on Google Podcasts. Subscribers never miss any of the action 😉
2. Tell a friend about The Ultimate Health Podcast. They will surely thank you later. You can use the envelope button below to email a friend or tell them about TUHP in person.
3. Join TUHP Facebook community (FREE). This is where we all stay in touch and ask questions in between episodes. Join our community.
4. Follow our adventures on our favourite social media platform, Instagram.
5. Download The Ultimate Health Podcast app (FREE). This way you'll have our whole library of episodes right at your fingertips. Download our iOS/Apple app or our Android app.
6. Share using the buttons below.
Thank you!