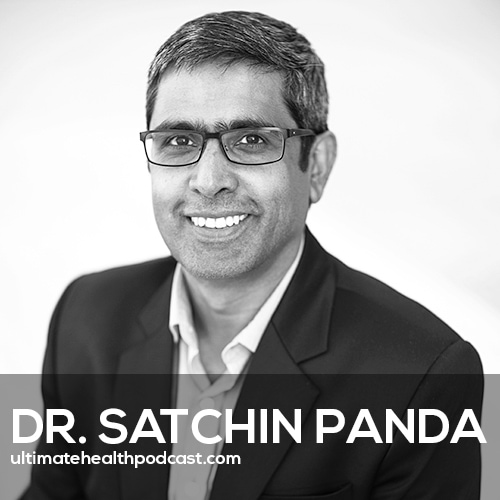 Dr. Satchin Panda (IG: @satchin.panda) is a professor at the Salk Institute and author of The Circadian Code. He is a frequent speaker in international conferences on metabolism, exercise and chronic diseases.
Dr. Panda's research focuses on how circadian clocks regulate behaviour, physiology, and metabolism.
His discovery of how a blue light sensor in our eyes affect our sleep-wake cycle, depression, and alertness is leading a new revolution in managing light to improve health. Dr. Panda recently discovered that maintaining a daily feeding-fasting cycle – popularly known as time-restricted eating (TRE) – can prevent and reverse many chronic diseases and increase lifespan.
(Subscribe in Apple Podcasts)
(Subscribe in Google Podcasts)
In this episode, we discuss:
How you wake up is the most important part of your day
Getting natural daylight in the morning
The light-dark cycle trains our brain clock
Melanopsin is sensitive to blue light (aka junk light at night)
It takes 2-3 hours to build up your melatonin
Simple solutions to manage light throughout your home
Make sure to get 1-2 hours of bright light every day
Mental health is linked to your sleep-wake cycle
Optimal sleep amounts for all ages (babies to adults)
Time-restricted eating (TRE) = eating during an 8-12 hour window
Every cell in our body has its own clock
Fasting makes your organs function better
Why you should stop eating 2-3 hours before you sleep
Finding the right TRE schedule for you
Stop snacking to help burn fat
Does coffee impact time-restricted eating?
Dr. Panda's personal experience with TRE
How to best manage shift work & your eating schedule
The Circadian Code in men vs. women
The perfect circadian day
Show sponsors:
BLUblox <== 15% off the world's most advanced blue light glasses
Joovv <== purchase a Joovv device using our link and receive a free gift
Organifi <== 20% off all Organifi products
Sleep On Latex <== All mattresses ship same day and can be returned for free within 100 days
Related links:
Dr. Satchin Panda – The Circadian Code (book)
Dr. Satchin Panda's Lab
Follow Dr. Satchin Panda on Twitter and Instagram
My Circadian Clock (website)
Related episodes:
348: Andy Mant – How Light Impacts Your Health
339: Scott Nelson – The Joovv Origin Story, Light Therapy, Seasonal Affective Disorder (SAD)
345: Max Lugavere – The Genius Life, Minimizing Noise Pollution, Supplementing With Collagen
332: Dr. David Perlmutter – Brain Wash, Prioritizing Meditation, The T.I.M.E. Tool
233: Aubrey Marcus – Own The Day, Own Your Life • Get Weird With Lunch • Start With The Hardest Thing First
Dr. Satchin Panda photo credit: Chris Keeney Photography
Note: Some of the links above are affiliate links. Making a purchase through these links won't cost you anything but we will receive a small commission. This is an easy, free way of supporting the podcast. Thank you!
How can you support our podcast?
1. Apple users, please subscribe and review our show on Apple Podcasts, we make sure to read them all. Android users, be sure to subscribe to our show on Google Podcasts. Subscribers never miss any of the action 😉
2. Tell a friend about The Ultimate Health Podcast. They will surely thank you later. You can use the envelope button below to email a friend or tell them about TUHP in person.
3. Join TUHP Facebook community (FREE). This is where we all stay in touch and ask questions in between episodes. Join our community.
4. Follow our adventures on our favourite social media platform, Instagram.
5. Download The Ultimate Health Podcast app (FREE). This way you'll have our whole library of episodes right at your fingertips. Download our iOS/Apple app or our Android app.
6. Share using the buttons below.
Thank you!