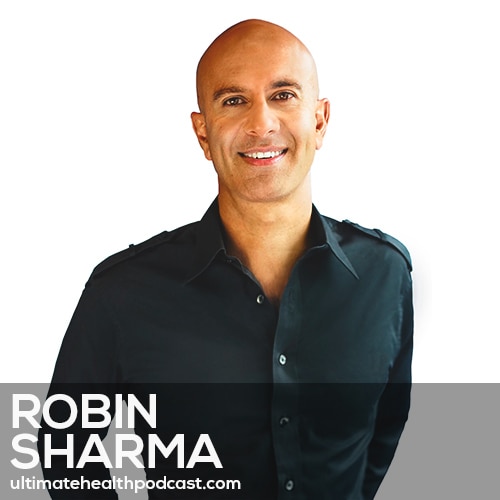 Robin Sharma (IG: @robinsharma) is a globally respected  humanitarian and #1 bestselling author. Widely considered one of the world's top leadership and personal optimization  advisors, his clients include many Fortune 100 companies, famed billionaires and professional sports superstars. Today we're discussing Robin's latest book, The 5 AM Club.
In this episode, we discuss:
Why Robin started studying people's success
Joy is a GPS
Self-publishing his first book
The 5 AM Club
The 20/20/20 Formula
Practice a new habit for 66 days
Start your day with movement
Coffee is a healthy drink
Build more self-awareness
Make time to grow
The 4 interior empires
Journaling helps give you clarity
Rituals are game changers
Dehydration affects your energy
Why using a paper journal is better for your brain
Mastery is not an event it's a process
We have a choice every day
60 seconds to make a move on any new habit
Learning to instill the right habits
A great morning routine depends on a great nighttime routine
Break free of digital distractions
The power of solitude
Toxic people affect your energy levels
Surround yourself with inspiration
Finding inner peace
Show sponsors:
Sproos <== 10% off all Sproos products by using the code SPROOSTUHP at checkout & free shipping on orders over $40 (Canada only)
Organifi <== 20% off all Organifi products
Perfect Keto <== 20% off all Perfect Keto products by using the code ULTIMATEHEALTH at checkout (free shipping in the US)
Sunwarrior <== 20% off all Sunwarrior products & free shipping over $50 – Your discount will automatically be applied at checkout (US only)
Related links:
Robin Sharma – The 5 AM Club (book)
Robin Sharma's website
Follow Robin Sharma on Facebook, Instagram, and Twitter
Robin Sharma (books)
Related episodes:
274: Ryder Carroll – The Bullet Journal Method • Declutter Your Mind • Avoid The Perfectionism Trap
230: Dr. Christiane Northrup – Dodging Energy Vampires • Characteristics Of An Empath • Make Sleep Your Go-To Healer
190: Dr. Michael Gervais – Finding Mastery • How To Train Optimism • Pain Is Necessary For Change
097: John Lee Dumas – A Solid Morning Routine Begins The Night Before • Don't Fall Prey To Imposter Syndrome • Setting and accomplishing BIG goals
039: Hal Elrod – The Ultimate Morning Routine | Overcoming Rock Bottom, Twice | Meditation Is Essential
Note: Some of the links above are affiliate links. Making a purchase through these links won't cost you anything but we will receive a small commission. This is an easy, free way of supporting the podcast. Thank you!
How can you support our podcast?
1. Apple users, please subscribe and review our show on Apple Podcasts, we make sure to read them all. Android users, be sure to subscribe to our show on Google Podcasts. Subscribers never miss any of the action 😉
2. Tell a friend about The Ultimate Health Podcast. They will surely thank you later. You can use the envelope button below to email a friend or tell them about TUHP in person.
3. Join TUHP Facebook community (FREE). This is where we all stay in touch and ask questions in between episodes. Join our community.
4. Follow our adventures on our favourite social media platform, Instagram.
5. Download The Ultimate Health Podcast app (FREE). This way you'll have our whole library of episodes right at your fingertips. Download our iOS/Apple app or our Android app.
6. Share using the buttons below.
Thank you!