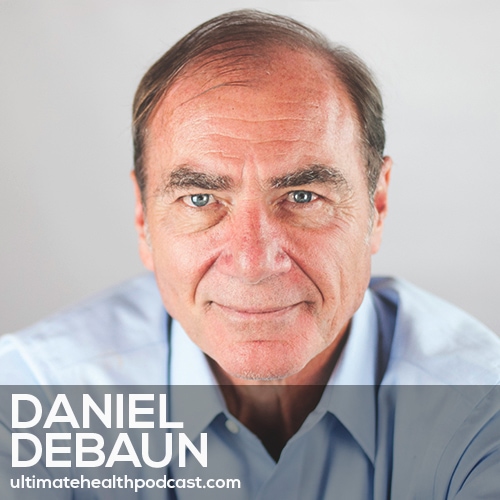 Daniel DeBaun is an internationally recognized and influential expert in shielding electronic emissions and Electromagnetic Radiation (EMF) protection, with a particular focus on the effect of exposure from mobile devices such as laptops, tablets and cell phones. He's the co-author of the bestselling book, Radiation Nation*.
Daniel is the inventor of DefenderShield, the most effective EMF radiation protection technology for mobile devices ever developed.
In this episode, we discuss:
What are electromagnetic fields (EMFs)?
The two forms of EMFs
How laptop use impacts male sperm
What inspired Daniel to start DefenderShield?
How females are impacted by laptops
The link between EMFs and miscarriages
Children and EMFs
Long-term neurological issues are related to the biological impact of EMFs
What is electromagnetic hypersensitivity (EHS)?
ADHD and Alzheimer's are linked to EMFs
The danger of microwave use
4 potential emissions radiate from your cellphone
Bluetooth is not safe
Why you should embrace airplane mode
Take precautionary measures
Having a smart meter is the same as having an active cell phone in the room
Sources of EMFs in your home
How grounding pads work
5G is unknown territory
How EMFs impact your sleep
Using blue blocking glasses
Show sponsors:
Perfect Keto <== 20% off all Perfect Keto products and they ship worldwide (free shipping in the US)*
Thrive Market <== As a new customer you get a free 30-day membership, 25% off your order, and free shipping (US only)*
Sunwarrior <== 10% off all Sunwarrior products & free shipping over $100
Related links:
Daniel DeBaun & Ryan DeBaun – Radiation Nation (book)*
DefenderShield website – Use the coupon code "ultimatehealth20" to save 20% at the online shop (valid until 1/31/19)
Follow DefenderShield on Facebook, Instagram, and YouTube
DefenderShield – Learn About Electromagnetic Radiation (EMF)
Daniel DeBaun on Dave Asprey's Bulletproof Radio (podcast)
Afflicted (Netflix TV series)
Listen to Dave Asprey (Bulletproof Radio) previously on TUHP (episode #159 & #61)
Related episodes:
014: David Wolfe – Colours Are The Key To Your Health, Drink The Best Water Ever, Get Energized Without Stimulants
016: Steve Sanna – Dry Fast Your Way To Health, The Power Of Fermented Foods, Blocking Harmful EMFs
089: Dr. Josh Axe – Eat Dirt • Leaky Gut Is The Root Cause Of All Disease • Soil-Based Organisms
200: Evan Brand – We Evolved To Be Outdoors • Find Your Why • Are EMFs The New Smoking?
248: Evan Brand – Parasites, H. pylori, & Candida • Cavitation Surgery • Addressing Mental Health
Note: Links marked with an asterisk (*) are affiliate links. Making a purchase through these links won't cost you anything but we will receive a small commission. This is an easy, free way of supporting the podcast. Thank you!
How can you support our podcast?
1. Apple users, please subscribe and review our show on Apple Podcasts, we make sure to read them all. Android users, be sure to subscribe to our show on Google Podcasts. Subscribers never miss any of the action 😉
2. Tell a friend about The Ultimate Health Podcast. They will surely thank you later. You can use the envelope button below to email a friend or tell them about TUHP in person.
3. Join TUHP Facebook community (FREE). This is where we all stay in touch and ask questions in between episodes. Join our community.
4. Follow our adventures on our favourite social media platform, Instagram.
5. Download The Ultimate Health Podcast iOS app (FREE). This way you'll have our whole library of episodes right at your fingertips. Download our iOS app.
6. Share using the buttons below.
Thank you!