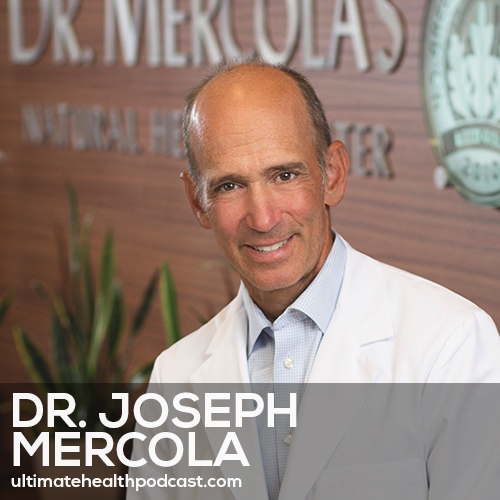 Dr. Joseph Mercola (IG: @drmercola) is a physician and New York Times bestselling author. He was voted the Ultimate Wellness Game Changer by the Huffington Post. Dr. Mercola is trying to transform the traditional medical paradigm in the United States into one in which the root cause of disease is treated, rather than the symptoms.
In this episode, we discuss:
Dr. Mercola's philosophy on fasting
Different methods of fasting
Stop eating 3-4 hrs before bed
Problems with water fasting
Metabolic benefits of KetoFasting
Autophagy defined
What is glycine?
Non-organic bone broth and collagen contain glyphosate
Who shouldn't KetoFast?
Drink lots of purified water
Stem cell activation
KetoFasting helps prevent Alzheimer's
Healthy carb recommendations
Supplements to avoid during a KetoFast
The best polyphenols to take
The different types of exogenous ketones & MCT oil
Near-infrared saunas
Supplementing with vitamin D
Active vs. passive sweating
Dr. Mercola's exercise routine
Monkfruit & stevia sweeteners
Dr. Mercola's nighttime routine
Tracking sleep with an Oura Ring
The benefits of chamomile tea
Are you metabolically flexible?
Using blue blocking glasses & filters
Maximize your biological capability
Show sponsors:
Sproos <== 10% off all Sproos products & free shipping on orders over $40
Organifi <== 20% off all Organifi products
Pique Tea <== 15% off all Pique Tea products & free shipping on orders $60 or more (US only)
Related links:
Dr. Joseph Mercola – KetoFast (book)
Dr. Mercola's website
Follow Dr. Mercola on Instagram, Twitter, and YouTube
Dr. Joseph Mercola – KetoFast Cookbook (book)
Dr. Joseph Mercola – Fat For Fuel (book)
Dr. Joseph Mercola (books)
Dr. Mercola Interviews Dr. Thomas Seyfried (YouTube)
Dr. Mercola Interviews Brian Richards – What You Need To Know About Near-Infrared Sauna Detoxification (YouTube)
Dr. Mercola and Dr. Hamblin Interview About Photobiomodulation Therapy (YouTube)
Dr. Mercola – Sleep Support with Melatonin Spray
Listen to Dr. Joseph Mercola previously on TUHP (episode #148)
Dr. Kenneth Cooper – Aerobics (book)
Satchidananda Panda – Salk Institue
Glycine powder
Valter Longo – The Longevity Diet (book)
Prolon
Planet Earth (Netflix)
Saunaspace
Dr. Lawrence Wilson – Sauna Therapy for Detoxification and Healing (book)
Lakanto monkfruit sweeteners
Oura Ring
Keto-Mojo 50 Blood Test Strips
KetoCoach
Iris (save 10% by using our link)
TrueDark – Bluelight Blocking Glasses
Related episodes:
338: Dr. Joseph Mercola – EMF*D, The Issues With 5G, Cell Phones Are The Cigarettes Of The 21st Century
280: Dr. Josh Axe – Keto Diet • Treating Cancer With Food • Collagen Is Essential
273: Dr. David Perlmutter – Grain Brain • Cholesterol Is Your Friend • What Is Keto Cycling?
255: Dr. Dale Bredesen – The End Of Alzheimer's • Remove Amyloid Naturally • The Ketoflex 12/3 Diet
244: Dr. Will Cole – Plant-Based Keto Diet • Women & Ketosis • Fats For Brain Health
Note: Some of the links above are affiliate links. Making a purchase through these links won't cost you anything but we will receive a small commission. This is an easy, free way of supporting the podcast. Thank you!
How can you support our podcast?
1. Apple users, please subscribe and review our show on Apple Podcasts, we make sure to read them all. Android users, be sure to subscribe to our show on Google Podcasts. Subscribers never miss any of the action 😉
2. Tell a friend about The Ultimate Health Podcast. They will surely thank you later. You can use the envelope button below to email a friend or tell them about TUHP in person.
3. Join TUHP Facebook community (FREE). This is where we all stay in touch and ask questions in between episodes. Join our community.
4. Follow our adventures on our favourite social media platform, Instagram.
5. Download The Ultimate Health Podcast app (FREE). This way you'll have our whole library of episodes right at your fingertips. Download our iOS/Apple app or our Android app.
6. Share using the buttons below.
Thank you!