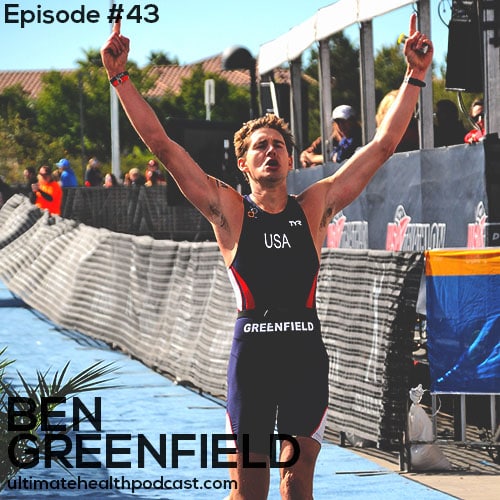 On today's show, we are speaking with health and fitness expert, Ben Greenfield. As a personal trainer and holistic nutritionist, it's only fitting that he is speaking to us from his home office, walking on his manual treadmill (no electrical pollution).
Over the years, Ben has worn many hats including bodybuilder, Ironman triathlete, biohacker, and health + wellness expert. He is the author of Beyond Training, a book that will take your workouts to the next level, so you can look, feel, and perform your best!
In this episode, we discuss:
Raising children, the healthy way
Alternatives to the traditional education system
Converting your office into a healthy workspace
Turning your home into a healthy haven
Do you suffer from manganese toxicity?
An extreme world requires an "extreme" lifestyle shift
Cholesterol isn't a bad thing
Ben's current diet and high fat experiment
The importance of following your ancestry when it comes to diet
Using fat as a source of fuel for endurance vs. carbs
What a diet of 90% fat looks like
Eating more frequently DOESN'T increase your metabolism
Fasting = anti-aging + longevity
Detox + give your digestion a rest with intermittent fasting
Related links:
Ben Greenfield – Beyond Training (book)
Ben Greenfield's website
Ben Greenfield Fitness (Ben's podcast)
Follow Ben Greenfield on Facebook, Instagram, and Twitter
Ben Greenfield (books)
Ben Greenfield Fitness Premium Access
Five in a Row – educational foundation
Rebel Desk – standing and treadmill desks
Greenwave Filters (product)
Clearlight Infrared Saunas
Related episodes:
198: Jenn Pike – Simplify Your Life • Get Your Kids Eating Healthy • Invest In Yourself
053: Julie Piatt – The Warrior Path | Unschooling | The Importance Of Spiritual Connection
273: Dr. David Perlmutter – Grain Brain • Cholesterol Is Your Friend • What Is Keto Cycling?
244: Dr. Will Cole – Plant-Based Keto Diet • Women & Ketosis • Fats For Brain Health
146: Meghan Telpner & Josh Gitalis – Create Your Ultimate Healthy Home
Note: Some of the links above are affiliate links. Making a purchase through these links won't cost you anything but we will receive a small commission. This is an easy, free way of supporting the podcast. Thank you!
How can you support our podcast?
1. Apple users, please subscribe and review our show on Apple Podcasts, we make sure to read them all. Android users, be sure to subscribe to our show on Google Podcasts. Subscribers never miss any of the action 😉
2. Tell a friend about The Ultimate Health Podcast. They will surely thank you later. You can use the envelope button below to email a friend or tell them about TUHP in person.
3. Join TUHP Facebook community (FREE). This is where we all stay in touch and ask questions in between episodes. Join our community.
4. Follow our adventures on our favourite social media platform, Instagram.
5. Download The Ultimate Health Podcast app (FREE). This way you'll have our whole library of episodes right at your fingertips. Download our iOS/Apple app or our Android app.
6. Share using the buttons below.
Thank you!