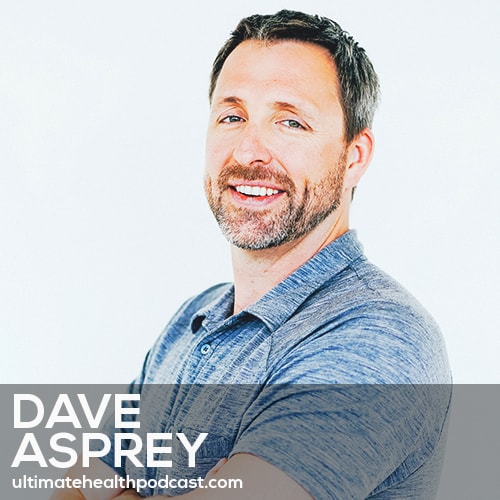 Dave Asprey is the creator of the widely popular Bulletproof Coffee, host of the #1 health podcast, Bulletproof Radio, and author of the New York Times bestselling books, The Bulletproof Diet and Head Strong.
In this episode, we discuss:
When Dave was 26 he was scared his brain would never work again
Mitochondria have ultimate power over us biologically
Muffin top in the brain
Stop eating fried foods… even foods fried in coconut oil
The vast majority of the plant kingdom is toxic for us to eat
Plant lectins can lead to chronic inflammation
Choose white rice over brown
The vast majority of plant proteins are not particularly compatible with us
Air frying and barbecuing – should you cook using these methods?
Fat is damaged by light, heat, and air
Avoid liquid smoke and stick with smoked salts
What are polyphenols?
Salt is important for your health and performance
Stressed, working hard? You need more salt
Tea, coffee, and spices have the highest concentration of polyphenols per gram
If you store water when you eat salt, you are lacking potassium and magnesium
How to properly care for your quality spices
Rejected coffee is being sent to the US
Fats helps you absorb polyphenols
Junk light is the same as junk food
What's even better than blue blocking glasses?
Is the light coming from a salt lamp legit?
Junk light impacts your skin too
The one minute cold shower challenge
Show sponsors:
Sunwarrior <== 20% off all Sunwarrior products & free shipping over $50 (US only)
CoreChair <== 15% off your CoreChair purchase by using the code tuhpcc at checkout (free shipping in North America)
Thrive Market <== As a new customer you get a free 30-day membership, 25% off your order, and free shipping (US only)
Related links:
Dave Asprey – Head Strong (book)
Dave Asprey's website (Bulletproof)
Bulletproof Radio (Dave's podcast)
Follow Dave Asprey on Facebook, Instagram, and Twitter
Listen to Dave Asprey previously on TUHP (episode #61)
Dave Asprey – The Bulletproof Diet (book)
Dave Asprey – Bulletproof: The Cookbook (book)
The Bulletproof Diet Roadmap
Bulletproof Coconut Charcoal
Bulletproof Unfair Advantage
Bulletproof KetoPrime
Bulletproof Forbose
Bulletproof Coffee*
Bulletproof Swiss Water Decaf Coffee
Bulletproof Brain Octane Oil
Bulletproof Polyphenomenal
Bulletproof Eye Armor
Bulletproof Vibe
Beekeeper's Naturals – B.LXR Brain Fuel
Tim Ferriss – The 4 Hour Body (book)
Rob Faigin – Natural Hormonal Enhancement (book)
TrueDark glasses: Twilight and Daywalker box set
Red LED light bulbs
f.lux
TrueDark Dots
40 Years of Zen
Related episodes:
305: Dave Asprey – Game Changers, Practicing Gratitude & Forgiveness, Holotropic Breathing vs. Ayahuasca
287: Dr. Steven Gundry – The Longevity Paradox • Exercise Impacts Your Microbiome • Top Sources Of Polyphenols
233: Aubrey Marcus – Own The Day, Own Your Life • Get Weird With Lunch • Start With The Hardest Thing First
202: Dr. Steven Gundry – The Plant Paradox • What Are Lectins? • Fruit Might As Well Be Candy
120: Dr. Terry Wahls – How To Fuel Your Mitochondria • Organ Meats For Beginners • MCT Oil And Exogenous Ketones
Note: Some of the links above are affiliate links. Making a purchase through these links won't cost you anything but we will receive a small commission. This is an easy, free way of supporting the podcast. Thank you!
How can you support our podcast?
1. Apple users, please subscribe and review our show on Apple Podcasts, we make sure to read them all. Android users, be sure to subscribe to our show on Google Podcasts. Subscribers never miss any of the action 😉
2. Tell a friend about The Ultimate Health Podcast. They will surely thank you later. You can use the envelope button below to email a friend or tell them about TUHP in person.
3. Join TUHP Facebook community (FREE). This is where we all stay in touch and ask questions in between episodes. Join our community.
4. Follow our adventures on our favourite social media platform, Instagram.
5. Download The Ultimate Health Podcast app (FREE). This way you'll have our whole library of episodes right at your fingertips. Download our iOS/Apple app or our Android app.
6. Share using the buttons below.
Thank you!