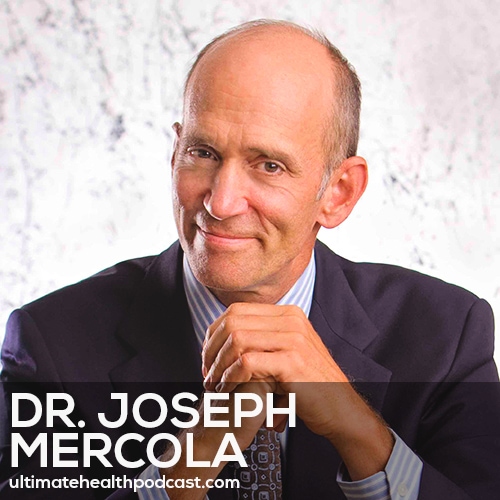 Dr. Joseph Mercola is a passionate advocate of natural medicine. He is a wellness champion and a visionary, who has succeeded in implementing much needed changes to our current healthcare system. Dr. Mercola is also a New York Times bestselling author.
After 25 years as a physician to thousands of patients, Dr. Mercola merged his passion for health with his interest in technology and created www.mercola.com. Today it's the #1 natural health website, educating and empowering millions of subscribers to take control of their health.
In this episode, we discuss:
Dr. Mercola's personal experience with a high carb, low fat diet
The role of your mitochondria
The primary motivation for writing his new book, Fat for Fuel
Miochondrial metabolic therapy (MMT)
We all need some free radicals
Changing up your macro nutrients throughout the week
There is a massive difference between fasting and starvation
Eliminating food cravings
If you're eating processed foods, you're eating toxic vegetable oils
The most important fat you can eat… DHA
There isn't much clean seafood around, these days
A simple and effective way to travel with avocados
The vast majority of restaurants don't label their fish properly
Costco is a good place to buy your olive oil
The danger of consuming too much protein
Sensible sun exposure is important
Integrating gratitude into your life
(Raw) eggs are one of the healthiest foods on the planet
The quality of an egg can be determined by the colour of the yolk
Stop eating at least 3 hours before bed
What is peak fasting?
LED lightbulbs are hurting your eyes
Blue light blockers are a must
Dr. Mercola's morning routine
Optimizing mitochondrial function with cold thermogenesis
Protecting your testicles with ice, in the sauna
The highlights of Dr. Mercola's smoothie
The three things you need to do to stay healthy
A hour a day in the gym just doesn't cut it
Show sponsors:
Raw Elements <== 10% off all Raw Elements products – Apply the code TUHP at checkout (free shipping over $100)*
Sunwarrior <== 20% off all Sunwarrior products & free shipping over $50 (US only)
Related links:
Dr. Joseph Mercola – Fat for Fuel (book)
Dr. Joseph Mercola's website
Follow Dr. Joseph Mercola on Facebook, Instagram, and Twitter
Listen to Dave Asprey previously on TUHP (episode #61)
Nick Lane – Power, Sex, Suicide: Mitochondria and the Meaning of Life (book)
Travis Christofferson – Tripping over the Truth (book)
Jimmy Moore & Dr. Jason Fung – The Complete Guide to Fasting (book)
Ancel Keys
Larry Olmsted – Real Food/Fake Food (book)
Dr. Dietrich Klinghardt
Dr. Thomas Seyfried – Cancer as a Metabolic Disease (book)
Uvex Blue Light Blocking Glasses
Dr. Lawrence Wilson – Sauna Therapy for Detoxification and Healing (book)
NutriBullet
Bulletproof Brain Octane Oil
Ketone Energy MCT Oil
Habits app for iOS (*no longer available)
Related episodes:
317: Dr. Will Cole – The Inflammation Spectrum, Managing Anxiety, Homeschooling
305: Dave Asprey – Game Changers, Practicing Gratitude & Forgiveness, Holotropic Breathing vs. Ayahuasca
291: Dr. Joseph Mercola – KetoFast • Near-Infrared Saunas • Stop Eating Before Bed
158: Dr. Trevor Cates – Clean Skin From Within • The Stress-Skin Connection • Should We Be Using Sunblock?
126: Jimmy Moore – The Ketogenic Diet & The Health Benefits Of Being In Ketosis • Fasting 101
Note: Some of the links above are affiliate links. Making a purchase through these links won't cost you anything but we will receive a small commission. This is an easy, free way of supporting the podcast. Thank you!
How can you support our podcast?
1. Apple users, please subscribe and review our show on Apple Podcasts, we make sure to read them all. Android users, be sure to subscribe to our show on Google Podcasts. Subscribers never miss any of the action 😉
2. Tell a friend about The Ultimate Health Podcast. They will surely thank you later. You can use the envelope button below to email a friend or tell them about TUHP in person.
3. Join TUHP Facebook community (FREE). This is where we all stay in touch and ask questions in between episodes. Join our community.
4. Follow our adventures on our favourite social media platform, Instagram.
5. Download The Ultimate Health Podcast app (FREE). This way you'll have our whole library of episodes right at your fingertips. Download our iOS/Apple app or our Android app.
6. Share using the buttons below.
Thank you!