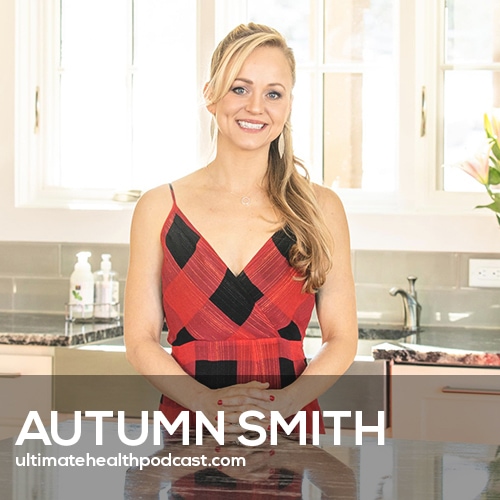 Autumn Smith (IG: @autumnfladmosmith) is the co-founder of Paleovalley and Wild Pastures. She holds a Masters in Holistic Nutrition, she's a Certified Eating Psychology Coach, and a Certified FDN Practitioner.
Autumn's passion for health began with her own struggles with IBS and anxiety: despite a career as a professional dancer and celebrity fitness trainer, her own health was in shambles. Desperate for a cure, Autumn and her husband Chas stumbled upon the paleo diet in 2011 and within a month of beginning it, her health was completely transformed.
Autumn then made it her mission to share the information she had learned with as many people as possible.
(Subscribe in Apple Podcasts)
(Subscribe in Google Podcasts)
In this episode, we discuss:
Transitioning Paleovalley from California to Colorado
Supporting farmers using regenerative agriculture
Sourcing 100% grass-fed and grass-finished meat
Growing nutrient-dense produce
Making regenerative organic certification (ROC) today's standard
Shifting our focus to the bigger picture
How Autumn maintains balance as a mom, wife, and entrepreneur
Daily life in The Kindergarten Pod
The challenges of being a "yes person"
What does it mean to be a highly sensitive person?
Turn your weakness into a strength
Autumn being diagnosed with anxiety, depression, and an eating disorder in her teens
How Autumn overcame her drug and alcohol addictions
Healing digestive issues with the paleo diet
Brain issues can drive gut dysfunction
How to avoid the blood sugar roller coaster
Organ meats are great for our mental health
Eating for utility
Prioritize exercise into your daily routine
Tracking your heart rate variability (HRV)
Building a strong community in Colorado
Autumn's father raised her to be driven in life
Being in touch with your intuition
Apple cider vinegar helps improve blood sugar stability
Taking turmeric with anti-depressants makes them more effective
Lion's mane mushroom can help reverse mild cognitive decline
Show sponsors:
Organifi <== 20% off all Organifi products
Beekeeper's Naturals <== 15% off all Beekeeper's Naturals products (free shipping on orders $60 or more)
Sunwarrior <== 20% off all Sunwarrior products (free shipping on orders over $50)
Perfect Keto <== 20% off all Perfect Keto products (free shipping in the US)
Related links:
Paleovalley <== 15% off all Paleovalley products by using the code ultimatehealth at checkout
Follow Autumn Smith on Facebook and Instagram
Wild Pastures
Robb Wolf & Diana Rogers – Sacred Cow (book)
Listen to Robb Wolf previously on TUHP (episodes #364 & #145)
Listen to Kimbal Musk previously on TUHP (episode #340)
Kiss The Ground – Soil Advocacy Training
Listen to Joel Salatin previously on TUHP (episode #069)
The Biggest Little Farm
Listen to John & Molly Chester previously on TUHP (episode #370)
Gabe Brown – Dirt To Soil (book)
Tracy Anderson
Loren Cordain (books)
Lance Roll – The Flavor Chef
Listen to Dr. Satchin Panda previously on TUHP (episode #353)
Listen to Dr. Jason Fung previously on TUHP (episode #369)
Oura Ring
CorSense
Related episodes:
365: Dr. Uma Naidoo – This Is Your Brain On Food
359: Dr. Daniel Amen – The End Of Mental Illness
319: Eric Zimmer – Overcoming Addiction, Maintaining Community, Broadening Your Perspective
259: Dr. Gabor Maté – Trauma, Addiction, & The Use Of Psychedelics
214: Dr. Mark Hyman – What The Heck Should I Eat? • Ketogenic Diet Hype • Meat As A Condiment
Note: Some of the links above are affiliate links. Making a purchase through these links won't cost you anything but we will receive a small commission. This is an easy, free way of supporting the podcast. Thank you!
How can you support our podcast?
1. Apple users, please subscribe and review our show on Apple Podcasts, we make sure to read them all. Android users, be sure to subscribe to our show on Google Podcasts. Subscribers never miss any of the action 😉
2. Tell a friend about The Ultimate Health Podcast. They will surely thank you later. You can use the envelope button below to email a friend or tell them about TUHP in person.
3. Join TUHP Facebook community (FREE). This is where we all stay in touch and ask questions in between episodes. Join our community.
4. Follow our adventures on our favourite social media platform, Instagram.
5. Download The Ultimate Health Podcast app (FREE). This way you'll have our whole library of episodes right at your fingertips. Download our iOS/Apple app or our Android app.
6. Share using the buttons below.
Thank you!