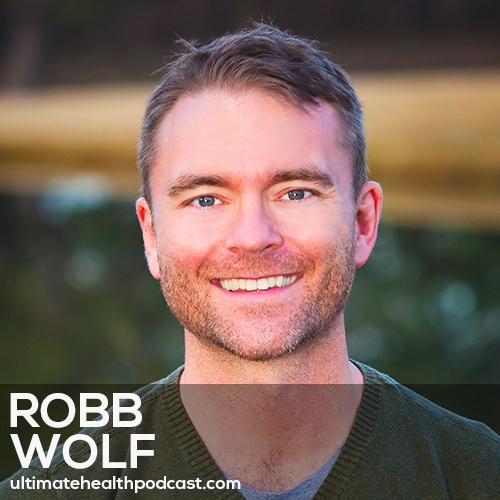 Robb Wolf is the New York Times bestselling author of The Paleo Solution – The Original Human Diet. He is a former research biochemist and one of the world's leading experts in Paleolithic nutrition.
Robb has transformed the lives of hundreds of thousands of people around the world via his top ranked iTunes podcast and wildly popular seminar series.
Robb has a brand new book, Wired to Eat, which is the focus of today's interview.
In this episode, we discuss:
How Robb's health was a mess 20 years ago
Robb's experiment with a high carb, low fat, vegan diet
How the paleo diet saved Robb's life
Grains and legumes can be harmful to your gut
How to enhance the digestibility of grains and legumes
What to expect when making the switch to a paleo diet
Carbs and the ancestral diet
Is a low carb diet ideal for females?
Low carb/ketogenic diets are great for reducing appetite
Autoimmune paleo (AIP)/autoimmune protocol diet
The fasting mimicking diet
Is the paleo diet right for everyone, including kids?
Kids need to chew to help develop their dental arch and sinuses
Don't be a scale watcher
The dark side of using a Fitbit
You can't cheat on your diet
Robb's 4 pillars of health
Optimum foraging strategy
Palate fatigue and how it's causing us to eat too much
The kitchen sink ice cream challenge
Short or disordered sleep makes us tend to want more food and refined foods
Getting a full nights sleep isn't enough, you need to get to bed early too
How Robb gets away with spending less than an hour a week at the gym
The importance of community/socializing
2 things Robb does each morning to start the day off right
Related links:
Sunwarrior <== 10% off all Sunwarrior products (free shipping over $100)*
Raw Elements <== 10% off all Raw Elements products – Apply the code TUHP at checkout (free shipping over $100)*
Robb Wolf – Wired to Eat (book)*
Robb Wolf's website
Robb Wolf – The Paleo Solution (book)*
Dr. Loren Cordain*
Dr. Arthur De Vany*
The Weston A. Price Foundation
Listen to Dr. Terry Wahls previously on TUHP (episode #120)
Dr. Valter Longo
Adam Richman – Man v. Food (TV series)*
f.lux
Note: Links marked with an asterisk (*) are affiliate links. Making a purchase through these links won't cost you anything but we will receive a small commission. This is an easy, free way of supporting the podcast. Thank you!
How can you support our podcast?
1. Apple users, please subscribe and review our show on iTunes, we make sure to read them all. Android users, be sure to subscribe to our show on Google Play Music. Subscribers never miss any of the action 😉
2. Tell a friend about The Ultimate Health Podcast. They will surely thank you later. You can use the envelope button below to email a friend or tell them about TUHP in person.
3. Join TUHP Facebook group (FREE). This is where we all stay in touch and ask questions in between episodes. Join our community.
4. Our favourite social media platform is Instagram. Follow our adventures.
5. Download our Habits app for iOS. You choose the healthy habits you want to implement and maintain and our app will help keep you on track. Download Habits app.
6. Share using the buttons below.
Thank you!