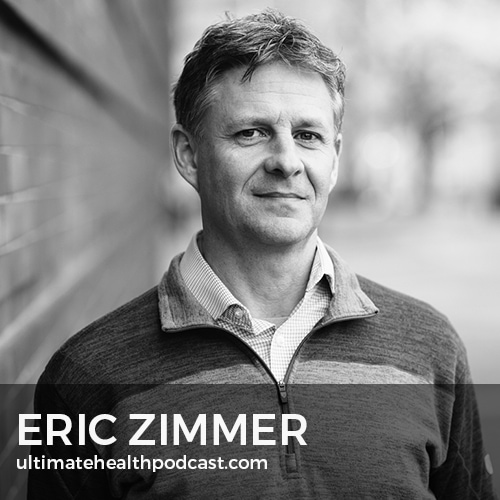 Eric Zimmer (IG: @one_you_feed) is a dad, serial entrepreneur, podcast host, behavior coach, and author. He is endlessly inspired by the quest for a greater understanding of how our minds work and how to intentionally create the lives we want to live.
At the age of 24, Eric was homeless, addicted to heroin and facing long jail sentences. In the years since, he has found a way to recover from addiction and build a life worth living for himself.
Eric's story and his work have been featured in the media including TedX, mindbodygreen, Elephant Journal, the BBC, and Brain Pickings.
(Subscribe in Apple Podcasts)
(Subscribe in Google Podcasts)
In this episode, we discuss:
Eric's struggle with alcohol & drugs
Becoming aware and realizing the bigger issue
Physical addiction vs. psychological addiction
The moment that led to Eric's sobriety
Hope & support are important in recovery
Strategies to fight depression
A snapshot of Eric's diet
Relapsing back to old habits
Check in with yourself
Broadening your perspective
Focus on gratitude & kindness
Share how you are feeling
Eric's journey from solar energy to podcasting
The challenges of being a sober musician
Maintaining community and connections
Transitioning to full-time podcasting
Finding balance with work
Being true to the art of podcasting
The importance of hobbies outside of work
Start where you are at
Show sponsors:
Sproos <== 10% off all Sproos products & free shipping on orders over $40
Beekeeper's Naturals <== 15% off all Beekeeper's Naturals products (free shipping on orders $60 or more)
Organifi <== 20% off all Organifi products
Perfect Keto <== 20% off all Perfect Keto products (free shipping in the US)
Related links:
Eric Zimmer's website – The One You Feed
Follow The One You Feed on Facebook, Instagram, and Twitter
Eric Zimmer's Training
Listen to Rich Roll previously on TUHP (episode #033)
Rich Roll – Finding Ultra (book)
Related episodes:
310: Seane Corn – Revolution Of The Soul, Yoga Is An Art, Understanding The Chakras
259: Dr. Gabor Maté – Trauma, Addiction, & The Use Of Psychedelics
238: Tara Mackey – WILD Habits • Natural Ways To Calm Your Anxiety • Approaching Gratitude Differently
232: Sarah Wilson – Normalizing Anxiety • The Impact Of Gratitude On Your Brain • Just Walk
229: Melissa Hartwig – The Whole30 Origin Story
Note: Some of the links above are affiliate links. Making a purchase through these links won't cost you anything but we will receive a small commission. This is an easy, free way of supporting the podcast. Thank you!
How can you support our podcast?
1. Apple users, please subscribe and review our show on Apple Podcasts, we make sure to read them all. Android users, be sure to subscribe to our show on Google Podcasts. Subscribers never miss any of the action 😉
2. Tell a friend about The Ultimate Health Podcast. They will surely thank you later. You can use the envelope button below to email a friend or tell them about TUHP in person.
3. Join TUHP Facebook community (FREE). This is where we all stay in touch and ask questions in between episodes. Join our community.
4. Follow our adventures on our favourite social media platform, Instagram.
5. Download The Ultimate Health Podcast app (FREE). This way you'll have our whole library of episodes right at your fingertips. Download our iOS/Apple app or our Android app.
6. Share using the buttons below.
Thank you!