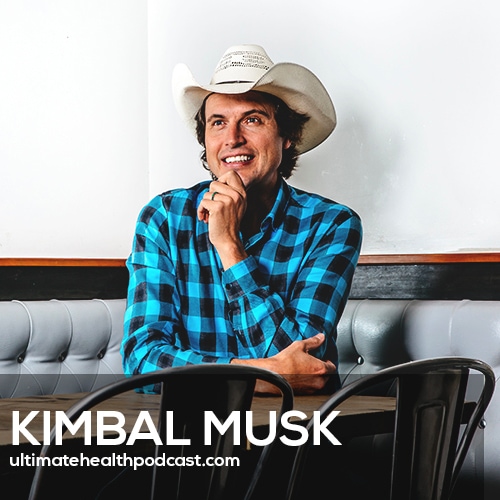 Kimbal Musk (IG: @kimbalmusk) is chef, restauranteur, and philanthropist. His personal mission is to pursue an America where everyone has access to real food. Kimbal has been named a Global Social Entrepreneur by the World Economic Forum.
He is the co-founder and executive chairman of three businesses: The Kitchen Restaurant Group, Big Green, and Square Roots. The Kitchen Restaurant Group serves real food at every price point, Big Green builds outdoor Learning Garden classrooms, and Square Roots builds urban farms in climate-controlled shipping containers.
Kimbal is on the board for Tesla and SpaceX.
(Subscribe in Apple Podcasts)
(Subscribe in Google Podcasts)
In this episode, we discuss:
Growing up in South Africa and how Kimbal developed his passion for cooking
Taking a stand against apartheid
Moving to Canada at age 18 to attend Queen's University
The painting business that sparked Kimbal's entrepreneurial career
Starting the internet company Zip2 with his brother, Elon
Learning to cook at the French Culinary Institute in NYC
Enjoying the best of both worlds: tech by day, cooking by night
Kimbal recalls his 9/11 story
Volunteering to help feed the firefighters after 9/11
Travelling across America in a Euro van with his wife & dog
Establishing the farm-to-table movement in Colorado
Bringing the community together through food you can trust
The challenge & excitement of creating a new menu daily
Form connections and trust with local farmers
The accident that changed Kimbal's life
The impact of teaching children through a learning garden
Empowering young urban farmers to grow real food
Converting old shipping containers into indoor farms
Farming is critical to our future
Climate change is the biggest challenge in conventional farming
Indoor farming will help eliminate food waste
The process of changing conventional farms to organic
Eat real food
Show sponsors:
Joovv <== purchase a Joovv device using our link and receive a free gift
Organifi <== 20% off all Organifi products
Rancho La Puerta – Use the code RLP-UHP and save $250 off your first 7-night visit at Rancho
Thrive Market <== As a new Thrive customer you get 25% off your order and a free 30-day membership
Related links:
Kimbal Musk's website
Follow Kimbal Musk on Facebook, Instagram, and Twitter
Maye Musk – A Woman Makes A Plan (book)
Elon Musk
French Culinary Institute (now called ICC)
The Kitchen Restaurant Group
Square Roots
Big Green
Related episodes:
297: Carly Stein – The Role Of Bees, Sustainable Beekeeping, Bee Pollen Is Natures Multivitamin
295: Dr. Andrew Weil – Cooking As A Form Of Meditation, Moods Are Contagious, Microdosing Psilocybin
281: Vani Hari aka Food Babe – Feeding You Lies • Non-GMO vs. Organic • Life As A New Mom
069: Joel Salatin – Alternative Farming Using Modern Technology | Chickens Expressing Their Chickenness | Grain-Fed vs. Grass-Fed Beef
034: Frank Giglio – ReWild Your Life | Eat Local & Thrive | Deep Nutrition With Fermented Foods
Note: Some of the links above are affiliate links. Making a purchase through these links won't cost you anything but we will receive a small commission. This is an easy, free way of supporting the podcast. Thank you!
How can you support our podcast?
1. Apple users, please subscribe and review our show on Apple Podcasts, we make sure to read them all. Android users, be sure to subscribe to our show on Google Podcasts. Subscribers never miss any of the action 😉
2. Tell a friend about The Ultimate Health Podcast. They will surely thank you later. You can use the envelope button below to email a friend or tell them about TUHP in person.
3. Join TUHP Facebook community (FREE). This is where we all stay in touch and ask questions in between episodes. Join our community.
4. Follow our adventures on our favourite social media platform, Instagram.
5. Download The Ultimate Health Podcast app (FREE). This way you'll have our whole library of episodes right at your fingertips. Download our iOS/Apple app or our Android app.
6. Share using the buttons below.
Thank you!