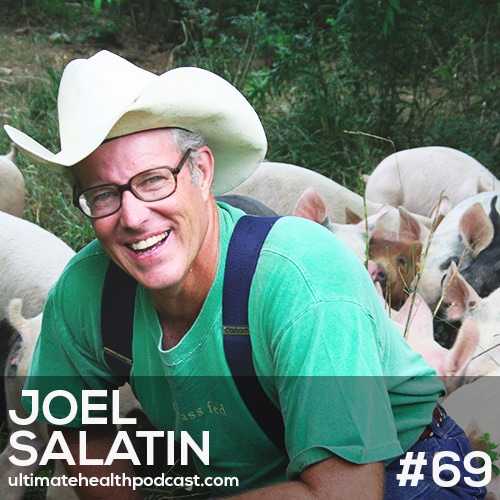 On this weeks episode, we are speaking with alternative farmer, Joel Salatin. He is a livestock farmer on his Polyface Farm, in Virginia. Joel uses modern technology to closely mimic the natural environment of his animals, putting them first. He was featured in The New York Times Bestseller, The Omnivore's Dilemma and the documentaries Food Inc. + Fresh.
In this episode, we discuss:
Joel's alternative farming style vs. conventional farming
Chickens expressing their chickenness, pigs expressing their pigness, and tomatoes expressing their tomatoness
Just because we can, doesn't mean we should
Cows are being fed chicken manure and carcasses
Using modern technology to bring back a natural environment for the livestock
500 years ago the US grew more food than it does today without chemicals, John Deere, GMOs etc.
There is a profound difference in nutrient profiles of grain-fed vs. grass-fed beef
Chlorophyll is nature's detoxifier
How to get people eating healthy & more sustainable food
Food price is directly related to food processing
The most expensive potato in the world
Take out the middleman and buy from your farmers
You are going to mess up when you try something new… don't let that stop you
Related links:
Sunwarrior <== 20% off all Sunwarrior products & free shipping over $50 (US only)
Joel Salatin – The Sheer Ecstasy of Being a Lunatic Farmer (book)
Joel Salatin's website
Follow Joel Salatin (Polyface Farms) on Facebook and Instagram
Michael Pollan – The Omnivore's Dilemma (book)
Food Inc. (documentary)
Fresh (documentary)
Jared Diamond – Collapse (book)
Jared Diamond – Guns, Germs, and Steel (book)
Eat Wild website
Jo Robinson – Pasture Perfect (book)
Jo Robinson – Why Grassfed Is Best! (book)
Artemis Dimopoulos & Jo Robinson – The Omega Diet (book)
HeartMath – Inner Balance Trainer
Fitbit
Related episodes:
038: Take A Stand Against GMOs (Eat Organic) | Make Green Foods A Priority
281: Vani Hari aka Food Babe – Feeding You Lies • Non-GMO vs. Organic • Life As A New Mom
034: Frank Giglio – ReWild Your Life | Eat Local & Thrive | Deep Nutrition With Fermented Foods
009: Anthony Anderson – Creating A Life Of Paradise
268: Sarah Wilson – Zero Waste Cooking • Minimal Consumption • Start Thinking Differently
Note: Some of the links above are affiliate links. Making a purchase through these links won't cost you anything but we will receive a small commission. This is an easy, free way of supporting the podcast. Thank you!
How can you support our podcast?
1. Apple users, please subscribe and review our show on Apple Podcasts, we make sure to read them all. Android users, be sure to subscribe to our show on Google Podcasts. Subscribers never miss any of the action 😉
2. Tell a friend about The Ultimate Health Podcast. They will surely thank you later. You can use the envelope button below to email a friend or tell them about TUHP in person.
3. Join TUHP Facebook community (FREE). This is where we all stay in touch and ask questions in between episodes. Join our community.
4. Follow our adventures on our favourite social media platform, Instagram.
5. Download The Ultimate Health Podcast app (FREE). This way you'll have our whole library of episodes right at your fingertips. Download our iOS/Apple app or our Android app.
6. Share using the buttons below.
Thank you!