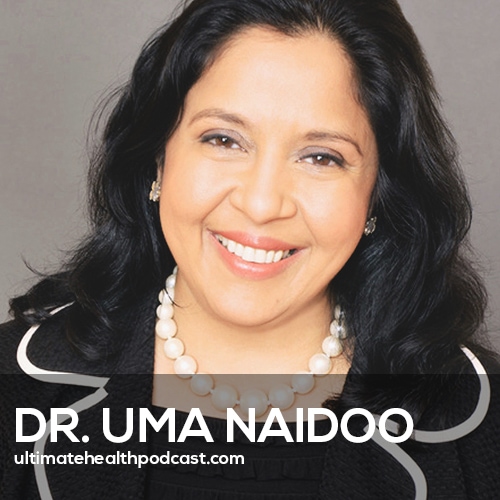 Dr. Uma Naidoo (IG: @drumanaidoo) is a Harvard trained psychiatrist, professional chef, and nutrition specialist. Her niche work is in Nutritional Psychiatry and she is recognized worldwide as a medical pioneer in this more newly recognized field.
Dr. Uma has a special interest on the impact of food on mood and other mental health conditions. She's been asked by The American Psychiatric Association to author the first academic text in Nutritional Psychiatry.
Dr. Uma just released her first book, This Is Your Brain on Food.
(Subscribe in Apple Podcasts)
(Subscribe in Google Podcasts)
In this episode, we discuss:
Dr. Uma's learning to cook journey
How Julia Child inspired Dr. Uma to pursue culinary school
The emerging field of Nutritional Psychiatry
Food modifications when battling cancer
Pay attention to your body and your habits
Cancer patients need a solid support system
Be present and enjoy the good moments
Black pepper activates curcumin in turmeric
The language behind "treat days"
Using turmeric to treat depression & anxiety
The vagus nerve connects your gut and brain
Fermented foods vs. probiotics
How we eat and when we eat is important
Gut bacteria and your libido
Saffron is an effective antidepressant
Sugar impacts your mental health
Omega-3s helps boost mood & fight anxiety
Finding the root cause of mental health challenges
The impact of caffeine & alcohol on your sleep
Is a magnesium deficiency affecting your mood or anxiety?
Vitamin D improves anxiety
Be kind to yourself & others
Show sponsors:
Paleovalley <== 15% off all Paleovalley products by using the code ultimatehealth at checkout
Organifi <== 20% off all Organifi products
Sunwarrior <== 20% off all Sunwarrior products & free shipping over $50 (US only)
Beekeeper's Naturals <== 15% off all Beekeeper's Naturals products (free shipping on orders $60 or more)
Related links:
Dr. Uma Naidoo – This Is Your Brain On Food (book)
Dr. Uma Naidoo's website
Follow Dr. Uma Naidoo on Facebook, Instagram, and Twitter
Julia Child (books)
Related episodes:
359: Dr. Daniel Amen – The End Of Mental Illness
317: Dr. Will Cole – The Inflammation Spectrum, Managing Anxiety, Homeschooling
306: Haemin Sunim – Let Go Of Perfectionism, Combat Depression, Take Things Slowly
280: Dr. Josh Axe – Keto Diet • Treating Cancer With Food • Collagen Is Essential
267: Dr. Datis Kharrazian – Why Isn't My Brain Working?
Note: Some of the links above are affiliate links. Making a purchase through these links won't cost you anything but we will receive a small commission. This is an easy, free way of supporting the podcast. Thank you!
How can you support our podcast?
1. Apple users, please subscribe and review our show on Apple Podcasts, we make sure to read them all. Android users, be sure to subscribe to our show on Google Podcasts. Subscribers never miss any of the action 😉
2. Tell a friend about The Ultimate Health Podcast. They will surely thank you later. You can use the envelope button below to email a friend or tell them about TUHP in person.
3. Join TUHP Facebook community (FREE). This is where we all stay in touch and ask questions in between episodes. Join our community.
4. Follow our adventures on our favourite social media platform, Instagram.
5. Download The Ultimate Health Podcast app (FREE). This way you'll have our whole library of episodes right at your fingertips. Download our iOS/Apple app or our Android app.
6. Share using the buttons below.
Thank you!