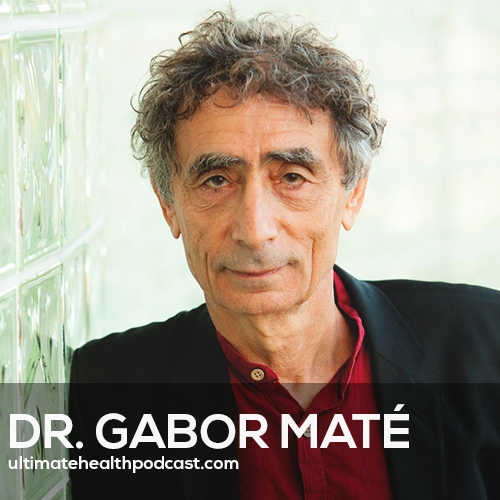 Dr. Gabor Maté (@DrGaborMate) is a renowned speaker and bestselling author that is highly sought after for his expertise on a range of topics including addiction, stress and childhood development.
Today we're focusing in on his book, In the Realm of Hungry Ghosts* and addiction.
In this episode, we discuss:
What is an addiction?
The behaviour of addiction
Why trauma needs to be explored
The 3 circuits that affect brain development
Gabor discusses his ADD diagnosis
ADD is a risk factor for addictions
Gabor's classical music shopping addiction
Why some people become addicted
Eating disorders & the relationship with food
This society feeds addiction
The negative impact of social media
Community is a human need
Conventional treatment of addicts
Gabor's approach to addiction treatment
Treatment has to address trauma
The use of psychedelics
The brain can change
The role of family support
Recognizing an addict
Genetics and addiction
Practice mindfulness
The difference between addiction and passion
Show sponsors:
Four Sigmatic <== 10% off all Four Sigmatic products & free shipping over $100
Thrive Market <== As a new customer you get a free 30-day membership, 25% off your order, and free shipping (US only)*
CoreChair <== Apply the code tuhpcc at checkout for your listener discount (free shipping in North America)
Sunwarrior <== 10% off all Sunwarrior products & free shipping over $100
Related links:
Dr. Gabor Maté – In the Realm of Hungry Ghosts (book)*
Dr. Gabor Maté's website
Follow Dr. Gabor Maté on Facebook and YouTube
Dr. Gabor Maté – Scattered: How Attention Deficit Disorder Originates (book)*
All of Dr. Gabor Maté's books*
Related episodes:
099: Dr. Jeffrey Eisenberg – Suckered: The History Of Sugar, Our Toxic Addiction, Our Power To Change
132: Ryan Nicodemus – The Minimalists • Gift Giving… The Healthy Way • Give Yourself A Pay Raise By Spending Less
186: Nick Ortner – Your Greatest Self Doesn't Equal Perfection • What Does Tapping Look Like? • Common Energy Leaks
227: Andy Couturier – The Abundance Of Less • Enjoying The Process • Thinking For Yourself
229: Melissa Hartwig – The Whole30 Origin Story
Note: Links marked with an asterisk (*) are affiliate links. Making a purchase through these links won't cost you anything but we will receive a small commission. This is an easy, free way of supporting the podcast. Thank you!
How can you support our podcast?
1. Apple users, please subscribe and review our show on Apple Podcasts, we make sure to read them all. Android users, be sure to follow our show on Spotify. Subscribers never miss any of the action 😉
2. Tell a friend about The Ultimate Health Podcast. They will surely thank you later. You can use the envelope button below to email a friend or tell them about TUHP in person.
3. Join TUHP Facebook group (FREE). This is where we all stay in touch and ask questions in between episodes. Join our community.
4. Our favourite social media platform is Instagram. Follow our adventures.
5. Share using the buttons below.
Thank you!