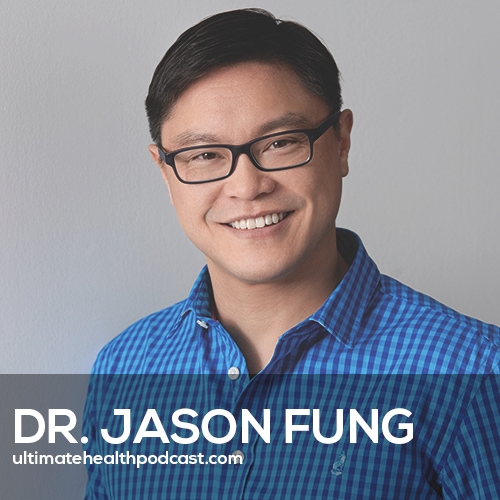 Dr. Jason Fung (IG: @drjasonfung) is a physician, author, and researcher. His groundbreaking science-based books about diabetes and obesity, The Diabetes Code, The Obesity Code, and The Complete Guide to Fasting have sold hundreds of thousands of copies and challenged the conventional wisdom that diabetics should be treated with insulin.
Dr. Fung is also the co-founder of the Intensive Dietary Management Program, North America's leading clinic to help people lose weight and reverse type 2 diabetes naturally with fasting. His work has been cited by CNN, Time, The Atlantic, Forbes, the Toronto Star, and many other media outlets.
This conversation is based off of Dr. Fung's latest book, Life in the Fasting Lane that he co-wrote with Eve Mayer and Megan Ramos.
(Subscribe in Apple Podcasts)
(Subscribe in Google Podcasts)
In this episode, we discuss:
Treating kidney disease & type 2 diabetes by helping people lose weight
The real reason people gain weight… hormones
Satiety signaling vs. insulin signaling
Stop eating 6-10x a day
Fasting is the solution for obesity
Ghrelin (the hunger hormone) explained
Find a supportive community when you fast
The physiology of what happens while fasting
Autophagy explained
The fasting differences between men & women
The benefits of time-restricted eating (TRE)
Green tea is very effective during a fast
Artificial sweeteners don't work for weight loss
Stevia raises insulin levels
Don't let your environment lead to unnecessary snacking
Fasting has been around for thousands of years
Training in the fasted state
Know what to expect when fasting and being prepared
Fasting doesn't cost money, it saves you money
Dr. Fung's current fasting protocol
Show sponsors:
Sunwarrior <== 20% off all Sunwarrior products (free shipping on orders over $50)
Perfect Keto <== 20% off all Perfect Keto products (free shipping in the US)
Paleovalley <== 15% off all Paleovalley products by using the code ultimatehealth at checkout
Organifi <== 20% off all Organifi products
Related links:
Dr. Jason Fung – Life In The Fasting Lane (book)
Dr. Jason Fung's website (The Fasting Method)
Follow Dr. Jason Fung on Facebook, Instagram, and Twitter
Dr. Jason Fung (books)
Pique Tea <== 5% off all Pique Tea products
Bulletproof Coffee
Related episodes:
353: Dr. Satchin Panda – Time-Restricted Eating (TRE) & Managing Your Light Exposure
294: Dr. Sara Gottfried – Brain Body Diet, Start To Surrender, Reset With Intermittent Fasting
291: Dr. Joseph Mercola – KetoFast • Near-Infrared Saunas • Stop Eating Before Bed
273: Dr. David Perlmutter – Grain Brain • Cholesterol Is Your Friend • What Is Keto Cycling?
126: Jimmy Moore – The Ketogenic Diet & The Health Benefits Of Being In Ketosis • Fasting 101
Note: Some of the links above are affiliate links. Making a purchase through these links won't cost you anything but we will receive a small commission. This is an easy, free way of supporting the podcast. Thank you!
How can you support our podcast?
1. Apple users, please subscribe and review our show on Apple Podcasts, we make sure to read them all. Android users, be sure to subscribe to our show on Google Podcasts. Subscribers never miss any of the action 😉
2. Tell a friend about The Ultimate Health Podcast. They will surely thank you later. You can use the envelope button below to email a friend or tell them about TUHP in person.
3. Join TUHP Facebook community (FREE). This is where we all stay in touch and ask questions in between episodes. Join our community.
4. Follow our adventures on our favourite social media platform, Instagram.
5. Download The Ultimate Health Podcast app (FREE). This way you'll have our whole library of episodes right at your fingertips. Download our iOS/Apple app or our Android app.
6. Share using the buttons below.
Thank you!