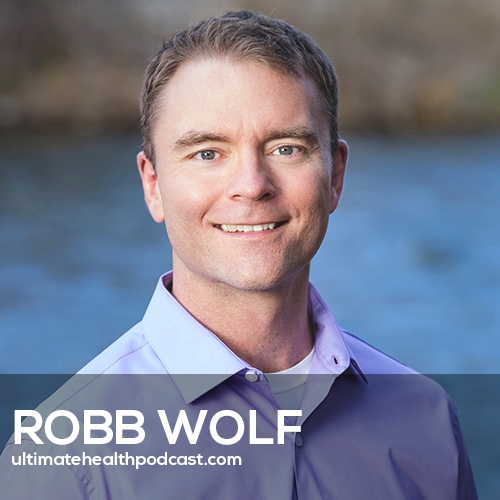 Robb Wolf (IG: @dasrobbwolf) is a former research biochemist and a 2x New York Times & Wall Street Journal bestselling author of The Paleo Solution and Wired To Eat. He has transformed the lives of hundreds of thousands of people around the world via his top ranked podcast, books and seminars. Robb's new book is Sacred Cow.
(Subscribe in Apple Podcasts)
(Subscribe in Google Podcasts)
In this episode, we discuss:
What is well raised meat?
The meaning behind the title of Robb's new book, Sacred Cow
Why did eating meat become vilified in the health & wellness space
Is grass-fed meat more nutritious than conventional meat?
The dangers of animals eating mold infected grains
Raising animals in a regenerative process vs. grain finishing animals
What is the least harm principle?
Vegan diets are not sustainable for pregnant women, infants & children
You can't own the intellectual property of nature
How the domesticated cow entered our food chain
How does wild game fit into the picture?
Debunking the "meat is acidic" theory
Does meat cause cancer?
The carbon footprint of lab grown meat
Regenerative agriculture explained
Why biodiversity is important in farming
How regenerative agriculture can repair depleted soil
The energy footprint of growing hydroponics
Understanding that we all live & die
Challenges we're facing from the health & food systems
Show sponsors:
BLUblox <== 15% off the world's most advanced blue light glasses
Organifi <== 20% off all Organifi products
Related links:
Robb Wolf & Diana Rodgers – Sacred Cow: The Case for (Better) Meat: Why Well-Raised Meat Is Good for You and Good for the Planet (book)
Robb Wolf's website
Follow Robb Wolf on Facebook, Instagram, and Twitter
Robb Wolf – The Paleo Solution (book)
Robb Wolf – Wired To Eat (book)
The Healthy Rebellion
The Healthy Rebellion Radio with Robb Wolf & Nicki Violetti
Listen to Robb Wolf previously on TUHP (episode #145)
Diana Rodgers' website
Listen to Joel Salatin previously on TUHP (episode #069)
Related episodes:
340: Kimbal Musk – From Tech To Chef, Making Real Food Accessible, Indoor Farming
220: Sarah Ballantyne – Paleo Is Almost A Plant-Based Diet • Prioritize Sleep • AIP 101
214: Dr. Mark Hyman – What The Heck Should I Eat? • Ketogenic Diet Hype • Meat As A Condiment
345: Max Lugavere – The Genius Life, Minimizing Noise Pollution, Supplementing With Collagen
061: Dave Asprey – Hacking Ketosis | Bulletproof Coffee For Kids? | Hidden Mold In Your Home
Note: Some of the links above are affiliate links. Making a purchase through these links won't cost you anything but we will receive a small commission. This is an easy, free way of supporting the podcast. Thank you!
How can you support our podcast?
1. Apple users, please subscribe and review our show on Apple Podcasts, we make sure to read them all. Android users, be sure to subscribe to our show on Google Podcasts. Subscribers never miss any of the action 😉
2. Tell a friend about The Ultimate Health Podcast. They will surely thank you later. You can use the envelope button below to email a friend or tell them about TUHP in person.
3. Join TUHP Facebook community (FREE). This is where we all stay in touch and ask questions in between episodes. Join our community.
4. Follow our adventures on our favourite social media platform, Instagram.
5. Download The Ultimate Health Podcast app (FREE). This way you'll have our whole library of episodes right at your fingertips. Download our iOS/Apple app or our Android app.
6. Share using the buttons below.
Thank you!