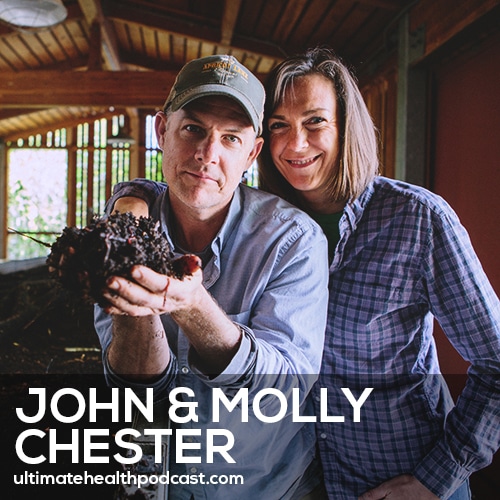 John Chester is an Emmy-winning director and has been a filmmaker and television director for the last 25 years. His latest project The Biggest Little Farm, is a feature-length film that chronicles the epic 8-year story of Apricot Lane Farms, the regenerative farm he and his wife Molly started in 2011.
Molly Chester is an author, farmer and chef known for her breadth of culinary work with traditional food techniques. She authored the popular traditional foods blog, Organic Spark, which became the inspiration for her traditional foods cookbook, Back to Butter. In 2011, Molly's culinary journey led her and her husband John to start Apricot Lane Farms, a 214-acre biodynamic farm in Moorpark, California, with the goal of producing the most healthy, flavourful, and nutrient-dense food possible.
(Subscribe in Apple Podcasts)
(Subscribe in Google Podcasts)
In this episode, we discuss:
Apricot Lane Farms fall crops
How rescuing Todd the dog inspired John & Molly's new way of living
Molly's passion for food and her PCOS healing journey
The world of regenerative agriculture
Understanding the differences between industrial farming, regenerative ag, and permaculture organic farming
Everything is connected
The beginning of Apricot Lane Farms
Changes in the consumer market over the years
Trusting your instincts as a farmer
You learn through failures
The benefit of WWOOF volunteers
Farming for beauty and diversity
Regenerative Organic Certification (ROC) labelling
Windrow composting vs. worm composting
The circle of life
Animal input is needed to create healthy soil systems
Coming face to face with grief
We all have blood on our hands
The nutrient density of food
We need more innovation to solve problems
Finding peace in nature
Show sponsors:
Paleovalley <== 15% off all Paleovalley products by using the code ultimatehealth at checkout
BLUblox <== 15% off the world's most advanced blue light glasses
Organifi <== 20% off all Organifi products
Related links:
Apricot Lane Farms
Follow Apricot Lane Farms on Facebook, Instagram, and Twitter
The Biggest Little Farm (documentary)
Donna Gates – The Body Ecology Diet (book)
Rutger Bregman – Humankind (book)
Demeter – Biodynamic Certification
Joel Salatin (books)
Listen to Joel Salatin previously on TUHP (episode #069)
Allan Savory (books)
Gabe Brown – Dirt To Soil (book)
Ray Archuleta
WWOOF
Patagonia – Regenerative Organic Certification
Dr. Bronner's
National Science Foundation (NSF)
Dr. Peter J. D'Adamo – Eat Right 4 Your Type (book)
Related episodes:
364: Robb Wolf – Well Raised Meat Is Good For You And The Planet
340: Kimbal Musk – From Tech To Chef, Making Real Food Accessible, Indoor Farming
297: Carly Stein – The Role Of Bees, Sustainable Beekeeping, Bee Pollen Is Natures Multivitamin
281: Vani Hari aka Food Babe – Feeding You Lies • Non-GMO vs. Organic • Life As A New Mom
089: Dr. Josh Axe – Eat Dirt • Leaky Gut Is The Root Cause Of All Disease • Soil-Based Organisms
John & Molly Chester photo credit: Yvette Roman Photography
Note: Some of the links above are affiliate links. Making a purchase through these links won't cost you anything but we will receive a small commission. This is an easy, free way of supporting the podcast. Thank you!
How can you support our podcast?
1. Apple users, please subscribe and review our show on Apple Podcasts, we make sure to read them all. Android users, be sure to subscribe to our show on Google Podcasts. Subscribers never miss any of the action 😉
2. Tell a friend about The Ultimate Health Podcast. They will surely thank you later. You can use the envelope button below to email a friend or tell them about TUHP in person.
3. Join TUHP Facebook community (FREE). This is where we all stay in touch and ask questions in between episodes. Join our community.
4. Follow our adventures on our favourite social media platform, Instagram.
5. Download The Ultimate Health Podcast app (FREE). This way you'll have our whole library of episodes right at your fingertips. Download our iOS/Apple app or our Android app.
6. Share using the buttons below.
Thank you!