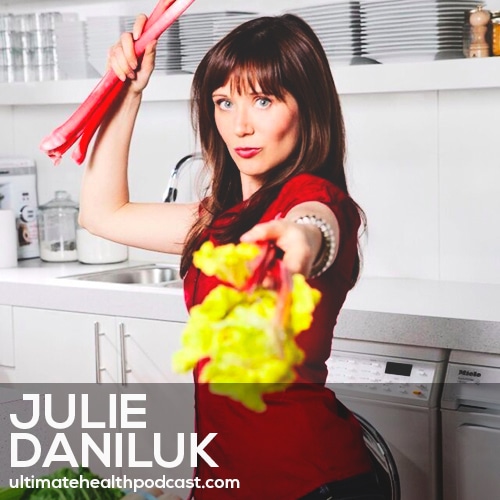 Julie Daniluk is the award-winning bestselling author of Meals That Heal Inflammation which has helped over 100,000 people enjoy delicious, allergy-free foods that assist the body in the healing process.
She is also the author of Slimming Meals That Heal and her latest book is titled Hot Detox.
Julie has appeared on hundreds of television and radio shows, including The Dr. Oz Show, and she's a resident expert for The Marilyn Denis Show.
In this episode, we discuss:
Inflammation and performance
Double down on your omega-3s
EPA "eats pain away"
Turmeric works like a nonsteroidal anti-inflammatory drug (NSAID)
You want to have lots of bone broth in your life
Still your mind with alternate nostril breathing
Boost your brain with exogenous ketones
Earn your carbs
Beet juice is an endurance enhancer
Milk thistle increases glutathione by 35%
Caffeine on a daily basis can burn out your adrenals
Green tea is rich in wonderful L-Theanine
Stimulants vs. adaptogens
Ladies, fall in love with Siberian ginseng
Ashwagandha is great for thyroid health
Make stevia taste good with lemon juice or cranberry
Did you know?!? Honey is actually bee barf
Getting started with intermittent fasting
A low salt diet does not improve your high blood pressure
Sea salt is great for your adrenal glands
Coconut… a perfect food
A simple way to tone your vagus nerve… gargling
Heat shock proteins will help you live longer
Show sponsors:
Thrive Market <== Get your membership for as low as $5 a month & receive $20 in shopping credit with a 1 year membership (US only)
Kettle & Fire Bone Broth <== 20% off Kettle & Fire bone broth & free shipping (US only)
Raw Elements <== 10% off all Raw Elements products – Apply the code TUHP at checkout (free shipping over $100)
Sunwarrior <== 20% off all Sunwarrior products & free shipping over $50 (US only)
Related links:
Julie Daniluk – Hot Detox (book)
Julie Daniluk – Slimming Meals That Heal (book)
Julie Daniluk – Meals That Heal Inflammation (book)
Julie's website
Follow Julie on Facebook, Instagram, and Twitter
Listen to Julie previously on TUHP (episode #136, #71, and #22)
Fishpeople (documentary)
Wim Hof
Listen to Dr. Dom D'Agostino previously on TUHP (episode #133)
Perfect Keto <== 20% off Perfect Keto products and they ship worldwide (free shipping in the US)
Evergreen Brick Works (Toronto)
A.Vogel Herbamare
Redmond Real Salt
Marni Wasserman – Fermenting For Dummies (book)
Marni Wasserman – A Real Treat (book)
Julie's Coco Loco Workout Shake
Ingredients:
3 cups warm or cold water
1 cup full fat coconut milk
1-2 tbsp cocoa powder
1 tbsp sunflower lecithin powder
3 tbsp collagen powder
Pinch sea salt
Use raw honey or dates, to taste or if you follow a low carb or keto lifestyle enjoy a non-calorie sweetener i.e. monk fruit powder, stevia to taste. You can reduce the sweetener or omit if using the sweetened ketones or inositol powder below
Optional:
1-2 servings of exogenous ketones (sweetened with stevia)
1-2 tsp maca powder
1 tbsp inositol powder
2 tbsp nut or seed butter
1/2 to 1 tsp of mushroom coffee powder
Blend well in blender until smooth. Makes 2 shakes.
Related episodes:
317: Dr. Will Cole – The Inflammation Spectrum, Managing Anxiety, Homeschooling
267: Dr. Datis Kharrazian – Why Isn't My Brain Working?
241: Dr. Aviva Romm – The Adrenal Thyroid Revolution • Permission To Pause • Embracing Adaptogens
225: Focus Friday – Understanding Adaptogens
113: Joy Coelho & Jay Denman – JingSlingers • Tonic Herbs vs Adaptogens • The Ultimate Sleep Inducing Elixir
Note: Some of the links above are affiliate links. Making a purchase through these links won't cost you anything but we will receive a small commission. This is an easy, free way of supporting the podcast. Thank you!
How can you support our podcast?
1. Apple users, please subscribe and review our show on Apple Podcasts, we make sure to read them all. Android users, be sure to subscribe to our show on Google Podcasts. Subscribers never miss any of the action 😉
2. Tell a friend about The Ultimate Health Podcast. They will surely thank you later. You can use the envelope button below to email a friend or tell them about TUHP in person.
3. Join TUHP Facebook community (FREE). This is where we all stay in touch and ask questions in between episodes. Join our community.
4. Follow our adventures on our favourite social media platform, Instagram.
5. Download The Ultimate Health Podcast app (FREE). This way you'll have our whole library of episodes right at your fingertips. Download our iOS/Apple app or our Android app.
6. Share using the buttons below.
Thank you!