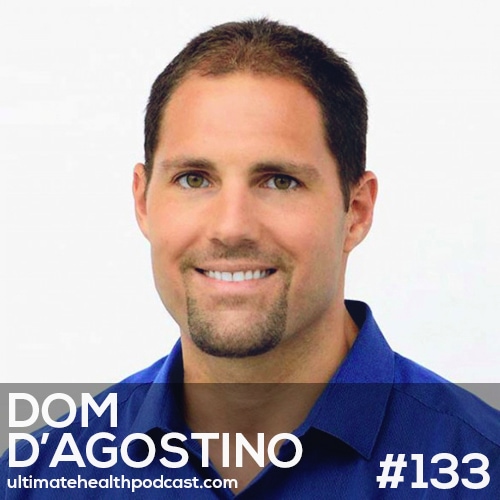 Dr. Dom D'Agostino serves as an assistant professor at the University of South Florida Morsani College of Medicine and the Department of Molecular Pharmacology and Physiology. His research interests are in neuropharmacology, medical biochemistry, cell metabolism, and signaling. Dom is a pioneering developer of ketone esters and ketone salts.
In this episode, we discuss:
Dom's early experiences with the ketogenic diet and exogenous ketones
What is the ketogenic diet?
The ketogenic diet provides anti-seizure effects in people with epilepsy
The modified Atkins diet
Too much protein will keep you out of ketosis
Dom's dietary sources of fat
MCT oil, ketone mineral salts, and ketone esters
Ketone bodies… beta-hydroxybutyrate & acetoacetate
Exogenous ketones and glucose in the body, together… a new phenomenon
Babies are born obese and in ketosis
Athletes get into ketosis, all the time
Ketogenic intermittent fasting
Ketosis vs. diabetic ketoacidosis
Alcoholic ketoacidosis
Type 1 diabetics might require less insulin when on a modified Atkins diet
The impact of exogenous ketones on the kidneys and liver
Exogenous ketones have been shown to reduce anxiety behaviour in rats
Two things Dom does every morning
Making space for creative down time
Related links:
Pruvit – KETO//OS exogenous ketones*
Raw Elements <== 10% off all Raw Elements products – Apply the code TUHP at checkout (free shipping over $100)*
Sunwarrior <== 10% off all Sunwarrior products (free shipping over $100)*
Follow TUHP on Instagram
Join our Facebook Community
Follow Dr. Dom D'Agostino on Facebook and Twitter
Dr. Dom D'Agostino's website – KetoNutrition
Quest Keto
NOW MCT Oil*
Bulletproof Brain Octane Oil (MCT Oil)*
Parrillo MCT Oil
KetoSports
Robb Wolf – The Paleo Solution (book)*
Ketogenic Diet Resource
Keith Runyan, M.D. & Ellen Davis, M.S. – The Ketogenic Diet For Type 1 Diabetes (book)
Exogenous Ketone Supplements Reduce Anxiety-Related Behavior in Sprague-Dawley and Wistar Albino Glaxo/Rijswijk Rats (research article)
Jeff Volek – The Art and Science of Low Carbohydrate Performance (book)*
Thomas Seyfried – Cancer as a Metabolic Disease (book)*
People mentioned:
Dr. Eric Kossoff, M.D.
Dr. John Freeman
Dr. Stephen Phinney*
Note: Links marked with an asterisk (*) are affiliate links. Making a purchase through these links won't cost you anything but we will receive a small commission. This is an easy, free way of supporting the podcast. Thank you!
How can you support our podcast?
1. Apple users, please subscribe and review our show on iTunes, we make sure to read them all. Android users, be sure to subscribe to our show on Google Play Music. Subscribers never miss any of the action 😉
2. Tell a friend about The Ultimate Health Podcast. They will surely thank you later. You can use the envelope button below to email a friend or tell them about TUHP in person.
3. Join TUHP Facebook group (FREE). This is where we all stay in touch and ask questions in between episodes. Join our community here.
4. Download our Habits app for iOS. You choose the healthy habits you want to implement and maintain and our app will help keep you on track. Download Habits app here.
5. Share using the buttons below.
Thank you!