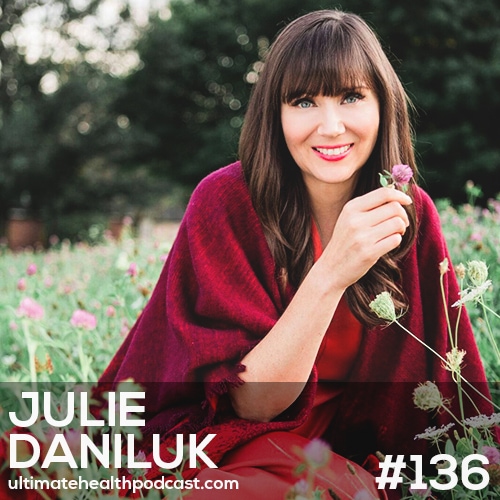 Julie Daniluk is a nutritionist and the author of the award-winning bestseller, Meals That Heal Inflammation. She's also written Slimming Meals That Heal and her brand new book, Hot Detox.
Julie's appeared on hundreds of TV and radio shows including The Dr. Oz Show and she's a resident expert for The Marilyn Denis Show.
In this episode, we discuss:
The essence of Hot Detox
The warming and cooling qualities of foods
Address your gut health first
How to asses the current state of your gut health
Do you have leaky gut?
The link between pesticides and ADHD
Optimizing your gut health and maintaining it
Soup + smoothie = soupie
Should you detox and cleanse with cold foods?
How to warm up a salad
Spark your digestion with herbs and spices
Stick to ceylon cinnamon
The three Ayurvedic dosha types – Vata, Pitta, & Kapha
Stop overcooking your meals
How to water sauté
Oils that can stand high heat for cooking
Bitter herbs and sour foods are great for digestion
Is cayenne pepper good for you?
Blending Ayurveda with Traditional Chinese Medicine
Is the raw food diet right for you?
Does our digestive fire naturally diminish as we age?
The words cleanse and detox are being overused and watered down
We haven't evolved to eat cold food
March is the perfect time to cleanse and detoxify
Sauerkraut… a great source of vitamin C
Power your brain with MCT oil
The role of your lymphatic system and how to care for it
Lymph brushing and lymph massage
Hot and cold therapy and Julie's love for infrared saunas
A traditional sauna vs. an infrared sauna
Enhance your sauna experience… pre, during, & post
Julie's morning routine (version 2.0)
Upgrade your oral health with tongue scraping and oil pulling
Alkalize your body with pranayama breathing
Incorporate digestive bitters before your meals
Related links:
Raw Elements <== 10% off all Raw Elements products – Apply the code TUHP at checkout (free shipping over $100)
Sunwarrior <== 20% off all Sunwarrior products & free shipping over $50 (US only)
Follow TUHP on Instagram
Join our Facebook Community
Julie Daniluk – Hot Detox (book)
The Hot Detox Online Program
Hot Detox book bonuses
Julie Daniluk – Slimming Meals That Heal (book)
Julie Daniluk – Meals That Heal Inflammation (book)
Julie Daniluk's website
Follow Julie Daniluk on Facebook, Instagram, and Twitter
Listen to Julie previously on TUHP (episode #22 & #71)
Nature's Way Premium Liquid Coconut Oil
Bulletproof Brain Octane Oil (MCT Oil)
Listen to Meghan Telpner previously on TUHP (episode #25 & #91)
Listen to Dom D'Agostino previously on TUHP (episode #133)
Habits app for iOS (*no longer available)
Related episodes:
180: Julie Daniluk – Performance Enhancement • Your Adrenals Love Sea Salt • Stimulants vs. Adaptogens
291: Dr. Joseph Mercola – KetoFast • Near-Infrared Saunas • Stop Eating Before Bed
224: Sahara Rose – The Ancient Wisdom Of Ayurveda For The Modern World
089: Dr. Josh Axe – Eat Dirt • Leaky Gut Is The Root Cause Of All Disease • Soil-Based Organisms
010: Samantha Gladish – Natural Oral Care And Quality Nutrition
Note: Some of the links above are affiliate links. Making a purchase through these links won't cost you anything but we will receive a small commission. This is an easy, free way of supporting the podcast. Thank you!
How can you support our podcast?
1. Apple users, please subscribe and review our show on Apple Podcasts, we make sure to read them all. Android users, be sure to subscribe to our show on Google Podcasts. Subscribers never miss any of the action 😉
2. Tell a friend about The Ultimate Health Podcast. They will surely thank you later. You can use the envelope button below to email a friend or tell them about TUHP in person.
3. Join TUHP Facebook community (FREE). This is where we all stay in touch and ask questions in between episodes. Join our community.
4. Follow our adventures on our favourite social media platform, Instagram.
5. Download The Ultimate Health Podcast app (FREE). This way you'll have our whole library of episodes right at your fingertips. Download our iOS/Apple app or our Android app.
6. Share using the buttons below.
Thank you!