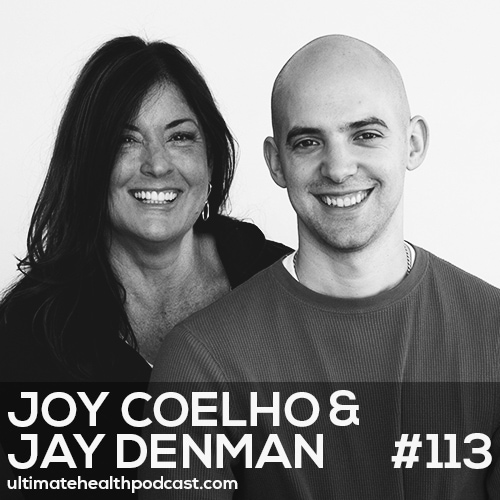 Joy Coelho is a veteran police officer who has elevated her health by cleverly blending her experience and focused study in the science of superfoods, anti-aging and the culinary arts.
Jay Denman has extensively studied and practiced in the fields of yoga, self-development and human potential for the last 15 years. Over the last decade, Jay has passionately immersed himself in the fields of cutting edge nutrition, tonic herbalism and human physiology.
Together they educate, illuminate and elevate their students and clients, with cutting edge science and the ancient wisdom of superfoods and superherbs, teaching people how to "sling jing" in the heart of their own homes, their kitchen.
In this episode, we discuss:
What is jing?
The Three Treasures in Traditional Chinese Medicine
Tonic herbs vs adaptogens… are they the same thing?
How to start incorporating herbs into your healthy routine
Superherbs for the beginner
Pearl will make your skin glow
Ditch the raw maca and stick with gelatinized
Superfoods vs superherbs
Making ghee more palatable (for Jesse)
Can stimulants such as coffee and yerba mate be part of your healthy routine?
The ultimate sleep inducing elixir
L-Thenanine is the perfect compliment to your nighttime routine
Health beyond your plate
The best healthy sweeteners
Stevia, the Amazonian tonic herb
Related links:
Sunwarrior <== 20% off all Sunwarrior products & free shipping over $50 (US only)
Joy Coelho & Jay Denman – Food With Benefits (book)
Joy Coelho & Jay Denman's JingSlingers website
Follow Joy Coelho & Jay Denman's JingSlingers on Facebook, Instagram, and YouTube
Listen to David Wolf previously on TUHP (episode #14)
Gabriel Cousens (books)
Dr. David Jubb
E3Live
Jing Herbs
Dragon Herbs
Dragon Herbs – Spring Dragon Longevity Tea
Bulletproof – Brain Octane Oil
Ancient Organics – Ghee
Jing Herbs – Restore The Jing
Jing Herbs – Peaceful Spirit
Jing Herbs – Bupleurum & Dragon Bone
City Pickers – Patio Raised Garden Bed Kit
Related episodes:
241: Dr. Aviva Romm – The Adrenal Thyroid Revolution • Permission To Pause • Embracing Adaptogens
182: Pedram Shojai – Time Is Our Most Valuable Gift • The Art Of The To-Do List • Smile More 🙂
136: Julie Daniluk – Hot Detox • Spark Your Digestion With Herbs & Spices • We Haven't Evolved To Eat Cold Food
080: Josh Gitalis – Getting To The Root Of Depression & Anxiety | Protect Your Adrenals With Adaptogenic Herbs | Synthetic vs. Whole Food Supplements
015: Tero Isokauppila – Balance Your Hormones And Immune System With Superfood Mushrooms
Note: Some of the links above are affiliate links. Making a purchase through these links won't cost you anything but we will receive a small commission. This is an easy, free way of supporting the podcast. Thank you!
How can you support our podcast?
1. Apple users, please subscribe and review our show on Apple Podcasts, we make sure to read them all. Android users, be sure to subscribe to our show on Google Podcasts. Subscribers never miss any of the action 😉
2. Tell a friend about The Ultimate Health Podcast. They will surely thank you later. You can use the envelope button below to email a friend or tell them about TUHP in person.
3. Join TUHP Facebook community (FREE). This is where we all stay in touch and ask questions in between episodes. Join our community.
4. Follow our adventures on our favourite social media platform, Instagram.
5. Download The Ultimate Health Podcast app (FREE). This way you'll have our whole library of episodes right at your fingertips. Download our iOS/Apple app or our Android app.
6. Share using the buttons below.
Thank you!