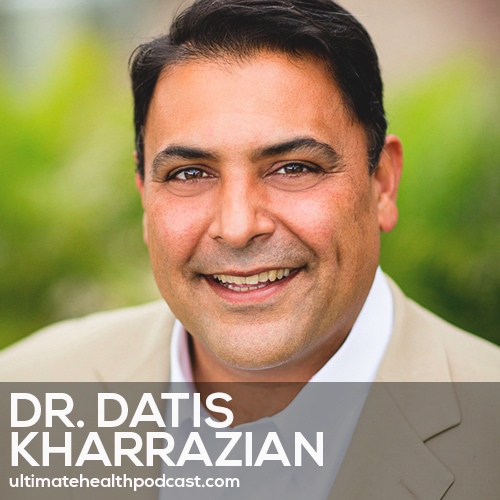 Dr. Datis Kharrazian (@DrKharrazian) is a clinical research scientist, academic professor, and a functional medicine health care provider. He specializes in developing evidence-based models to treat autoimmune, neurological, and unidentified chronic diseases with non-pharmaceutical applications such as diet, nutrition, and lifestyle medicine.
Datis is the author of Why Do I Still Have Thyroid Symptoms? and Why Isn't My Brain Working? – the latter is the focus of today's interview.
In this episode, we discuss:
The impact of stress on your brain
Chronic elevated cortisol is associated with dementia
Exercise improves circulation and brain function
Supplements that help boost circulation
Elevated insulin levels cause brain inflammation
What is an insulin surge?
Gluten and brain inflammation
What leads to gluten ataxia?
The connection between gluten and leaky gut
Zonulin and the blood-brain barrier
Do you have a leaky brain?
The GABA challenge
The microbiome diversity diet
The importance of EPA & DHA in fish oils
Intermittent fasting the ketogenic diet
Is your vagus nerve function impaired?
Exercises to restore vagus nerve function
Coffee enemas
Brain fog = brain inflammation
Using flavonoids to dampen brain inflammation
Boosting serotonin
GABA is the neurotransmitter that's most commonly imbalanced
Patterns of low dopamine
What's happening in the brain when someone is depressed?
Hormones impact brain health
Cholesterol is important
The impact of your diet on microbiome diversity
The dark side of chelation therapy
The winning model to support your brain
Show sponsors:
Sproos <== 20% off your first Sproos order (free shipping on orders over $40)
Thrive Market <== Get your membership for as low as $5 a month & receive $20 in shopping credit with a 1 year membership (US only)
Four Sigmatic <== 15% off all Four Sigmatic products (free shipping on orders $100 or more)
Sunwarrior <== 20% off all Sunwarrior products & free shipping over $50 (US only)
Related links:
Dr. Datis Kharrazian – Why Isn't My Brain Working? (book)
Dr. Datis Kharrazian's website (Dr. K. News)
Follow Dr.Datis Kharrazian on Facebook and Twitter
Dr. Datis Kharrazian – Why Do I Still Have Thyroid Symptoms? When My Lab Tests Are Normal (book)
Save Your Brain – The Six-Week Rescue Plan (Dr. K. News)
Listen to Dr. Kharrazian previously on TUHP (episode #256)
What you need to know about chelation, chemicals, and heavy metals when you have autoimmunity (Dr.K. News)
The Prevalence of Antibodies against Wheat and Milk Proteins in Blood Donors and Their Contribution to Neuroimmune Reactivities (NCBI)
Fluctuation of zonulin levels in blood vs stability of antibodies (NCBI)
Correlation between antibodies to bisphenol A, its target enzyme protein disulfide isomerase and antibodies to neuron-specific antigens. (NCBI)
Vinpocetine (supplement)
Related episodes:
289: Dr. David Perlmutter – Brain Maker • Reconnecting With Nature • Exercise Impacts The Microbiome
255: Dr. Dale Bredesen – The End Of Alzheimer's • Remove Amyloid Naturally • The Ketoflex 12/3 Diet
244: Dr. Will Cole – Plant-Based Keto Diet • Women & Ketosis • Fats For Brain Health
223: Max Lugavere – Alzheimer's And The Ketogenic Diet • Genius Foods • Stop Skimping On Sleep
092: Dr. Kelly Brogan – Depression, Myths & Misconceptions • Medications That Commonly Cause Psychiatric Side Effects • Gut Health Impacts Brain Health
Note: Some of the links above are affiliate links. Making a purchase through these links won't cost you anything but we will receive a small commission. This is an easy, free way of supporting the podcast. Thank you!
How can you support our podcast?
1. Apple users, please subscribe and review our show on Apple Podcasts, we make sure to read them all. Android users, be sure to subscribe to our show on Google Podcasts. Subscribers never miss any of the action 😉
2. Tell a friend about The Ultimate Health Podcast. They will surely thank you later. You can use the envelope button below to email a friend or tell them about TUHP in person.
3. Join TUHP Facebook community (FREE). This is where we all stay in touch and ask questions in between episodes. Join our community.
4. Follow our adventures on our favourite social media platform, Instagram.
5. Download The Ultimate Health Podcast iOS app (FREE). This way you'll have our whole library of episodes right at your fingertips. Download our iOS app.
6. Share using the buttons below.
Thank you!