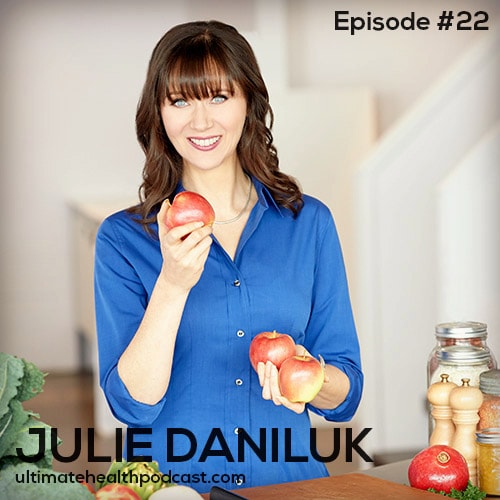 We're excited to have Julie Daniluk on today's show. She is a nutritionist and is the best selling author of the book Meals That Heal Inflammation. You will hear Julie's passion and energy through your ear buds as she breaks down inflammation and how to keep it at bay. We also dive into an array of other health topics that will leave you informed, entertained and inspired.
In this episode, we discuss:
Julie's health journey from being sick to thriving
Julie's inspiration to share her health message with the world
Inflammation in the body can be good or bad, depending on…
How to tell if you're inflamed and why you may not have any pain
Cruciferous vegetables are great for regulating inflammation and hormones
Regulate inflammation, boost mood and balance hormones with Omega-3s
Are raw cruciferous vegetables good for you?
A few strategies for making cruciferous vegetables more digestible
Nightshades can cause inflammation in your body
The sulphur in MSM is excellent for rebuilding your joint tissue
Supplements have a role in reducing inflammation
When it comes to fats, it's all about balancing the different types
The reasons hemp seed is Julie's fave superfood
Zinc is great for protecting the prostate, testosterone production & boosting libido, in men
Fried foods may be causing the pain in your body
Why kids don't naturally like eating greens
A couple of neat tricks to keep your cooking oil safe when stir frying
Losing weight is all about hormones, stop counting calories
The newest research is showing a calorie is not a calorie
Julie's morning routine
Related Links:
Julie Daniluk's website
Julie Daniluk – Meals That Heal Inflammation (book)
Julie Daniluk – Slimming Meals That Heal (book)
Follow Julie on Facebook, Instagram, Twitter & YouTube
Bragg
Feingold Association of the United States
Meghan Telpner website
Meghan Telpner – UnDiet (book)
Meghan Telphner – UnDiet Cookbook (book)
Omica Organics MSM capsules – no longer available
Marni Wasserman website
Fastest Spinach Soup EVER! (recipe)
Sunbiotics – Probiotic Chocolate Bar
Related episodes:
071: Alan Smith & Julie Daniluk – Fresh Coffee Is A Must | Gratitude Before Bed | Adrenal Burnout Can Lead To Allergies
136: Julie Daniluk – Hot Detox • Spark Your Digestion With Herbs & Spices • We Haven't Evolved To Eat Cold Food
180: Julie Daniluk – Performance Enhancement • Your Adrenals Love Sea Salt • Stimulants vs. Adaptogens
025: Meghan Telpner – Be Awesome! | There's No Perfect Diet | Embracing Your Fears
091: Meghan Telpner – Sleeping Without The Enemy, Electronics • Expand Your Business Online • Healing From Crohn's Disease
Note: Some of the links above are affiliate links. Making a purchase through these links won't cost you anything but we will receive a small commission. This is an easy, free way of supporting the podcast. Thank you!
How can you support our podcast?
1. Apple users, please subscribe and review our show on Apple Podcasts, we make sure to read them all. Android users, be sure to subscribe to our show on Google Podcasts. Subscribers never miss any of the action 😉
2. Tell a friend about The Ultimate Health Podcast. They will surely thank you later. You can use the envelope button below to email a friend or tell them about TUHP in person.
3. Join TUHP Facebook community (FREE). This is where we all stay in touch and ask questions in between episodes. Join our community.
4. Follow our adventures on our favourite social media platform, Instagram.
5. Download The Ultimate Health Podcast app (FREE). This way you'll have our whole library of episodes right at your fingertips. Download our iOS/Apple app or our Android app.
6. Share using the buttons below.
Thank you!