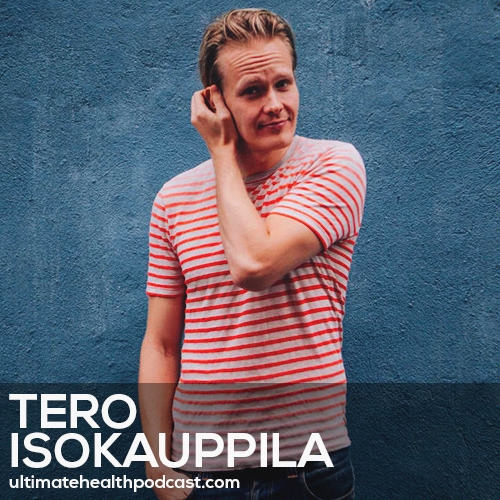 Tero Isokauppila (IG: @iamtero) is the founder of Four Sigmatic, a nature-centric Finnish-American company specializing in functional mushrooms, superfoods, and adaptogens. He's the author of Healing Mushrooms and Santa Sold Shrooms.
Tero was born in Finland and was the 13th generation to grew up on the family farm. There, he foraged for mushrooms and other wild foods while learning about nature at an early age.
Tero has a strong personal interest in health and wellness, which includes activities like making raw chocolate and practicing yin yoga. He's taken up a unique practice of napping on a nail mat, which is a modern form of acupressure and helps to energize his busy life.
In this episode, we discuss:
The true story behind Christmas
The connection between winter solstice and Christmas
Santa was a Sami shaman
Sami traditions vs. current traditions
What is amanita muscaria?
Mushrooms & vitamin D
How Santa went down the "chimney"
Tripping off yellow snow
Psychedelics can be healing
Beneficial Sami traditions
Immune stimulants vs. adaptogens
The power of chaga
Tero's approach to goal setting
Capture the moment
Show sponsors:
Four Sigmatic <== 10% off all Four Sigmatic products & free shipping over $100
Related links:
Tero Isokauppila – Santa Sold Shrooms (book)
Tero Isokauppila's website
Follow Tero Isokauppila on Instagram
Tero Isokauppila – Healing Mushrooms (book)
Listen to Tero Isokauppila previously on TUHP (episode #15 & #143)
Four Sigmatic <== 10% off all Four Sigmatic products & free shipping over $100
Follow Four Sigmatic on Facebook, Instagram, and Twitter
Mushroom Academy – free online course
Sami people
Amanita muscaria mushrooms
Matthew Salton – Santa Is A Pyschedelic Mushroom (New York Times)
Related episodes:
225: Focus Friday – Understanding Adaptogens
206: Josh Gitalis – Support During Pregnancy • Boost Your Immunity • Testing For Heavy Metals
241: Dr. Aviva Romm – The Adrenal Thyroid Revolution • Permission To Pause • Embracing Adaptogens
113: Joy Coelho & Jay Denman – JingSlingers • Tonic Herbs vs Adaptogens • The Ultimate Sleep Inducing Elixir
180: Julie Daniluk – Performance Enhancement • Your Adrenals Love Sea Salt • Stimulants vs. Adaptogens
Note: Some of the links above are affiliate links. Making a purchase through these links won't cost you anything but we will receive a small commission. This is an easy, free way of supporting the podcast. Thank you!
How can you support our podcast?
1. Apple users, please subscribe and review our show on Apple Podcasts, we make sure to read them all. Android users, be sure to subscribe to our show on Google Podcasts. Subscribers never miss any of the action 😉
2. Tell a friend about The Ultimate Health Podcast. They will surely thank you later. You can use the envelope button below to email a friend or tell them about TUHP in person.
3. Join TUHP Facebook community (FREE). This is where we all stay in touch and ask questions in between episodes. Join our community.
4. Follow our adventures on our favourite social media platform, Instagram.
5. Download The Ultimate Health Podcast app (FREE). This way you'll have our whole library of episodes right at your fingertips. Download our iOS/Apple app or our Android app.
6. Share using the buttons below.
Thank you!