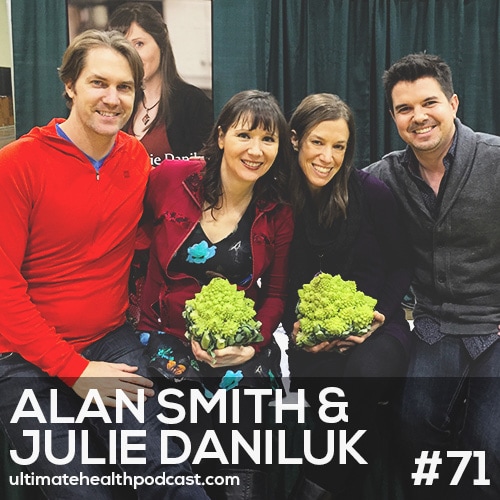 This week's episode is a special one, for a couple of reasons. First of all, we got to chat with our friends Alan Smith & Julie Daniluk, always a pleasure. Secondly, we did this interview live from the Whole Life Expo in Toronto. The energy of this show is off the charts as we chat about adrenal health, coffee, gratitude, and so much more!
In this episode, we discuss:
Dramatically increase your sports performance (oxygen utilization) with beets
A gratitude exercise for couples, before bed
Switch into rest and relaxation mode (parasympathetic) with pranayama breathing
The shortcut to an easy ginger tea
Fuelling up in the morning with savoury dishes
A simple bone broth recipe you can easily whip up today
When it comes to coffee, nothing can trump freshness
The most ecological coffee on the planet
Drink top quality coffee and you will be satisfied with less
Experience your coffee "buzz" for twice as long by adding in some turmeric
The overall pros and cons of coffee consumption
Stop relying on coffee to get going in the morning
Green tea can help you lose weight by suppressing your appetite
Non-organic teas may be suppressing your thyroid
You can get by without grains + substitutions for going grainless
Julie's abrupt introduction to meat after being a vegetarian for over a decade and a half
How to know if you may benefit from starting to include meat back into your diet
Your allergies may be related to adrenal burnout
3 ways to naturally rebuild your adrenals
Meditate, meditate, meditate
Links to things we mentioned:
Sunwarrior <== 10% off all Sunwarrior products (free shipping over $100)
Join The Ultimate Health Podcast Facebook Community
Follow TUHP on Instagram
Julie Daniluk's website
Rise Espresso – Alan Smith's coffee shop in Toronto
TUHP Episode 62 – UJ Ramdas
Four Sigma Foods (affiliate)
The Tim Ferriss show (podcast)
Merchants of Green Coffee
Sweet Maria's Home Coffee Roasting
AOR Advanced B Complex
Headspace
Listen to Shambu's Yoga Nidra (meditation)
TUHP Episode 22 – Julie Daniluk
Whole Life Expo
How can you support our podcast?
1. Subscribe and review our show on iTunes and Stitcher. We make sure to read them all.
2. Tell a friend about The Ultimate Health Podcast. They will surely thank you later.
3. Share using the buttons below.
Thank you!