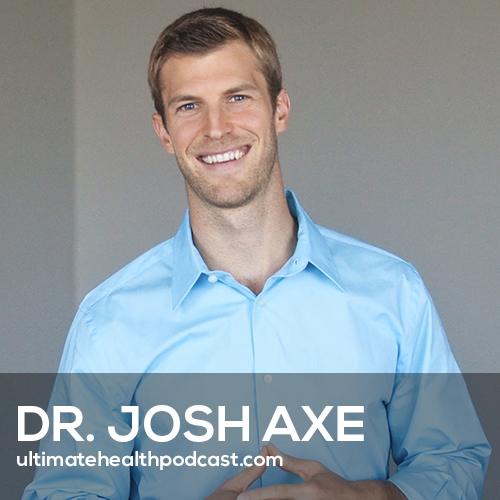 Dr. Josh Axe (IG: @drjoshaxe) is the founder of Ancient Nutrition and DrAxe.com. He's a certified doctor of natural medicine, doctor of chiropractic and clinical nutritionist with a passion to help people get healthy by empowering them to use nutrition to fuel their health. Josh is also a multiple time bestselling author.
This is the 4th time Josh is on the show and we cover a wide range of topics and get really practical with some great takeaways you can apply to your healthy lifestyle.
Watch the full video version of this conversation below.
In this episode, we discuss:
What is collagen + why it's important
The difference between bone broth and gelatin
Sources of collagen + their benefits
Why you should take whole food, natural supplements
The top bone-building foods to consume
Use alternative search engines to find health info
The best collagen options for omnivores & vegetarians
Collagen supporting food recommendations for vegans
The diet of our ancient ancestors
The 5 seasons in Chinese medicine
The Axe family transition to life in Puerto Rico
Josh's thoughts on gluten + his personal journey with it
The best diet to heal leaky gut syndrome
The varying degrees of leaky gut syndrome
The best diet + supplements to heal inflammation
The best nutrients & herbs for blood sugar balance
Understanding the doctrine of signatures and ancient ways of healing
Emotional health is the most important aspect of your health
Top herb recommendations for health & wellness
Show sponsors:
LMNT <== Get your LMNT Sample Pack for the cost of shipping (5 dollars in the US)
Oura Ring <== Buy the Oura Ring Generation 3 and get 6 free months of Oura membership
Organifi <== 20% off all Organifi products by using the code ultimatehealth at checkout
Related links:
Dr. Josh Axe – The Collagen Diet (book)
Dr. Josh Axe's website
Follow Dr. Josh Axe on Facebook, Instagram, and YouTube
Ancient Nutrition
Dr. Josh Axe – Ancient Remedies (book)
Dr. Josh Axe – Eat Dirt (book)
Listen to Dr. Josh Axe previously on TUHP (episodes #089, #280, and #390)
Dr. Barry Sears (books)
Jordan Rubin (books)
Dr. Chris Motley
Dr. Jordan Axe
Dr. Will Cole (books)
Listen to Dr. Will Cole previously on TUHP (episodes #244, #317, and #393)
DuckDuckGo
Brave (online privacy)
True Food Kitchen
Related episodes:
This Is How to Live Longer & Prevent Disease by Fixing Your Gut Health | Tina Anderson (#451)
Dr. Steven Gundry on Boosting Your Mental and Physical Energy (#404)
Dr. Tom O'Bryan – You Can Fix Your Brain (#403)
370: John & Molly Chester – The Biggest Little Farm
345: Max Lugavere – The Genius Life, Minimizing Noise Pollution, Supplementing With Collagen
How can you support our podcast?
1. Apple users, please subscribe and review our show on Apple Podcasts, we make sure to read them all. Android users, be sure to subscribe to our show on Google Podcasts. Subscribers never miss any of the action 😉
2. If you'd prefer to watch vs listen to the interviews, head over to our YouTube channel and enjoy the full video conversations. Be sure and subscribe while you're there.
3. Tell a friend about The Ultimate Health Podcast. They will surely thank you later. You can use the envelope button below to email a friend or tell them about TUHP in person.
4. Join TUHP Facebook community (FREE). This is where we all stay in touch and ask questions in between episodes. Join our community.
5. Follow our adventures on our favourite social media platform, Instagram.
6. Download The Ultimate Health Podcast app (FREE). This way you'll have our whole library of episodes right at your fingertips. Download our iOS/Apple app or our Android app.
7. Share using the buttons below.
Thank you!