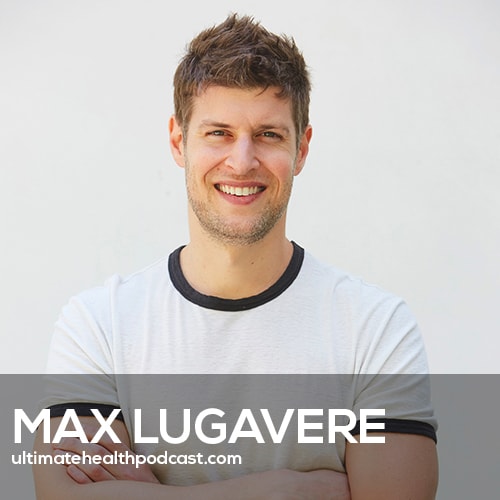 Max Lugavere (IG: @maxlugavere) is a filmmaker, health and science journalist and the author of the New York Times bestselling book, Genius Foods. He is also the host of the #1 iTunes health podcast The Genius Life.
Max appears regularly on the Dr. Oz Show, the Rachael Ray Show, and The Doctors. He is a sought-after speaker and has given talks at South by Southwest, TEDx, the Biohacker Summit in Stockholm, Sweden, and many others.
Max just released his second book, The Genius Life, which covers diet and many other factors that contribute to a healthy lifestyle.
(Subscribe in Apple Podcasts)
(Subscribe in Google Podcasts)
In this episode, we discuss:
Max's mother suffered from lewy body dementia and pancreatic cancer before passing
Prevention is crucial
Genius foods = the ultimate nutritional care manual for the human brain
Environmental toxins may increase your risk for certain cancers
The long-term negative impacts of a low-fat, low cholesterol diet
Ditch commercial salad dressings containing refined oils
Artificial light is wreaking havoc on your circadian rhythms
The problem with protein bars
Are you over-consuming muscle meat?
The benefits of taking a collagen supplement
What is afternoon diabetes?
Coffee encourages the production of ketones
Stop eating 2-3 hours before bedtime
The detrimental impacts of noise pollution
How a white noise machine can improve your sleep
Using air purifying plants in your home
Help eliminate toxins in your home by wet dusting
The three P's of healthy elimination
Minimize your exposure to BPA
Max's new podcast, The Genius Life
Empower yourself with knowledge
Show sponsors:
Organifi <== 20% off all Organifi products
Sproos <== 20% off your first Sproos order (free shipping on orders over $40)
Related links:
Max Lugavere – The Genius Life (book)
Max Lugavere's website
Follow Max Lugavere on Facebook, Instagram, and YouTube
Max Lugavere – Genius Foods (book)
Listen to Max Lugavere previously on TUHP (episode #223)
The Genius Life with Max Lugavere (podcast)
AirDoctor
Molekule
The Genius Life 31: How to Buy the Best Extra-Virgin Olive Oil – Nicholas Coleman (Max's podcast)
Related episodes:
316: Dr. William Li – Is Your Diet Feeding Or Defeating Disease?
294: Dr. Sara Gottfried – Brain Body Diet, Start To Surrender, Reset With Intermittent Fasting
289: Dr. David Perlmutter – Brain Maker • Reconnecting With Nature • Exercise Impacts The Microbiome
280: Dr. Josh Axe – Keto Diet • Treating Cancer With Food • Collagen Is Essential
126: Jimmy Moore – The Ketogenic Diet & The Health Benefits Of Being In Ketosis • Fasting 101
Note: Some of the links above are affiliate links. Making a purchase through these links won't cost you anything but we will receive a small commission. This is an easy, free way of supporting the podcast. Thank you!
How can you support our podcast?
1. Apple users, please subscribe and review our show on Apple Podcasts, we make sure to read them all. Android users, be sure to subscribe to our show on Google Podcasts. Subscribers never miss any of the action 😉
2. Tell a friend about The Ultimate Health Podcast. They will surely thank you later. You can use the envelope button below to email a friend or tell them about TUHP in person.
3. Join TUHP Facebook community (FREE). This is where we all stay in touch and ask questions in between episodes. Join our community.
4. Follow our adventures on our favourite social media platform, Instagram.
5. Download The Ultimate Health Podcast app (FREE). This way you'll have our whole library of episodes right at your fingertips. Download our iOS/Apple app or our Android app.
6. Share using the buttons below.
Thank you!