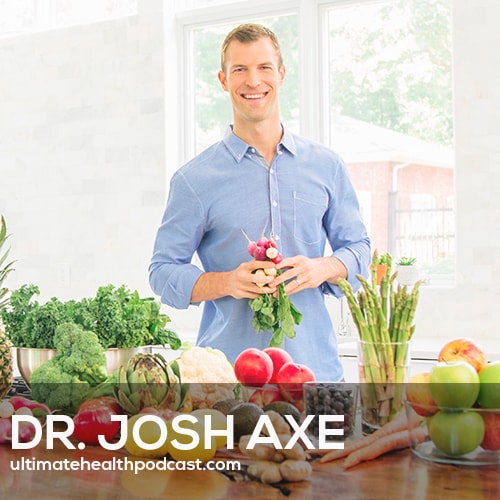 Dr. Josh Axe (IG: @drjoshaxe) is a bestselling author and the co-founder of Ancient Nutrition. He's a certified doctor of natural medicine (DNM), doctor of chiropractic (DC) and clinical nutritionist (CNS) with a passion to help people get healthy by empowering them to use nutrition to fuel their health.
Josh operates one of the world's largest health websites at DrAxe.com, which has over 17 million visitors a month.
Today we're discussing his upcoming book, Keto Diet.
In this episode, we discuss:
The dietary & lifestyle changes that healed Josh's Mom from cancer
Plant-based keto
Treating different types of cancer with food
How overconsuming carbs puts stress on the pancreas
A customized approach to keto
Dirty vs. clean keto
What is the keto diet?
Why organic meat is important
Why you need to take collagen
Bone broth is the best source of collagen
Alkaline sources of food
Benefits of celery juice
Anti-inflammatory herbs & spices
What is galangal?
Thermogenic herbs
The Forever Keto Cycling Plan
Keto helps reduce PCOS
Alzheimer's disease/type 3 diabetes
Balancing hormones with herbs
What to eat if you're trying to conceive
Focus on body changes
MCT oil & turmeric
Reducing stress hormones
Adaptogenic herbs & medicinal mushrooms
Spiritual health is important for emotional health
The function of the amygdala
5-minute meditation
Keto & brain health
Strive to be better
Show sponsors:
Perfect Keto <== 20% off all Perfect Keto products by using the code ULTIMATEHEALTH at checkout (free shipping in the US)
Organifi <== 20% off all Organifi products
Sunwarrior <== 20% off all Sunwarrior products & free shipping over $50 – Your discount will automatically be applied at checkout (US only)
Beekeeper's Naturals <== 15% off all Beekeeper's Naturals products by using the code ULTIMATEHEALTH at checkout (free shipping on orders $60 or more)
Related links:
Dr. Josh Axe – Keto Diet (book)
Dr. Axe's website
Follow Dr. Josh Axe on Facebook, Instagram, and YouTube
Dr. Josh Axe's other books
Listen to Dr. Josh Axe previously on TUHP (episode #89)
Ty Bollinger (books)
Max Gerson (books)
Charlotte Gerson – The Gerson Therapy (book)
Jordan Rubin (books)
Ancient Nutrition (supplements)
Dr. Chelsea Axe (Instagram)
Related episodes:
273: Dr. David Perlmutter – Grain Brain • Cholesterol Is Your Friend • What Is Keto Cycling?
255: Dr. Dale Bredesen – The End Of Alzheimer's • Remove Amyloid Naturally • The Ketoflex 12/3 Diet
249: Dr. Anthony Gustin – The Carnivore Diet • Setting & Tracking Goals • Breaking Down Keto
244: Dr. Will Cole – Plant-Based Keto Diet • Women & Ketosis • Fats For Brain Health
223: Max Lugavere – Alzheimer's And The Ketogenic Diet • Genius Foods • Stop Skimping On Sleep
Note: Some of the links above are affiliate links. Making a purchase through these links won't cost you anything but we will receive a small commission. This is an easy, free way of supporting the podcast. Thank you!
How can you support our podcast?
1. Apple users, please subscribe and review our show on Apple Podcasts, we make sure to read them all. Android users, be sure to subscribe to our show on Google Podcasts. Subscribers never miss any of the action 😉
2. Tell a friend about The Ultimate Health Podcast. They will surely thank you later. You can use the envelope button below to email a friend or tell them about TUHP in person.
3. Join TUHP Facebook community (FREE). This is where we all stay in touch and ask questions in between episodes. Join our community.
4. Follow our adventures on our favourite social media platform, Instagram.
5. Download The Ultimate Health Podcast app (FREE). This way you'll have our whole library of episodes right at your fingertips. Download our iOS/Apple app or our Android app.
6. Share using the buttons below.
Thank you!