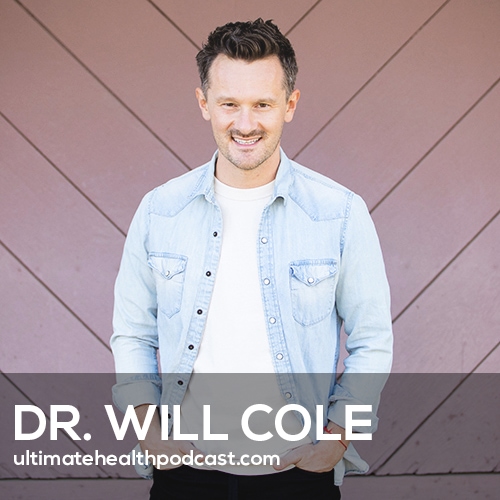 Dr. Will Cole (IG: @drwillcole) is a leading functional medicine expert who consults people around the world via webcam and locally in Pittsburgh.
He just launched a new podcast, The Art of Being Well.
Will is the bestselling author of Ketotarian and The Inflammation Spectrum.
His upcoming book, Intuitive Fasting, shows how to use the powerful benefits of flexible intermittent fasting to gain metabolic flexibility and find food peace.
Watch the full video version of this conversation below.
In this episode, we discuss:
The paradox of Intuitive Fasting
What is metabolic flexibility?
Will's flexible 4-week fasting plan
The 12/12 eating approach
Your gut microbiome has a circadian rhythm
Time-restricted feeding (TRF) is a type of intermittent fasting
Earl grey tea has been shown to support autophagy
Will's typical day of eating/fasting
Practicing the art of intuition
Fasting for men vs. women
Water fasts help people reset who are suffering from IBD, autoimmune, and food reactions
Tea is the perfect fasting tool
Will's thoughts on coffee, fats, and collagen during a fast
The benefits of MCT oil
Should you take exogenous ketones?
Fasting is free
Will stumbled upon fasting during his teenage years
The commonality between intermittent fasting and ketogenic diets
Fasting resets and reconnects us
Using eating and fasting windows as a mindfulness practice
When friends/family aren't supportive of your fasting lifestyle
Chronic caloric restriction is not the same as fasting
Break longer fasts
The OMAD approach = one meal a day
Why electrolytes are beneficial when fasting
Building a community of intuitive fasters
The most common challenge people experience when they start fasting
Show sponsors:
Organifi <== 20% off all Organifi products
BLUblox <== 15% off the world's most advanced blue light glasses
Paleovalley <== 15% off all Paleovalley products by using the code ultimatehealth at checkout
Related links:
Dr. Will Cole – Intuitive Fasting (book)
Dr. Will Cole's website
Follow Dr. Will Cole on Facebook, Instagram, and Twitter
Dr. Will Cole – The Inflammation Spectrum (book)
Dr. Will Cole – Ketotarian (book)
Listen to Dr. Will Cole previously on TUHP (episodes #244 and #317)
Paracelsus
Jordan Rubin – Patient Heal Thyself (book)
Dr. Josh Axe (books)
Listen to Dr. Josh Axe previously on TUHP (episodes #089, #280, and #390)
Ancient Nutrition
Garden of Life
Dr. Daniel Pompa
Related episodes:
Dave Asprey – Fast This Way to Burn Fat and Heal Inflammation (#389)
Gary Taubes – Are Carbs Making You Fat? (#387)
369: Dr. Jason Fung – Stop Snacking & Start Fasting
311: Leanne Vogel – Keto For Women, Loving Your Body, Sailing Through Life
292: Chalene Johnson – 131 Method • Family Comes First • Stop The Food Rules
Note: Some of the links above are affiliate links. Making a purchase through these links won't cost you anything but we will receive a small commission. This is an easy, free way of supporting the podcast. Thank you!
How can you support our podcast?
1. Apple users, please subscribe and review our show on Apple Podcasts, we make sure to read them all. Android users, be sure to subscribe to our show on Google Podcasts. Subscribers never miss any of the action 😉
2. Tell a friend about The Ultimate Health Podcast. They will surely thank you later. You can use the envelope button below to email a friend or tell them about TUHP in person.
3. Join TUHP Facebook community (FREE). This is where we all stay in touch and ask questions in between episodes. Join our community.
4. Follow our adventures on our favourite social media platform, Instagram.
5. Download The Ultimate Health Podcast app (FREE). This way you'll have our whole library of episodes right at your fingertips. Download our iOS/Apple app or our Android app.
6. Share using the buttons below.
Thank you!