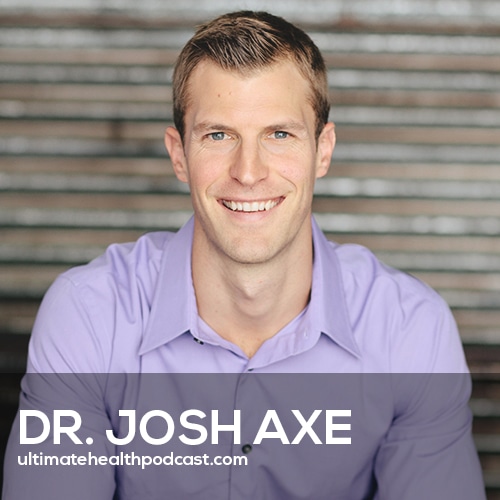 Dr. Josh Axe (IG: @drjoshaxe) is the founder of Ancient Nutrition and DrAxe.com. He's the author of the bestselling books Keto Diet and The Collagen Diet. Josh is the host of The Dr. Axe Show.
Today we're discussing Josh's upcoming book, Ancient Remedies.
Watch the full video version of this conversation below.
In this episode, we discuss:
Becoming a new father & parenthood
Josh's greatest challenges with a newborn
Home births are an incredible experience
Frustration can cause toxicity of your liver & gallbladder
50% of our health problems are due to emotions we experience
Using ancient forms of medicine to heal
Spirituality is important to health
Healing leaky gut syndrome can take 6 months to 2 years
Dr. Axe's mom's cancer journey
The natural cancer healing protocol Josh created for his mom
Faith and hope are ancient remedies for healing
Helping people treat the root cause of disease
Dr. Axe's latest book Ancient Remedies covers 70 protocols for healing
Fibromyalgia is caused by past trauma
The importance of building relationships in your community
The rise and decline of the #1 natural health website
The truth about social media sites and the censorship of natural health & wellness
Astragulus is the most powerful herb for digestive & immune health
Fo-ti is used to reverse aging & gray hair
Schisandra is a powerful anti-aging berry
Triphala is used for digestive issues
Cordyceps boosts lung health
Siberian ginseng increases performance
Reishi is the most powerful mushroom for anti-aging
Turkey tail is used for fighting viral infections
Lion's mane helps repair nerve damage
Herb combining principles
Taking turmeric with black pepper increases absorption by 154%
Show sponsors:
Rancho La Puerta – Bring a guest (or multiple guests) to Rancho La Puerta and you'll each receive 25% off your visit in January, February, and March 2021
Beekeeper's Naturals <== 15% off all Beekeeper's Naturals products
LMNT <== Get your free LMNT sample pack (8 packets) – all you pay is $5 for shipping (in the US)
BiOptimizers <== 10% off all BiOptimizers products by using the code ultimatehealth at checkout
Related links:
Dr. Josh Axe – Ancient Remedies (book)
Dr. Josh Axe's website
Follow Dr. Josh Axe on Facebook, Instagram, and YouTube
Dr. Josh Axe – The Keto Diet (book)
Dr. Josh Axe – The Collagen Diet (book)
Dr. Josh Axe – Essential Oils (book)
Dr. Josh Axe – Eat Dirt (book)
Listen to Dr. Josh Axe previously on TUHP (episodes #089 and #280)
DuckDuckGo
Mercola.com
Listen to Dr. Joseph Mercola previously on TUHP (episodes #148, #291, and #338)
Dr. Oz (books)
Dr. Perlmutter (books)
Listen to Dr. Perlmutter previously on TUHP (episodes #273, #289, and #332)
Related episodes:
365: Dr. Uma Naidoo – This Is Your Brain On Food
361: Dr. Alejandro Junger – Living In A Higher State Of Consciousness
352: Jenny Sansouci – Healing With Cannabis, CBD, & Mushrooms
276: Chris Wark – Chris Beat Cancer • Toxic Emotions Suppress Immunity • Gratitude Is The Secret To Happiness
136: Julie Daniluk – Hot Detox • Spark Your Digestion With Herbs & Spices • We Haven't Evolved To Eat Cold Food
Note: Some of the links above are affiliate links. Making a purchase through these links won't cost you anything but we will receive a small commission. This is an easy, free way of supporting the podcast. Thank you!
How can you support our podcast?
1. Apple users, please subscribe and review our show on Apple Podcasts, we make sure to read them all. Android users, be sure to subscribe to our show on Google Podcasts. Subscribers never miss any of the action 😉
2. Tell a friend about The Ultimate Health Podcast. They will surely thank you later. You can use the envelope button below to email a friend or tell them about TUHP in person.
3. Join TUHP Facebook community (FREE). This is where we all stay in touch and ask questions in between episodes. Join our community.
4. Follow our adventures on our favourite social media platform, Instagram.
5. Download The Ultimate Health Podcast app (FREE). This way you'll have our whole library of episodes right at your fingertips. Download our iOS/Apple app or our Android app.
6. Share using the buttons below.
Thank you!