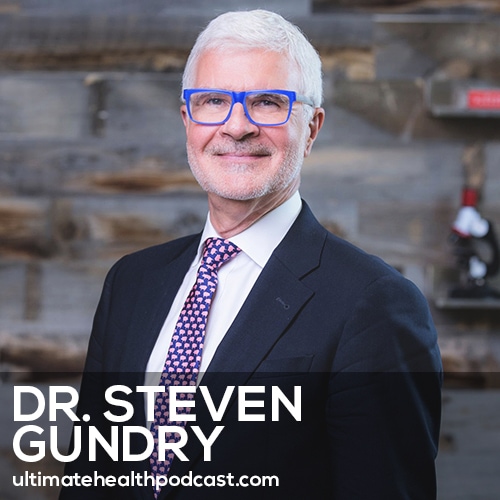 Dr. Steven Gundry (IG: @drstevengundry) is one of the world's top cardiothoracic surgeons and a pioneer in nutrition, as well as medical director at The International Heart and Lung Institute Center for Restorative Medicine.
He's the author of many New York Times bestselling books and is the founder of Gundry MD, a line of wellness products and supplements.
Today we're focusing in on Dr. Gundry's latest book, The Energy Paradox: What to Do When Your Get-Up-and-Go Has Got Up and Gone.
Watch the full video version of this conversation below.
In this episode, we discuss:
We are in an energy crisis
Being tired is not normal
Autoimmune disease is always associated with fatigue
Leaky gut underlies chronic diseases & autoimmune diseases
Eating the Standard American Diet is the perfect way to produce leaky gut
Lectins cause leaky gut
LPS (lipopolysaccharides) are bacterial particles that promote inflammation
Lectins in peanuts and other foods we need to be aware of
The microbiome is a major defence against lectins
Why people living with an autoimmune disease should eat lectin-free
Should you cut out 100% of the gluten from your diet?
What are postbiotics?
Farts are an important communication system
Fiber is converted into postbiotics
Insoluble fiber irritates the lining of your gut
Examples of soluble fiber
Polyphenols are prebiotics
Olive oil is rich in polyphenols
Melatonin supports your mitochondria
Eating whole foods helps your mitochondria from getting overwhelmed
Time restricted eating/intermittent fasting gives your mitochondria a break
Butyrate stimulates mitochondria biogenesis
Why Dr. Gundry chooses to eat within a 2-hour eating window
How to become metabolically flexible in 6 weeks
You'll have more energy exercising on an empty stomach
Needing energy drinks is a warning sign from your body
Show sponsor:
Organifi <== 20% off all Organifi products
BLUblox <== 20% off the world's most advanced blue light glasses
Paleovalley <== 15% off all Paleovalley products by using the code ultimatehealth at checkout
Related links:
Dr. Steven Gundry – The Energy Paradox (book)
Dr. Steven Gundry's websites – Dr. Gundry and Gundry MD
Follow Dr. Steven Gundry on Facebook, Instagram, and YouTube
Dr. Steven Gundry – The Plant Paradox (book)
Dr. Steven Gundry – The Longevity Paradox (book)
Dr. Steven Gundry – Diet Evolultion (book)
Listen to Dr. Steven Gundry previously on TUHP (episodes #202 and #287)
Alessio Fasano (books)
The Dr. Gundry Podcast
Wim Hof (books)
Gundry MD – Total Restore
Gundry MD – PrebioThrive
Heather Jackson
Dr. Jason Fung (books)
Listen to Dr. Jason Fung previously on TUHP (episodes #369 and #380)
Dr. Satchin Panda – The Circadian Code (book)
Listen to Dr. Satchin Panda previously on TUHP (episode #353)
Related episodes:
Dr. Tom O'Bryan – You Can Fix Your Brain (#403)
Danielle Walker on Finding Health After Being Diagnosed With an Autoimmune Disease (#401)
291: Dr. Joseph Mercola – KetoFast • Near-Infrared Saunas • Stop Eating Before Bed
285: Dr. Izabella Wentz – Hashimoto's Food Pharmacology • Thyroid Testing • Stress, Trauma & Autoimmune Conditions
089: Dr. Josh Axe – Eat Dirt • Leaky Gut Is The Root Cause Of All Disease • Soil-Based Organisms
Note: Some of the links above are affiliate links. Making a purchase through these links won't cost you anything but we will receive a small commission. This is an easy, free way of supporting the podcast. Thank you!
How can you support our podcast?
1. Apple users, please subscribe and review our show on Apple Podcasts, we make sure to read them all. Android users, be sure to subscribe to our show on Google Podcasts. Subscribers never miss any of the action 😉
2. Tell a friend about The Ultimate Health Podcast. They will surely thank you later. You can use the envelope button below to email a friend or tell them about TUHP in person.
3. Join TUHP Facebook community (FREE). This is where we all stay in touch and ask questions in between episodes. Join our community.
4. Follow our adventures on our favourite social media platform, Instagram.
5. Download The Ultimate Health Podcast app (FREE). This way you'll have our whole library of episodes right at your fingertips. Download our iOS/Apple app or our Android app.
6. Share using the buttons below.
Thank you!