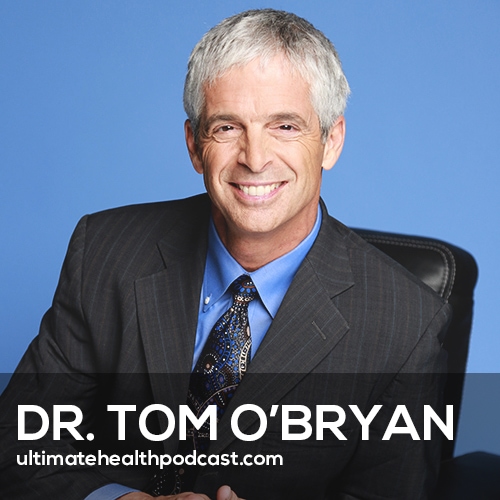 Dr. Tom O'Bryan (IG: @dr.tomobryan) is an author and recognized world expert on gluten and its impact on health. He is an internationally recognized and sought after speaker and workshop leader.
Dr. Tom holds teaching Faculty positions with the Institute for Functional Medicine and the National University of Health Sciences. He has trained and certified tens of thousands of practitioners around the world.
Today we're discussing Dr. Tom's latest book, You Can Fix Your Brain: Just 1 Hour a Week to the Best Memory, Productivity, and Sleep You've Ever Had.
Watch the full video version of this conversation below.
In this episode, we discuss:
All disease begins with a leaky gut
80% of all diseases are not caused by your genes
The most common environmental triggers are what's on the end of your fork
How being exposed to air pollution as a kid led to getting a cataract later in life
What is epigenetics?
Eat the colours of the rainbow
Building a healthy, diverse microbiome
Recommended testing for finding imbalances in your microbiome
Leaky gut (aka intestinal permeability) explained
People living with autoimmune conditions need to address their gut & diet
You get transient intestinal permeability every time you eat wheat
Understanding what a wheat related disorder is
Top recommended test for wheat, gluten, leaky gut & celiac disease
50% of celiacs have a sensitivity to corn
Allocating one hour a week, every week to learning something new
Storing food in glass containers to eliminate phthalate exposure
The 5 pillars to developing chronic inflammatory diseases
Why you should only run your dishwasher at night
Shower heads accumulating bacteria and what to do about it
Find out what foods are causing dysbiosis
Eating prebiotic foods & fermented veggies increases the good bacteria in your gut
Intestinal alkaline phosphatase (iap) is the most important enzyme
Why an apple a day keeps the doctor away
Colostrum is nature's way of healing a leaky gut
LPS (lipopolysaccharides) trigger bad bacteria in your gut
The relationship between the blood brain barrier and leaky gut
You can fix your brain
Show sponsor:
LMNT <== LMNT's tasty electrolyte drink mix is formulated to help anyone with their electrolyte needs
Organifi <== 20% off all Organifi products
Four Sigmatic <== Save up to 40% off Four Sigmatic
Paleovalley <== 15% off all Paleovalley products by using the code ultimatehealth at checkout
Related links:
Dr. Tom O'Bryan – You Can Fix Your Brain (book)
Dr. Tom O'Bryan's website
Follow Dr. Tom O'Bryan on Facebook, Instagram, and Twitter
The Institute for Functional Medicine
Alessio Fasano (books)
Michael Gershon – The Second Brain (book)
BiomeFx
Dr. Maureen Leonard
Vibrant Wellness (Zoomer Tests)
Environmental Working Group (EWG)
AirDoctor
GS Support Packets
GS Immuno Restore
Free My Brain
Related episodes:
Dr. Ben Lynch on Rewriting Your Genetic Destiny (#394)
289: Dr. David Perlmutter – Brain Maker • Reconnecting With Nature • Exercise Impacts The Microbiome
153: Dr. William Davis – Gluten Free Isn't Enough • Undoctored • The Importance Of A High Potency, Multi-Species Probiotic
089: Dr. Josh Axe – Eat Dirt • Leaky Gut Is The Root Cause Of All Disease • Soil-Based Organisms
078: Dr. Robynne Chutkan – Microbiome 101 | Stop Sanitizing Yourself Sick | Having A Dog Will Boost Your Health
Note: Some of the links above are affiliate links. Making a purchase through these links won't cost you anything but we will receive a small commission. This is an easy, free way of supporting the podcast. Thank you!
How can you support our podcast?
1. Apple users, please subscribe and review our show on Apple Podcasts, we make sure to read them all. Android users, be sure to subscribe to our show on Google Podcasts. Subscribers never miss any of the action 😉
2. Tell a friend about The Ultimate Health Podcast. They will surely thank you later. You can use the envelope button below to email a friend or tell them about TUHP in person.
3. Join TUHP Facebook community (FREE). This is where we all stay in touch and ask questions in between episodes. Join our community.
4. Follow our adventures on our favourite social media platform, Instagram.
5. Download The Ultimate Health Podcast app (FREE). This way you'll have our whole library of episodes right at your fingertips. Download our iOS/Apple app or our Android app.
6. Share using the buttons below.
Thank you!