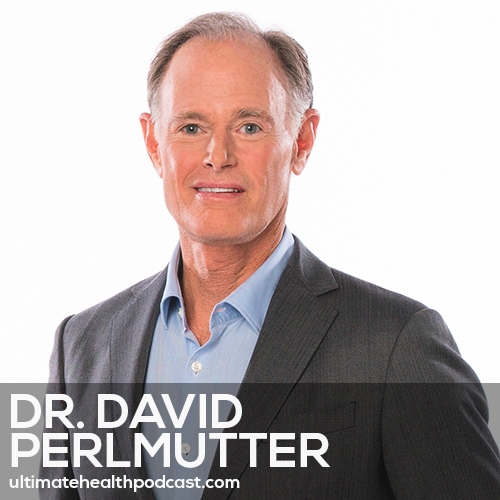 Dr. David Perlmutter (IG: @davidperlmutter) is a Board-Certified Neurologist and four-time New York Times bestselling author.
He's a Fellow of the American College of Nutrition and received his M.D. degree from the University of Miami School of Medicine.
David's been interviewed on many nationally syndicated radio and television programs including 20/20, Larry King Live, CNN, Fox News, The Today Show, The Oprah Show, and The Dr. Oz Show.
Today we're discussing his book, Brain Maker: The Power of Gut Microbes to Heal and Protect Your Brain– for Life.
In this episode, we discuss:
How the microbiome is the ultimate brain maker
What causes leaky gut?
Exercise impacts the microbiome
Do I really need these antibiotics?
Probiotics taken with antibiotics helps reduce the risk
The benefits of prebiotics
The different species of gut bacteria
The role of probiotics
Shelf stable probiotics vs. refrigerated probiotics
What is a fecal microbial transplant (FMT)?
The connection between gastrointestinal issues & autism
Who can benefit from a probiotic enema?
A healthy microbiome starts at birth
Risks associated with cesarean births
The relationship between depression & gut bacteria
LPS (lipopolysaccharide)
90% of serotonin in your body is made in your gut
What is BDNF (brain-derived neurotrophic factor)?
Sagittal abdominal diameter (SAD) and the risk for cognitive decline
Consume fibre-based carbs
Too much protein impacts blood sugar & insulin
Supplements & dietary recommendations
Reconnecting with nature
What is disconnection syndrome?
Appreciate life, be grateful
Show sponsors:
Four Sigmatic <== 15% off all Four Sigmatic products (free shipping on orders $100 or more)
Organifi <== 20% off all Organifi products
Thrive Market <== As a new customer you get a free 30-day membership, 25% off your order, and free shipping (US only)
Related links:
Dr. David Perlmutter – Brain Maker (book)
Dr. David Perlmutter's website
Follow Dr. David Perlmutter on Facebook, Instagram, and Twitter
Dr. David Perlmutter – Grain Brain (book)
Dr. David Perlmutter (books)
Dr. David Perlmutter & Dr. Austin Perlmutter – Brain Wash (new book info)
Listen to Dr. David Perlmutter previously on TUHP (episode #273)
Inflammation, Sanitation, and Consternation (ncbi article)
Dr. Kirk Erickson
Listen to Jesse & Marni – The 6 Pillars of Health 2.0 (episode #135)
Related episodes:
332: Dr. David Perlmutter – Brain Wash, Prioritizing Meditation, The T.I.M.E. Tool
288: Dr. Steven Lin – The Dental Diet • Oxygen Is The Most Crucial Nutrient • Vitamin K1 vs. K2
287: Dr. Steven Gundry – The Longevity Paradox • Exercise Impacts Your Microbiome • Top Sources Of Polyphenols
267: Dr. Datis Kharrazian – Why Isn't My Brain Working?
255: Dr. Dale Bredesen – The End Of Alzheimer's • Remove Amyloid Naturally • The Ketoflex 12/3 Diet
Note: Some of the links above are affiliate links. Making a purchase through these links won't cost you anything but we will receive a small commission. This is an easy, free way of supporting the podcast. Thank you!
How can you support our podcast?
1. Apple users, please subscribe and review our show on Apple Podcasts, we make sure to read them all. Android users, be sure to subscribe to our show on Google Podcasts. Subscribers never miss any of the action 😉
2. Tell a friend about The Ultimate Health Podcast. They will surely thank you later. You can use the envelope button below to email a friend or tell them about TUHP in person.
3. Join TUHP Facebook community (FREE). This is where we all stay in touch and ask questions in between episodes. Join our community.
4. Follow our adventures on our favourite social media platform, Instagram.
5. Download The Ultimate Health Podcast app (FREE). This way you'll have our whole library of episodes right at your fingertips. Download our iOS/Apple app or our Android app.
6. Share using the buttons below.
Thank you!