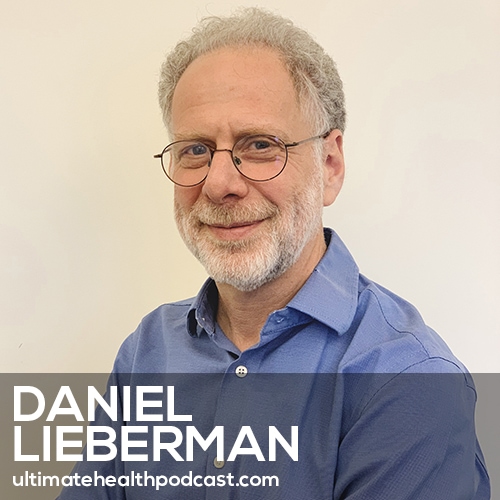 Daniel Lieberman is a professor at Harvard University. He studies and teaches how and why the human body is the way it is, and how our evolutionary history affects health and disease.
Dan is best known for his research on the evolution of running and other kinds of physical activities such as walking, but is also well known for his research on the evolution of the human head.
Today we're discussing his latest book, Exercised: Why Something We Never Evolved to Do is Healthy and Rewarding.
Watch the full video version of this conversation below.
In this episode, we discuss:
How humans evolved to be inactive
Born To Run
The real origin of running
How many calories does it take to run a mile?
Exercise is modern behaviour
People need to understand their instinct to not exercise is normal
Why people who are obese/sedentary have a hard time unlocking the reward system
Aim for 150 minutes of exercise per week
Strength training becomes increasingly important as you get older
Is sitting the new smoking?
Get up and move around every 15 minutes
Walking is the most fundamental form of exercise
How effective is walking for weight loss?
Where does 10,000 steps a day come from?
A standing desk is not exercise
The big debate… ultimate health
Improve your endurance with high-intensity interval training (HIIT)
Humans racing horses?!?
We're good at sweating
Heel strike vs. forefoot strike… what is the best running form?
The physics of barefoot running
The skill of running
The modern running shoe encourages people to heel strike
Dispelling the myth that running causes knee arthritis
Dan's thoughts on overexercising
The top 2 reasons why people don't exercise
The benefits of exercise with friends
You have to make a choice to exercise
Show sponsors:
LMNT <== Get your LMNT Sample Pack for the cost of shipping (5 dollars in the US)
Organifi <== 20% off all Organifi products
Paleovalley <== 15% off all Paleovalley products by using the code ultimatehealth at checkout
Related links:
Dan Lieberman – Exercised (book)
Daniel Lieberman – Harvard University
D. Lieberman, Dennis Bramble – Endurance running and the evolution of Homo (study)
R H Demling, L DeSanti – Effect of a hypocaloric diet, increased protein intake and resistance training on lean mass gains and fat mass loss in overweight police officers (study)
Fitbit
Oura Ring
Steve Calechman – 10,000 steps a day – or fewer? (article)
Vibram
Related episodes:
Lose Fat & Reverse Aging by Eating Two Meals a Day | Mark Sisson (#416)
289: Dr. David Perlmutter – Brain Maker • Reconnecting With Nature • Exercise Impacts The Microbiome
155: Vinnie Tortorich – Exercise For Mental Health • Choosing The Right Trainer • No Sugar No Grains
075: Abel James – Live More By Buying Less | Long-Term Weight Loss Strategies | HITT Wins Over Long Endurance Exercise
033: Rich Roll – Anti-Hack Your Life | Mood Follows Action | Hard Work > Talent
How can you support our podcast?
1. Apple users, please subscribe and review our show on Apple Podcasts, we make sure to read them all. Android users, be sure to subscribe to our show on Google Podcasts. Subscribers never miss any of the action 😉
2. If you'd prefer to watch vs listen to the interviews, head over to our YouTube channel and enjoy the full video conversations. Be sure and subscribe while you're there.
3. Tell a friend about The Ultimate Health Podcast. They will surely thank you later. You can use the envelope button below to email a friend or tell them about TUHP in person.
4. Join TUHP Facebook community (FREE). This is where we all stay in touch and ask questions in between episodes. Join our community.
5. Follow our adventures on our favourite social media platform, Instagram.
6. Download The Ultimate Health Podcast app (FREE). This way you'll have our whole library of episodes right at your fingertips. Download our iOS/Apple app or our Android app.
7. Share using the buttons below.
Thank you!