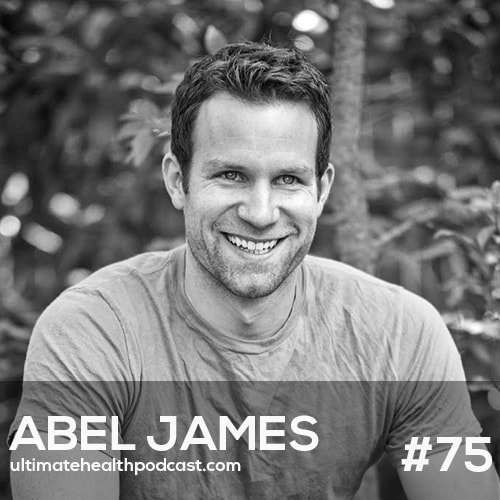 On this week's show, we are speaking with the #1 bestselling author of The Wild Diet, Abel James. He is the host of the wildly popular Fat-Burning Man Show, rated the #1 health podcast in 2012-13. Abel's a musician, top 10 app developer, and a serial entrepreneur. As a busy guy, he still makes time to regularly disconnect and get out into nature with his wife, Alyson and their dog, Bailey.
In this episode, we discuss:
What is The Wild Diet?
A simple "unsexy" way to get your health back
It's time to stop fearing healthy fats
Abel's Mom and her alternative health influence
Science hasn't figured it all out
Adaptogenic herbs can take your healthy routine to the next level
Reconnect with the world by getting out into nature
People have become slaves to technology
Start living more by buying less
Strategies for transitioning to a lifestyle with less
Long-term weight loss strategies
When it comes to exercise, find an activity YOU enjoy
HIIT wins over long endurance exercise
Exercise can and should be simple
Music impacts your physiology and mental function
Links to things we mentioned:
Sunwarrior <== 10% off all Sunwarrior products (free shipping over $100)
Habits app Thunderclap campaign
Habits app for iOS
Abel James' website (Fat-Burning Man)
Abel James – The Fat-Burning Man Show (Abel's podcast)
Abel James – The Wild Diet (book)
Abel James – Swamp Thing
Abel's iOS app – Caveman Feast
My Diet Is Better Than Yours – ABC Show
True Food Kitchen
How can you support our podcast?
1. Subscribe and review our show on iTunes and Stitcher. We make sure to read them all.
2. Tell a friend about The Ultimate Health Podcast. They will surely thank you later.
3. Share using the buttons below.
Thank you!