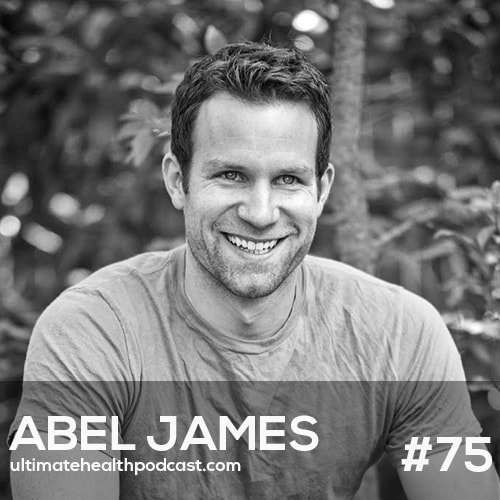 On this week's show, we are speaking with the #1 bestselling author of The Wild Diet, Abel James. He is the host of the wildly popular Fat-Burning Man Show, rated the #1 health podcast in 2012-13. Abel's a musician, top 10 app developer, and a serial entrepreneur. As a busy guy, he still makes time to regularly disconnect and get out into nature with his wife, Alyson and their dog, Bailey.
In this episode, we discuss:
What is The Wild Diet?
A simple "unsexy" way to get your health back
It's time to stop fearing healthy fats
Abel's Mom and her alternative health influence
Science hasn't figured it all out
Adaptogenic herbs can take your healthy routine to the next level
Reconnect with the world by getting out into nature
People have become slaves to technology
Start living more by buying less
Strategies for transitioning to a lifestyle with less
Long-term weight loss strategies
When it comes to exercise, find an activity YOU enjoy
HIIT wins over long endurance exercise
Exercise can and should be simple
Music impacts your physiology and mental function
Related links:
Sunwarrior <== 20% off all Sunwarrior products & free shipping over $50 (US only)
Abel James – The Wild Diet (book)
Abel James' website (Fat-Burning Man)
Follow Abel James on Facebook, Instagram, and Twitter
Abel James – The Fat-Burning Man Show (Abel's podcast)
Abel James – Swamp Thing
Abel's iOS app – Caveman Feast
My Diet Is Better Than Yours – ABC Show
True Food Kitchen
Habits app for iOS (*no longer available)
Related episodes:
080: Josh Gitalis – Getting To The Root Of Depression & Anxiety | Protect Your Adrenals With Adaptogenic Herbs | Synthetic vs. Whole Food Supplements
241: Dr. Aviva Romm – The Adrenal Thyroid Revolution • Permission To Pause • Embracing Adaptogen
289: Dr. David Perlmutter – Brain Maker • Reconnecting With Nature • Exercise Impacts The Microbiomes
227: Andy Couturier – The Abundance Of Less • Enjoying The Process • Thinking For Yourself
244: Dr. Will Cole – Plant-Based Keto Diet • Women & Ketosis • Fats For Brain Health
Note: Some of the links above are affiliate links. Making a purchase through these links won't cost you anything but we will receive a small commission. This is an easy, free way of supporting the podcast. Thank you!
How can you support our podcast?
1. Apple users, please subscribe and review our show on Apple Podcasts, we make sure to read them all. Android users, be sure to subscribe to our show on Google Podcasts. Subscribers never miss any of the action 😉
2. Tell a friend about The Ultimate Health Podcast. They will surely thank you later. You can use the envelope button below to email a friend or tell them about TUHP in person.
3. Join TUHP Facebook community (FREE). This is where we all stay in touch and ask questions in between episodes. Join our community.
4. Follow our adventures on our favourite social media platform, Instagram.
5. Download The Ultimate Health Podcast app (FREE). This way you'll have our whole library of episodes right at your fingertips. Download our iOS/Apple app or our Android app.
6. Share using the buttons below.
Thank you!