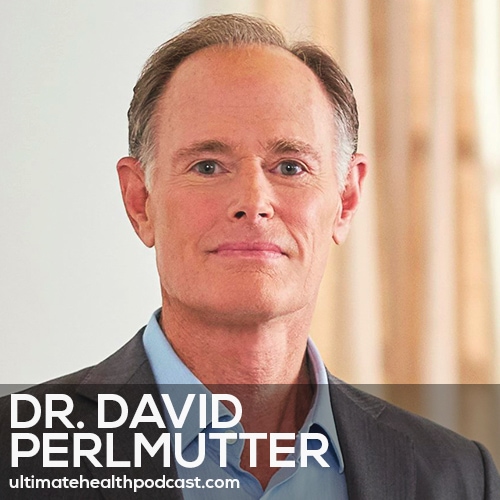 Dr. David Perlmutter (IG: @davidperlmutter) is a Board-Certified Neurologist and four-time New York Times bestselling author.
David serves on the Board of Directors and is a Fellow of the American College of Nutrition. He received his M.D. degree from the University of Miami School of Medicine.
David's been interviewed on many nationally syndicated television programs including 20/20, Larry King Live, CNN, The Today Show, Oprah, and The Dr. Oz Show.
In this episode, we discuss:
Raising awareness about Alzheimer's disease
The impact of gluten & grains on our health
Humans have been domesticated by wheat
What gluten does to your gut
Everyone should avoid gluten
Grains raise blood sugar levels
What is keto cycling?
Focus on a plant-based diet
Hidden sources of gluten
Type 2 diabetes increases your risk for Alzheimer's
Lifestyle choices matter
Cholesterol is your friend
How cholesterol benefits your brain
What is coffee fruit extract?
Supplements that increase BDNF (brain-derived neurotrophic factor)
Exercise helps your brain
Plan for the future
Show sponsors:
Four Sigmatic <== 15% off all Four Sigmatic products (free shipping on orders $100 or more)
CoreChair <== 15% off your CoreChair purchase by using the code tuhpcc at checkout (free shipping in North America)
Sunwarrior <== 20% off all Sunwarrior products & free shipping over $50 (US only)
Related links:
Dr. David Perlmutter – Grain Brain (book) – Completely Revised And Updated
Dr. David Perlmutter's website
Follow Dr. David Perlmutter on Facebook, Instagram, and Twitter
Dr. David Perlmutter – The Grain Brain Cookbook (book)
Dr. David Perlmutter – The Grain Brain Whole Life Plan (book)
Dr. David Perlmutter – Brain Maker (book)
Dr. David Perlmutter – Whole Coffee Fruit Concentrate – Amping Up Growth Hormone for Brain Cells (article)
Alessio Fasano, MD
Listen to Dr. Dale Bredesen previously on TUHP (episode #255)
Related episodes:
267: Dr. Datis Kharrazian – Why Isn't My Brain Working?
244: Dr. Will Cole – Plant-Based Keto Diet • Women & Ketosis • Fats For Brain Health
223: Max Lugavere – Alzheimer's And The Ketogenic Diet • Genius Foods • Stop Skimping On Sleep
157: Jim Kwik – The Key To A Better Memory • Brain Boosting Foods • The Power Of Intention
092: Dr. Kelly Brogan – Depression, Myths & Misconceptions • Medications That Commonly Cause Psychiatric Side Effects • Gut Health Impacts Brain Health
Note: Some of the links above are affiliate links. Making a purchase through these links won't cost you anything but we will receive a small commission. This is an easy, free way of supporting the podcast. Thank you!
How can you support our podcast?
1. Apple users, please subscribe and review our show on Apple Podcasts, we make sure to read them all. Android users, be sure to subscribe to our show on Google Podcasts. Subscribers never miss any of the action 😉
2. Tell a friend about The Ultimate Health Podcast. They will surely thank you later. You can use the envelope button below to email a friend or tell them about TUHP in person.
3. Join TUHP Facebook community (FREE). This is where we all stay in touch and ask questions in between episodes. Join our community.
4. Follow our adventures on our favourite social media platform, Instagram.
5. Download The Ultimate Health Podcast app (FREE). This way you'll have our whole library of episodes right at your fingertips. Download our iOS/Apple app or our Android app.
6. Share using the buttons below.
Thank you!