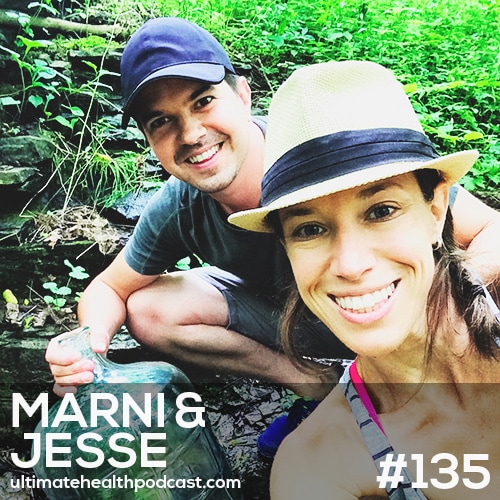 The 6 pillars of health make up the foundation of our healthy routine – water, nutrition, sleep, exercise, mental health, and community.
Over two years ago we released our original "The 6 Pillars of Health" episode… things have evolved so much since then. Today we're sharing our updated version of The 6 Pillars of Health (version 2.0).
Master these 6 pillars and you'll have a solid foundation for your healthy routine.
In this episode, we discuss:
Harvesting your own spring water
You should definitely invest in a shower filter
Coffee and tea can lead to dehydration
Over consuming water while you eat is bad for your digestion
A starting point for how much water you should drink in a day
Just eat real food – JERF
We're fans of high quality fat
Experimenting with new leafy greens
Processed foods vs. packaged foods
Fermented foods boost your gut health
4 supplements we should all consider
Wild foods and sea vegetables
Medicinal mushrooms and health promoting herbs
Sleep impacts everything
Improve your sleep by addressing your senses
The importance of going to bed and waking at the same time each day… even on weekends
Find an exercise you LOVE and do that
Move your body throughout the day
It's possible to overexercise, especially if you're burnt out
Get specific with your fitness goals
Meditation made easy
Slow down AND stop feeling guilty about it
Clean up your external environment to free up your mind
Spending quality time with loved ones
You become like the 5 people you surround yourself with
Related links:
Sunwarrior <== 20% off all Sunwarrior products & free shipping over $50 (US only)
Raw Elements <== 10% off all Raw Elements products – Apply the code TUHP at checkout (free shipping over $100)
Contact us about Ultimate Health Coaching with Marni
Follow TUHP on Instagram
Join our Facebook Community
Listen to The 6 Pillars of Health (episode #2 – the original)
Mountain Valley Spring Water
Sprite shower filter
Omica Organics shower filter
Santevia shower filter
Santevia counter top water system
Berkey water filters
Find A Spring
Listen to Sean Croxton previously on TUHP (episode #114)
Listen to The Lowdown On Eating High Fat (episode #115)
Marni Wasserman – Fermenting For Dummies (book)
Listen to Sandor Katz previously on TUHP (episode #130)
Michelle Chappus
NutraVege Omega-3 Fatty Acids
Listen to Sam Gladish previously on TUHP (episode #10)
Four Sigmatic <== 15% off all Four Sigmatic products (free shipping on orders $100 or more)
Listen to Joy Coelho & Jay Denman (JingSlingers) previously on TUHP (episode #113)
Dragon Herbs Spring Dragon Longevity Tea
Listen to Shawn Stevenson previously on TUHP (episodes #27 & #52)
Shawn Stevenson – Sleep Smarter (book)
Listen to Arianna Huffington previously on TUHP (episode #107)
Listen to Dr. Michael Breus previously on TUHP (episode #116)
Living Libations products
Listen to Nadine Artemis previously on TUHP (episodes #41 & #88)
Natural Vitality Natural Calm (magnesium)
f.lux
Headspace guided meditation app
10% Happier guided mediation app
Buddify guided meditation app
Listen to Dr. Kelly Starrett previously on TUHP (episode #93)
Listen to Jill Miller previously on TUHP (episode #77)
Listen to Katy Bowman previously on TUHP (episode #64)
CoreChair <== 15% off your CoreChair purchase by using the code tuhpcc at checkout (free shipping in North America)
7 Minute Workout Challenge app
Listen to Sharon Salzberg previously on TUHP (episode #105)
The Five Minute Journal (book) or The Five Minute Journal app
Listen to UJ Ramdas previously on TUHP (episode #62)
Listen to Katie Dalebout previously on TUHP (episode #98)
Listen to Ryan Nicodemus previously on TUHP (episode #132)
Listen to James Altucher previously on TUHP (episode #131)
Habits app for iOS (*no longer available)
Related episodes:
304: Trina Felber – Primal Skincare, Remineralize Your Teeth, Foods That Cause Acne
223: Max Lugavere – Alzheimer's And The Ketogenic Diet • Genius Foods • Stop Skimping On Sleep
222: Focus Friday – More Play
212: James Colquhoun – Food Matters • Building A Thriving Online Community • Transformation Starts In The Mind
193: Focus Friday – Gut Friendly Foods
Note: Some of the links above are affiliate links. Making a purchase through these links won't cost you anything but we will receive a small commission. This is an easy, free way of supporting the podcast. Thank you!
How can you support our podcast?
1. Apple users, please subscribe and review our show on Apple Podcasts, we make sure to read them all. Android users, be sure to subscribe to our show on Google Podcasts. Subscribers never miss any of the action 😉
2. Tell a friend about The Ultimate Health Podcast. They will surely thank you later. You can use the envelope button below to email a friend or tell them about TUHP in person.
3. Join TUHP Facebook community (FREE). This is where we all stay in touch and ask questions in between episodes. Join our community.
4. Follow our adventures on our favourite social media platform, Instagram.
5. Download The Ultimate Health Podcast app (FREE). This way you'll have our whole library of episodes right at your fingertips. Download our iOS/Apple app or our Android app.
6. Share using the buttons below.
Thank you!