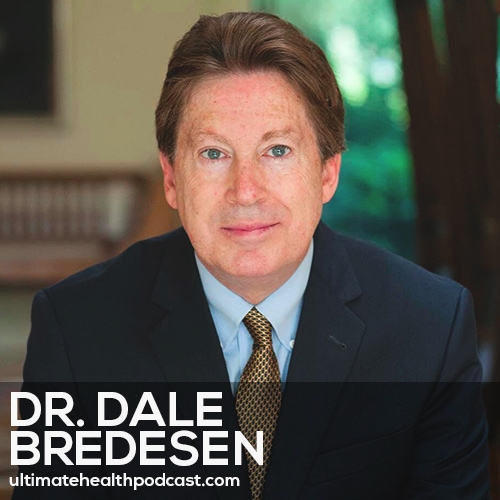 Dr. Dale Bredesen (@DrDaleBredesen) is internationally recognized as an expert in the mechanisms of neurodegenerative diseases such as Alzheimer's disease. He graduated from Caltech, then earned his MD from Duke University Medical Center.
Dr. Bredesen is the author of the New York Times bestselling book, The End of Alzheimer's. His book presents a groundbreaking plan to prevent and reverse Alzheimer's disease that fundamentally changes how we understand cognitive decline.
In this episode, we discuss:
Understanding Alzheimer's disease
Alzheimer's is the 3rd leading cause of death in the US
Why everyone should get a cognoscopy
Prevention is key
What actually causes Alzheimer's?
What is amyloid?
The different types of Alzheimer's
The leaky gut connection
Factors that can affect cognitive decline
How to give yourself Alzheimer's disease
The Ketoflex 12/3 Diet
Testing for the ApoE4 gene
Ways to remove amyloid naturally
Removal, resilience, and rebuilding
Optimizing your health
Assessing MoCA test results
What is whole coffee fruit extract?
The 4 phases of Alzheimer's disease
Knowing which tests to get done
Benefits of cardiovascular and strength training
Cleansing the brain during sleep
The impact of chronic stress
Seeking joy and meditation
Show sponsors:
CoreChair <== 15% off your CoreChair purchase by using the code tuhpcc at checkout (free shipping in North America)
Sunwarrior <== 20% off all Sunwarrior products & free shipping over $50 (US only)
Perfect Keto <== 20% off all Perfect Keto products and they ship worldwide (free shipping in the US)
Related links:
Dr. Dale Bredesen – The End of Alzheimer's (book)
Dr. Dale Bredesen's website
Follow Dr. Dale Bredesen on Facebook and Twitter
The Bredesen Protocol™
ReCODE Report™
23andMe
myAPOE
Dr. Dean Ornish (books)
Perfect Keto <== 20% off Perfect Keto exogenous ketones and they ship worldwide (free shipping in the US)
Dr. Mike Merzenich's website
Dr. Mike Merzenich – Soft-Wired (book)
Matthew Walker PhD – Why We Sleep (book)
Concussion (movie)
Bennet Omalu Pathology
Related episodes:
333: Dr. Daniel Amen – Optimize Your Brain, Automatic Negative Thoughts, Eliminating Caffeine
332: Dr. David Perlmutter – Brain Wash, Prioritizing Meditation, The T.I.M.E. Tool
289: Dr. David Perlmutter – Brain Maker • Reconnecting With Nature • Exercise Impacts The Microbiome
273: Dr. David Perlmutter – Grain Brain • Cholesterol Is Your Friend • What Is Keto Cycling?
267: Dr. Datis Kharrazian – Why Isn't My Brain Working?
Note: Some of the links above are affiliate links. Making a purchase through these links won't cost you anything but we will receive a small commission. This is an easy, free way of supporting the podcast. Thank you!
How can you support our podcast?
1. Apple users, please subscribe and review our show on Apple Podcasts, we make sure to read them all. Android users, be sure to subscribe to our show on Google Podcasts. Subscribers never miss any of the action 😉
2. Tell a friend about The Ultimate Health Podcast. They will surely thank you later. You can use the envelope button below to email a friend or tell them about TUHP in person.
3. Join TUHP Facebook community (FREE). This is where we all stay in touch and ask questions in between episodes. Join our community.
4. Follow our adventures on our favourite social media platform, Instagram.
5. Download The Ultimate Health Podcast app (FREE). This way you'll have our whole library of episodes right at your fingertips. Download our iOS/Apple app or our Android app.
6. Share using the buttons below.
Thank you!