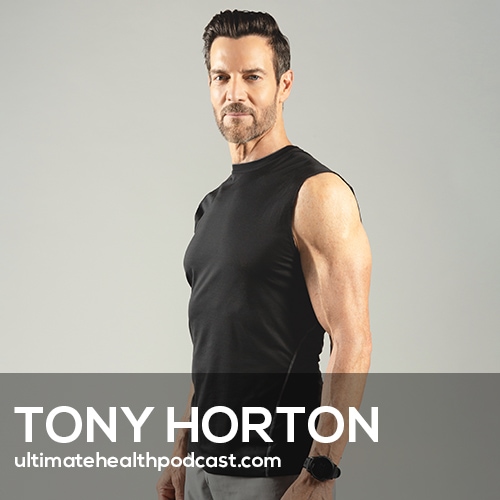 Tony Horton (IG: @tonyshorton) is the wildly popular creator of the most successful fitness program in America, P90X.
He is a world-class motivational speaker and the author of top-selling books Bring It!, Crush It! and The Big Picture.
Tony's appeared on countless television programs as a fitness and lifestyle expert to promote healthy living through exercise and proper nutrition.
In line with his new fitness concept, Power Nation, Tony's newest creation is his brand new supplement line, Power Life, aimed at supporting people's health through proper nutrition.
Watch the full video version of this conversation below.
In this episode, we discuss:
Tony's early days as a kid being bullied with a speech impediment
Forming friendships in high school that last a lifetime
The weight lifting course in college that changed his life
Diet is as critical as exercise
Transitioning from a pescatarian to mostly vegan diet
Stress is a trigger for Ramsay Hunt Syndrome
Eating inflammatory foods leads to leaky gut
What is bilateral vestibular hypofunction?
The new program Power of Four integrates mindfulness and meditation
Tony's vegan, his wife is paleo/keto… how they make it work in the kitchen
Practicing the 5.5 breathing technique
Yoga is perfect if you want to stay young and healthy
Recovery phase options after intense exercise
How Tony evolved his fitness routine over the years
The glass is half full… your mindset matters
Focus on living in the present moment
A less stressful and more optimistic way to approach life
The coaches & mentors that impacted Tony
Personal development books help improve who you are
Tales from a celebrity personal trainer
The success of P90X
Financial lessons Tony's learned along the way
Married life with Shawna
My purpose for getting healthy
Workout at least 22 days per month
Show sponsors:
LMNT <== Get your LMNT Sample Pack for the cost of shipping (5 dollars in the US)
Paleovalley <== 15% off all Paleovalley products by using the code ultimatehealth at checkout
Organifi <== 20% off all Organifi products by using the code ultimatehealth at checkout
Related links:
Power Nation
Tony Horton's website
Follow Tony Horton on Facebook, Instagram, and YouTube
Tony Horton – The Big Picture (book)
Power Life
Sanjay Gupta – Keep Sharp (book)
John Ratey – Spark (book)
Tammy Murphy
Tom Petty
Tonal
James Nestor – Breath (book)
Listen to James Nestor previously on TUHP (episode #413)
FireRoad
Brendan Brazier (books)
Keith Ellis – The Magic Lamp (book)
Andrew Weil (books)
Listen to Dr. Andrew Weil previously on TUHP (episodes #295, #366 & #430)
Wayne Dyer – Your Erroneous Zones (book)
Robert Ringer – Looking Out For Number 1 (book)
Richard Carlson – Don't Sweat The Small Stuff (book)
M. Scott Peck (books)
Tony Robbins (books)
Deepak Chopra (books)
Listen to Deepak Chopra previously on TUHP (episode #141)
Eckhart Tolle (books)
Viktor Frankl – Man's Search For Meaning (book)
Related episodes:
Start Breathing Through Your Nose to Completely Transform Your Health | Patrick McKeown (#438)
From Mr. Universe to Mr. Marshmallow & Eventually Finding True Health With Wade Lightheart (#414)
Dr. Steven Gundry on Boosting Your Mental and Physical Energy (#404)
Rachel Hollis on Putting Life Back Together When Your World Falls Apart (#395)
323: Laird Hamilton – Born To Surf, XPT (Extreme Performance Training), Ice Baths & Saunas
How can you support our podcast?
1. Apple users, please subscribe and review our show on Apple Podcasts, we make sure to read them all. Android users, be sure to subscribe to our show on Google Podcasts. Subscribers never miss any of the action 😉
2. If you'd prefer to watch vs listen to the interviews, head over to our YouTube channel and enjoy the full video conversations. Be sure and subscribe while you're there.
3. Tell a friend about The Ultimate Health Podcast. They will surely thank you later. You can use the envelope button below to email a friend or tell them about TUHP in person.
4. Join TUHP Facebook community (FREE). This is where we all stay in touch and ask questions in between episodes. Join our community.
5. Follow our adventures on our favourite social media platform, Instagram.
6. Download The Ultimate Health Podcast app (FREE). This way you'll have our whole library of episodes right at your fingertips. Download our iOS/Apple app or our Android app.
7. Share using the buttons below.
Thank you!