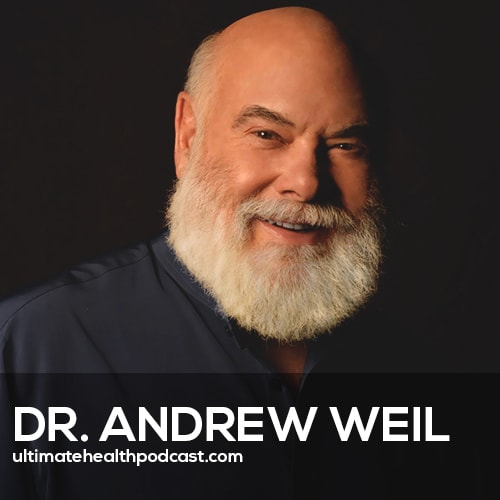 Dr. Andrew Weil (IG: @drweil) received a degree in botany from Harvard and an M.D. from Harvard Medical School.
He's the founder and director of the University of Arizona Center for Integrative Medicine. The Center is the leading effort in the world to develop a comprehensive curriculum in integrative medicine.
Dr. Weil is a founder and partner of the growing group of True Food Kitchen restaurants.
He's an internationally recognized expert on medicinal plants, alternative medicine, and the reform of medical education. Dr. Weil is the author of many scientific articles and 15 books.
(Subscribe in Apple Podcasts)
(Subscribe in Google Podcasts)
In this episode, we discuss:
Foraging edible prince mushrooms
Are you suffering from nature deficit disorder?
Social interaction is good for your emotional well-being
Strive for contentment
The path to spontaneous happiness
The goal of meditation
Yoga helps quiet the mind
Allow yourself to experience lowered moods
Social media sabotages your attention span
An anti-inflammatory diet can help treat depression
Stay physically fit through daily activities
Secrets to healthy aging in Okinawa
Omega-3 fatty acids and mental health
How vitamin D impacts your mood
Multi nutrient supplements help PTSD sufferers
The method of using a mantram
Sound has a profound influence on your nervous system
Unplug your consciousness from the news
Zoonotic diseases & COVID-19
Eat less animal foods and more plant foods
Using psilocybin for depression, OCD, and end of life care
The impact of companion animals
Matcha contains the calming amino acid L-theanine
Dr. Weil's experience with intermittent fasting
Practicing 4-7-8 breathing to help with sleep
2 capsules of valerian root extract help induce sleep
Melatonin is good for immune & cancer protection
The importance of dreams
Keep a dream journal for lucid dreaming
Foraging for medicinal mushrooms (polypores)
Chaga mushroom is used for the treatment of cancer
Astragalus is used to prevent the cold & flu
Steam rooms vs. saunas
Expressing gratitude improves your mood
Strive for an inner state of balance & resilience
Show sponsors:
Perfect Keto <== 20% off all Perfect Keto products (free shipping in the US)
Sunwarrior <== 20% off all Sunwarrior products (free shipping on orders over $50)
Organifi <== 20% off all Organifi products
BLUblox <== 15% off the world's most advanced blue light glasses
Related links:
Dr. Andrew Weil – Spontaneous Happiness (book)
Dr. Andrew Weil's website
Follow Dr. Andrew Weil on Facebook, Instagram, and Twitter
Listen to Dr. Andrew Weil previously on TUHP (episode #295)
Dr. Andrew Weil (books & more)
Andrew Weil Center for Integrative Medicine
True Food Kitchen
Agaricus augustus (prince mushroom)
Bonnie J. Kaplan, PhD
Julia Rucklidge
David Quammen – Spillover (book)
Fantastic Fungi (documentary)
Matcha Kari – Save 15% by using the code "UHP15" at checkout
Related episodes:
362: Lori Gottlieb – Maybe You Should Talk To Someone
361: Dr. Alejandro Junger – Living In A Higher State Of Consciousness
359: Dr. Daniel Amen – The End Of Mental Illness
352: Jenny Sansouci – Healing With Cannabis, CBD, & Mushrooms
305: Dave Asprey – Game Changers, Practicing Gratitude & Forgiveness, Holotropic Breathing vs. Ayahuasca
Note: Some of the links above are affiliate links. Making a purchase through these links won't cost you anything but we will receive a small commission. This is an easy, free way of supporting the podcast. Thank you!
How can you support our podcast?
1. Apple users, please subscribe and review our show on Apple Podcasts, we make sure to read them all. Android users, be sure to subscribe to our show on Google Podcasts. Subscribers never miss any of the action 😉
2. Tell a friend about The Ultimate Health Podcast. They will surely thank you later. You can use the envelope button below to email a friend or tell them about TUHP in person.
3. Join TUHP Facebook community (FREE). This is where we all stay in touch and ask questions in between episodes. Join our community.
4. Follow our adventures on our favourite social media platform, Instagram.
5. Download The Ultimate Health Podcast app (FREE). This way you'll have our whole library of episodes right at your fingertips. Download our iOS/Apple app or our Android app.
6. Share using the buttons below.
Thank you!