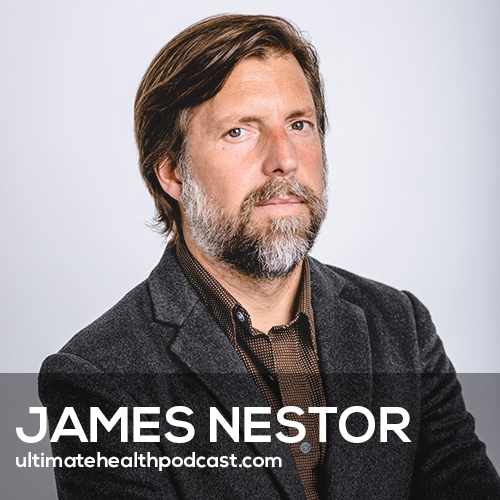 James Nestor (@mrjamesnestor) has written for Outside, Scientific American, The Atlantic, Dwell, The New York Times, and many other publications.
His latest book, Breath: The New Science of a Lost Art, was an instant New York Times bestseller.
James has appeared on dozens of national television shows, including ABC's Nightline and CBS's Morning News, and on NPR.
Watch the full video version of this conversation below.
In this episode, we discuss:
How James became fascinated with the subject of breath and breathing
What James learned from studying free divers
The 10-day mouth breathing experiment
Why it's advantageous to breathe through your nose
The difference between mouth vs. nose breathing
During allergy season snoring & sleep apnea goes up
Mouth breathing can affect the development of your face
Breastfed babies will be less apt to snoring, sleep apnea & crooked teeth
The problem with braces
Palatal expansion is the new wave of orthodontics
Practices to make nose breathing an unconscious habit
You can change the size of your mouth
Our environment impacts our breathing
Overbreathing can make you more apt to have osteoporosis
Why balancing carbon dioxide in your system is important
What is hypoventilation training?
Carbon dioxide training is an effective therapy for anxiety
The benefits of mouth taping
CPAPs are doing nothing to help the root cause of sleep apnea
Myofunctional therapy trains people to have proper oral posture
Why you should use a neti pot
Hacks for better breathing
Tummo is similar to the Wim Hof Method
The breathing technique called the "physiological sigh"
5.5 breaths per minute
Take control of your breath anytime of the day
Holotropic breathing brings up subconscious thoughts
Keep breathing… make it calm, light, slow and deep
Show sponsors:
Organifi <== 20% off all Organifi products
BiOptimizers <== 10% off BiOptimizers Magnesium Breakthrough by using the code ultimatehealth10 at checkout
Paleovalley <== 15% off all Paleovalley products by using the code ultimatehealth at checkout
Alitura <== 20% off your first order of Alitura's life-changing skin care products by using the code ultimatehealth at checkout
Related links:
James Nestor – Breath (book)
James Nestor's website
Follow James Nestor on Facebook, Instagram, and Twitter
James Nestor – Deep (book)
Dr. Jayakar Nayak
Anders Olsson
Dr. Michael Gelb
Dr. Kevin Boyd
Dr. Marianna Evans
Dr. William Hang
Dr. Justin Feinstein
The Sleep Tape 5M
Dr. Ann Kearney
3M Micropore Tape
Dr. Mark Burhenne
Listen to Dr. Mark Burhenne previously on TUHP (episode #083)
Oura Ring
Wim Hof (books)
Dr. Andrew Huberman
XPT Life app (Midday Energizer Breathing Exercise)
Paced Breathing (app)
Related episodes:
366: Dr. Andrew Weil – Spontaneous Happiness
305: Dave Asprey – Game Changers, Practicing Gratitude & Forgiveness, Holotropic Breathing vs. Ayahuasca
288: Dr. Steven Lin – The Dental Diet • Oxygen Is The Most Crucial Nutrient • Vitamin K1 vs. K2
125: Robyn Youkilis – Next Level Chewing, Breathing, & Pooping
052: Shawn Stevenson – Sleep Smarter | Living Spring Water | Solutions For Snoring
James Nestor photo credit: Julie Floersch
How can you support our podcast?
1. Apple users, please subscribe and review our show on Apple Podcasts, we make sure to read them all. Android users, be sure to subscribe to our show on Google Podcasts. Subscribers never miss any of the action 😉
2. Tell a friend about The Ultimate Health Podcast. They will surely thank you later. You can use the envelope button below to email a friend or tell them about TUHP in person.
3. Join TUHP Facebook community (FREE). This is where we all stay in touch and ask questions in between episodes. Join our community.
4. Follow our adventures on our favourite social media platform, Instagram.
5. Download The Ultimate Health Podcast app (FREE). This way you'll have our whole library of episodes right at your fingertips. Download our iOS/Apple app or our Android app.
6. Share using the buttons below.
Thank you!