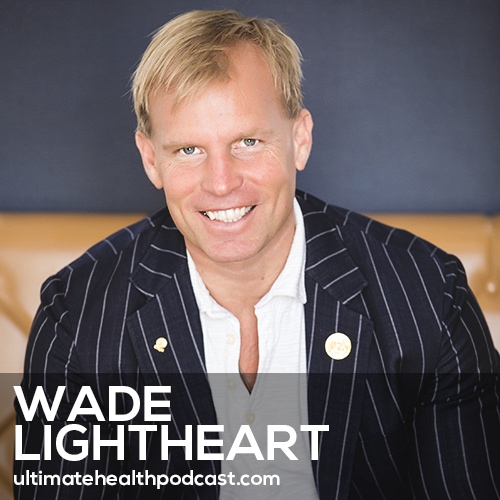 Wade Lightheart (IG: @wadelightheart) is an author, athlete, nutritionist and expert on fixing digestion.
He's the co-founder and president at BiOptimizers, a digestive and health optimization company and also serves as an advisor to the American Anti-Cancer Institute.
Wade is a 3-time Canadian national all natural bodybuilding champion who competed as a vegetarian, former Mr. Universe competitor, and host of The Awesome Health Podcast.
Watch the full video version of this conversation below.
In this episode, we discuss:
The origin story of how Wade got into bodybuilding
The bodybuilding magazine from his terminally ill sister that inspired Wade
The death of Wade's sister totally changed the trajectory of his life
The key is to not develop a victim mentality
Discovering meditation
Becoming a drug-free vegetarian bodybuilder
Wade's cognitive function improved after changing his diet
Fitness is a component of health, not the whole picture
Mr. Universe to Mr. Marshmallow… gaining 42 lbs in 3 months
Breaking down the role of enzymes in the body
The problem with raw food diets
Do the diet that works for you
The three dietary philosophies
Using biohacking technology to address health issues
Crash & burn… the long term health repercussions of extreme bodybuilding
The psychological transitions bodybuilders experience
The profound spiritual perspective Wade achieved fulfilling his dream
Xenoestrogens, EMFs and lack of exercise cause low testosterone levels in men
Testosterone replacement therapy (TRT) should be used as a last resort
Males increasing their testosterone level to between 600-1000 will improve recovery
It took 33 years for Wade to achieve his dream of moving from New Brunswick to Venice Beach
Concerns about the COVID-19 vaccine
Taking your health into your own hands
Show sponsors:
Paleovalley <== 15% off all Paleovalley products by using the code ultimatehealth at checkout
Organifi <== 20% off all Organifi products
Four Sigmatic <== Save up to 40% off Four Sigmatic Mushroom Coffee bundles
Related links:
BiOptimizers – Save 10% off all products when you use the code ultimatehealth at checkout
Wade Lightheart's website
Follow Wade Lightheart on Facebook and Instagram
The Awesome Health Course (free 12 week program)
Troy Zuccolotto
Arnold Schwarzenegger – Arnold: The Education of a Bodybuilder (book)
Greg Kovacs
Dorian Yates
Ronnie Coleman
Swami Sri Yukteswar Giri – The Holy Science (book)
Francis Ngannou
Paramahansa Yogananda – Autobiography Of A Yogi (book)
Lance Armstrong
Shannon Sharpe
Dr. Edward Howell – Food Enzymes For Health & Longevity (book)
Paul Bragg (books)
Matt Gallant
Tongkat ali
Related episodes:
Dave Asprey – Fast This Way to Burn Fat and Heal Inflammation (#389)
339: Scott Nelson – The Joovv Origin Story, Light Therapy, Seasonal Affective Disorder (SAD)
323: Laird Hamilton – Born To Surf, XPT (Extreme Performance Training), Ice Baths & Saunas
194: John Gray – Beyond Mars And Venus • Role Mate vs Soul Mate Relationship • Getting Your Sex Hormones Back On Track
043: Ben Greenfield – Raising Children 2.0 | Biohack A Healthy Home | Cholesterol… Redefined
How can you support our podcast?
1. Apple users, please subscribe and review our show on Apple Podcasts, we make sure to read them all. Android users, be sure to subscribe to our show on Google Podcasts. Subscribers never miss any of the action 😉
2. Tell a friend about The Ultimate Health Podcast. They will surely thank you later. You can use the envelope button below to email a friend or tell them about TUHP in person.
3. Join TUHP Facebook community (FREE). This is where we all stay in touch and ask questions in between episodes. Join our community.
4. Follow our adventures on our favourite social media platform, Instagram.
5. Download The Ultimate Health Podcast app (FREE). This way you'll have our whole library of episodes right at your fingertips. Download our iOS/Apple app or our Android app.
6. Share using the buttons below.
Thank you!