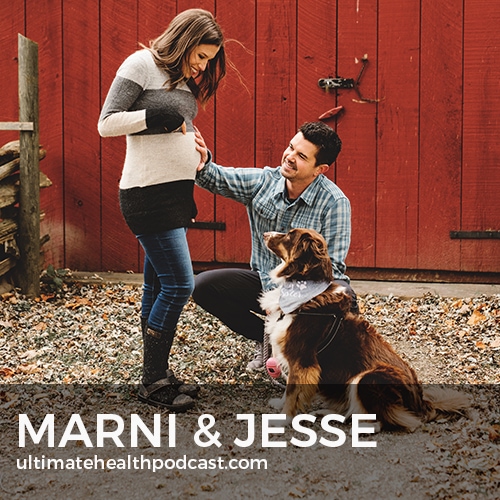 Trimester 2 has come and gone and we're very grateful that it went so smoothly.
Marni's bump really popped early on this trimester and we've felt a ton of movement from TUB which made things feel even more real.
We cover a lot in this episode including red raspberry leaf tea, slowing down, diet & supplements, preparing for a natural home birth, pregnancy book recommendations, birth classes, and so much more.
Thanks for joining us on our baby journey!
(Subscribe in Apple Podcasts)
(Subscribe in Google Podcasts)
In this episode, we discuss:
Marni's growing bump
Embracing pregnancy
Feeling the baby kick at week 20
Moisturizing your belly, boobs, & bottom
Increase your collagen intake with daily smoothies & elixirs
Homemade gummies are the tastiest way to consume gelatin
Common body changes happening throughout trimester 2
Exercise video recommendations for trimester 2
Yoga is very conducive to being pregnant
The benefits of connecting with pregnant mamas in your community
Learning through birth classes
Pregnancy book recommendations
Our babymoon & nesting
Preparing the nursery for TUB
A home visit from our doula
Preparing for a natural home birth
The magical moment… hearing TUB's heartbeat
Why you need to see a pelvic floor specialist
Connecting with the baby through meditation
Mama's diet and cravings
Marni's Hashimoto's antibodies are the lowest they've ever been
Boosting low iron with foods & supplements
Packing the freezer with healthy, homemade meals
Red raspberry leaf tea
Marni's daily supplement regimen
Scheduling time for dates, family & fun
Embrace slowing down before the baby comes
Marni's maternity capsule wardrobe
Related links:
Our baby registry at Three Lambs (if you want to buy TUB a present)
Listen to Focus Friday – The Ultimate Baby (Our 1st Trimester)
Follow @marniwasserman and @ultimatehealthpodcast on Instagram for baby TUB updates
Joyous Health – Body Butter
Perfect Keto <== 20% off all Perfect Keto products (free shipping in the US)
Sproos <== 10% off all Sproos products & free shipping on orders over $40
Listen to Genevieve Howland aka Mama Natural previously on TUHP (episode #315)
Marni Wasserman – A Real Treat (ebook)
Tracy Anderson Pregnancy Project Workouts
Glowing Mama Health & Fitness Program – Use the code "ultimatehealth15" for 15% off
Mama Natural Birth Course
Love Your Labour Program
Pam England – Birthin From Within (book)
Penny Simkin – The Birth Partner (book)
Lily Nichols – Real Food for Pregnancy (book)
Ina May Gaskin – Guide to Childbirth (book)
Ina May Gaskin – Guide to Breastfeeding (book)
John Pfeiffer – Dude, You're Gonna Be a Dad! (book)
Genevieve Howland – The Mama Natural Week-by-Week Guide to Pregnancy & Childbirth (book)
Listen to Focus Friday – Minimize Your Chemical Exposure
Three Lambs Baby Boutique
Babyletto Toco Swivel Glider and Ottoman
Nuna – stroller, carseat, & play yard
Designs For Health – Ferrochel Iron Chelate
Chalice Spice – The Ultimate Baby (TUB) Tea Collection
Genevieve Howland – The Truth About Red Raspberry Leaf Tea During Pregnancy (article)
Thyme Maternity
Seeking Health – Prenatal
Related episodes:
262: Jen Oliver – Core Rehab • Travelling With Young Kids • Saying Thank You
254: Sarah Ballantyne – Pregnancy And Hypothyroidism • Reintroductions On AIP • The Cruciferous Vegetable Myth
251: Dr. Sarah Buckley – Gentle Birth, Gentle Mothering • Preconception Planning • The Role Of Oxytocin
206: Josh Gitalis – Support During Pregnancy • Boost Your Immunity • Testing For Heavy Metals
079: Joy McCarthy – Natural Pregnancy | Work-Life Balance As A New Mom | Should You Exercise While You're Pregnant?
Note: Some of the links above are affiliate links. Making a purchase through these links won't cost you anything but we will receive a small commission. This is an easy, free way of supporting the podcast. Thank you!
How can you support our podcast?
1. Apple users, please subscribe and review our show on Apple Podcasts, we make sure to read them all. Android users, be sure to subscribe to our show on Google Podcasts. Subscribers never miss any of the action 😉
2. Tell a friend about The Ultimate Health Podcast. They will surely thank you later. You can use the envelope button below to email a friend or tell them about TUHP in person.
3. Join TUHP Facebook community (FREE). This is where we all stay in touch and ask questions in between episodes. Join our community.
4. Follow our adventures on our favourite social media platform, Instagram.
5. Download The Ultimate Health Podcast app (FREE). This way you'll have our whole library of episodes right at your fingertips. Download our iOS/Apple app or our Android app.
6. Share using the buttons below.
Thank you!