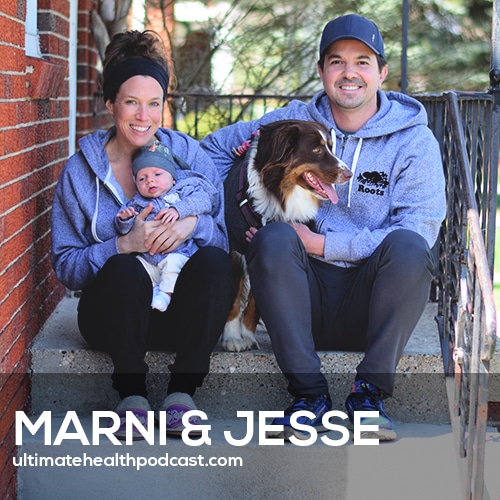 Hello parenthood! 🙂
Baby Sarelle is here and we're adjusting well to becoming new parents. We were as prepared as can be for her arrival but have learned so much already.
Today we're sharing our first 12 weeks which includes placenta encapsulation, oral vitamin K supplementation, the challenges of breastfeeding, co-sleeping, baby acne, babywearing and so much more.
Thanks for continuing to follow our baby (and now parenting) journey!
(Subscribe in Apple Podcasts)
(Subscribe in Google Podcasts)
In this episode, we discuss:
The first 12 weeks after Sarelle was born (the 4th trimester)
Oral vitamin K
Encapsulating Marni's placenta
A support team after birth is essential
Making baths part of your self-care healing routine
Allowing time for your body to rest and heal
Feeding Sarelle every 2 hours (even through the night)
The challenges of breastfeeding, pumping, & top-ups
We opted for goat milk formula
Natural options to help increase your milk supply
Hiring a lactation consultant to guide our breastfeeding journey
Chiropractic care during pregnancy & postpartum (for baby and mom)
How to relieve a blocked milk duct
Healing after a vaginal delivery
Co-sleeping, bassinets & sleep sacks
Establishing a nighttime routine
Transitioning Sarelle from co-sleeping to her crib
Dream feeding & pumping at night
Marni & Sarelle's supplement protocols
Newborn activities, books, & toys
Bonding while babywearing
Causes of baby acne
Announcing… The Ultimate Baby Podcast!
Related links:
Listen to Focus Friday – Our Ultimate Birth Story
Listen to Focus Friday – The Ultimate Baby (Our 1st, 2nd, & 3rd Trimester)
Our Doula – Jessica Ienna Mendez (IG: @gymdoula)
Midwives of Windsor
Graceful Birth Doula Services (placenta encapsulation)
Listen to Genevieve Howland aka Mama Natural previously on TUHP (episode #315)
Mama Natural's website
Haakaa (breast pump)
Holle Organic Infant Goat Milk Formula 1
Lactation Cookie Recipe to Increase Breast Milk Supply (Mama Natural)
Chalice Spice – The Ultimate Breastmilk Tea
Jennifer Day (lactation consultant)
Medela Freestyle Breast Pump (double)
Sunflower lecithin
Frida Mom
Frida Mom (Oscars ad rejected)
Thayers Alcohol-Free Original Witch Hazel
7th Generation Free & Clear Overnight Pads
HALO BassiNest Glide Sleeper
Nested Bean – Zen Swaddle Premier
Arm's Reach (we have older model)
Cloud b Sleep Sheep Sound Soother
Yogasleep Whish White Noise Sound Machine
4moms rockaRoo
4moms rockaRoo (infant insert)
Fisher-Price Sweet Snugapuppy Dreams Cradle 'n Swing
Solly Baby (wrap carrier)
Ergobaby Embrace (wrap carrier)
Skip Hop (whale bath tub)
Seeking Health – Prenatal
The Ultimate Baby Podcast (subscribe to Marni's new show!!!)
Related episodes:
251: Dr. Sarah Buckley – Gentle Birth, Gentle Mothering • Preconception Planning • The Role Of Oxytocin
206: Josh Gitalis – Support During Pregnancy • Boost Your Immunity • Testing For Heavy Metals
204: Meghan Telpner – A "Natural" Birth Story
079: Joy McCarthy – Natural Pregnancy | Work-Life Balance As A New Mom | Should You Exercise While You're Pregnant?
334: Molly Sims – Supermodel To Super Healthy, Dealing With Autoimmune Issues, Starting A Family Later In Life
Marni & Jesse photo credit: Logan Chauvin
Note: Some of the links above are affiliate links. Making a purchase through these links won't cost you anything but we will receive a small commission. This is an easy, free way of supporting the podcast. Thank you!
How can you support our podcast?
1. Apple users, please subscribe and review our show on Apple Podcasts, we make sure to read them all. Android users, be sure to subscribe to our show on Google Podcasts. Subscribers never miss any of the action 😉
2. Tell a friend about The Ultimate Health Podcast. They will surely thank you later. You can use the envelope button below to email a friend or tell them about TUHP in person.
3. Join TUHP Facebook community (FREE). This is where we all stay in touch and ask questions in between episodes. Join our community.
4. Follow our adventures on our favourite social media platform, Instagram.
5. Download The Ultimate Health Podcast app (FREE). This way you'll have our whole library of episodes right at your fingertips. Download our iOS/Apple app or our Android app.
6. Share using the buttons below.
Thank you!