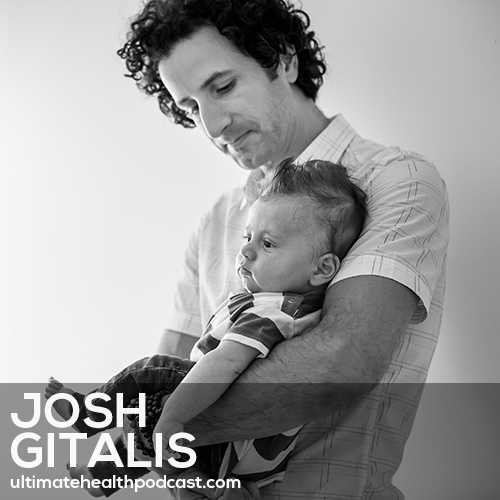 Josh Gitalis is a Clinical Nutritionist and is a recognized expert in the fields of clinical detoxification & therapeutic supplementation. He runs a Toronto-based private practice, with a worldwide client base. Josh is the first Canadian nutritionist to become an Institute for Functional Medicine Certified Practitioner (IFMCP).
In this episode, we discuss:
Taking your healthy lifestyle to the next level well before conception (men & women)
The connection between omega-3s/6s and sperm
Food aversions/cravings during pregnancy
Being supportive during the pregnancy, labour, and delivery
Walking is one of the best exercises you can do
Josh's morning routine pre and post baby
A baby can be a great teacher
What is colostrum?
Refined sugar is a serious offender to your immune system
Sleep is crucial for your immune system
Setting yourself up for a quality sleep (and baby)
Meditation has been shown to boost the immune system
The normal range vs the optimal range for vitamin D
Megadosing with vitamin D when you first start feeling sick
In health, no news is good news
Culinary mushrooms vs medicinal mushrooms
Specific nutrients that are really powerful for your immune system
When you're sick, you can handle more vitamin C
Liver is an excellent source of vitamin A
Common autoimmune conditions Josh sees in practice
3 things that need to be in place for autoimmunity to develop
Testing for heavy metals
We all have some body burden of heavy metals and toxins
Detoxification capacity is different from person to person
Removing heavy metals from the body
A pregnant woman should not do a detox
Bundle up and get outside throughout the winter
Removing your "slivers"
Show sponsors:
Raw Elements <== 10% off all Raw Elements products – Apply the code TUHP at checkout (free shipping over $100)
Perfect Keto <== 20% off Perfect Keto products and they ship worldwide (free shipping in the US)
Thrive Market <== Get your membership for as low as $5 a month & receive $20 in shopping credit with a 1 year membership (US only)
Sunwarrior <== 20% off all Sunwarrior products & free shipping over $50 (US only)
Related links:
Josh Gitalis' website
Josh's Functional Nutrition Certification Program
Follow Josh Gitalis on Facebook, Instagram, and YouTube
Josh's Elixir powder
Listen to Josh previously on TUHP (episode #146, #80, & #4)
Listen to Meghan Telpner previously on TUHP (episode #204)
Solly Baby
HeartMath
Four Sigmatic – As a listener of our show, save 15% on all the shrooms you can handle. Free shipping worldwide on orders over $100.
Harmonic Arts
Cyrex Labs
Jeffrey Bland – The Disease Delusion (book)
Clearlight Infrared Saunas – As a listener of our show, save $450 off of your sauna purchase and get a free backrest.
Related episodes:
315: Genevieve Howland aka Mama Natural – Preparing For A Healthy Pregnancy & Childbirth
309: Focus Friday – The Ultimate Baby (Our 1st Trimester)
251: Dr. Sarah Buckley – Gentle Birth, Gentle Mothering • Preconception Planning • The Role Of Oxytocin
143: Tero Isokauppila – Medicinal Mushrooms Have The Power To Regulate Your Immunity, Boost Your Brain, And Improve Your Gut Health
079: Joy McCarthy – Natural Pregnancy | Work-Life Balance As A New Mom | Should You Exercise While You're Pregnant?
Note: Some of the links above are affiliate links. Making a purchase through these links won't cost you anything but we will receive a small commission. This is an easy, free way of supporting the podcast. Thank you!
How can you support our podcast?
1. Apple users, please subscribe and review our show on Apple Podcasts, we make sure to read them all. Android users, be sure to subscribe to our show on Google Podcasts. Subscribers never miss any of the action 😉
2. Tell a friend about The Ultimate Health Podcast. They will surely thank you later. You can use the envelope button below to email a friend or tell them about TUHP in person.
3. Join TUHP Facebook community (FREE). This is where we all stay in touch and ask questions in between episodes. Join our community.
4. Follow our adventures on our favourite social media platform, Instagram.
5. Download The Ultimate Health Podcast app (FREE). This way you'll have our whole library of episodes right at your fingertips. Download our iOS/Apple app or our Android app.
6. Share using the buttons below.
Thank you!